When the Dallas Cowboys picked up Greg Hardy via free agency they knew about the legal issues and the potential ramifications of his off-field issues.
They did not expect for him to make matters any worse before the season began.
As a former Carolina Panther there was bound to be a few guys who followed Greg on twitter, and a few who he followed back. But when a fan posted a picture of wide receiver Kelvin Benjamin and newly drafted Devin Funchess referring to the two tall wide outs as "The Twin Towers", Dallas was not expecting Hardy to respond like this: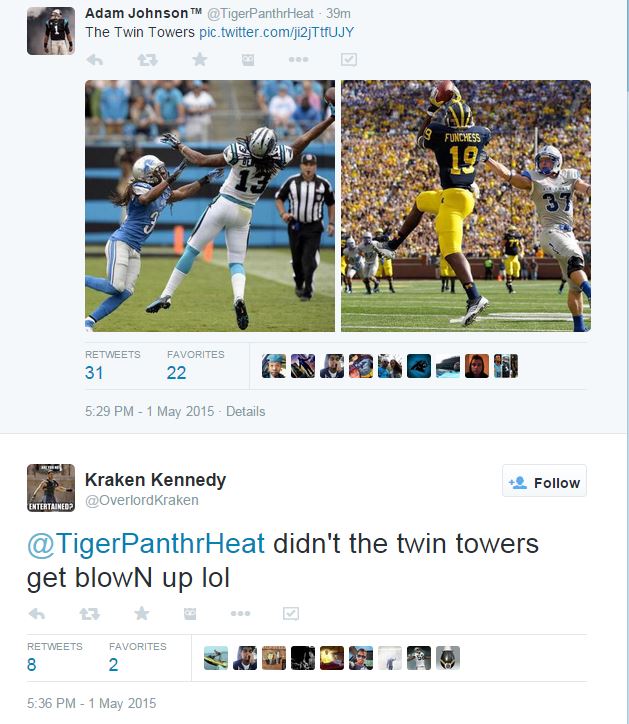 Low profile was supposed to be the name of the game for Hardy this year, and this has made headlines in a lot of places.
"We try to emphasize that to our guys. 'Distinguish yourself with your play, not with what you say,' is something we talk about all the time," Jason Garrett said on ESPN.com. Chief Operations Officer Stephen Jones was less tactful when speaking to The Dallas Morning News. "He's under a microscope. He's got to understand that,"
It wasn't too long after this incident that Hardy tweeted farewells to his 12,600 followers (we can assume at the Cowboys request). Hardy is currently slated to be suspended for the first 10 games of the 2015 NFL season for his involvement in an act of domestic violence. Hardy is appealing the suspension.