Despite being in the Super Bowl last season, the Seattle Seahawks were not shy about making some big moves this offseason. They re-signed Marshawn Lynch, traded for superstar tight end Jimmy Graham, and made some decisive moves on their own roster. One such move was to decline a fifth-year option on linebacker Bruce Irvin.
Irvin was informed of the news over the weekend after which be promptly tweeted the following.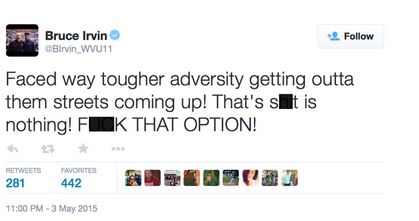 Irvin was a first round pick by the Seahawks back in 2012 and tallied 16.5 sacks in his first three seasons in the league. The option would have seen him earn $7.75 million in 2016. He could actually make more than that figure now he is set to be an unrestricted free agent at the end of the year.
Seahawks coach Pete Carroll has stated he expects Irvin to be a part of the team for a long time. The hope must have been to sign the linebacker to a long term deal that was more agreeable with the team's limited cap space. Pro Bowl linebacker and teammate Bobby Wagner is also in the final year of his rookie contract, and the Seattle market was set by linebacker K.J. Wright, who recently signed a four-year $27 million dollar contract.