On the side of a damp stone dripping with the Texas rain that soaked the streets of Arlington over the holiday weekend, a match was struck. And before the close of an eventful first inning against the Cleveland Indians, Twitter was set aflame.
Former Anaheim Angel dash Texas Ranger Josh Hamilton stepped up to the plate in Cleveland on Monday afternoon as his new/old teammates watched his somewhat diffident movements closely. Most of the Texas Rangers die-hard fan base wasn't exactly sure how to deal the news of Hamilton's return to his old 2008-12 team so they quickly objurgated the situation before having the time to process it. Weeks later, the news had settled, and Hamilton was now facing Indians starting pitcher Shaun Marcum in his 2015 major league debut.
Teammates Prince Fielder and Adrian Beltre had already put the Rangers up 3-0 before Hamilton's appearance, Fielder having knocked in a two-run homer and Beltre a solo, so a Hamilton hit would be enjoyable, but not overwhelmingly necessary (considering it was only the top of the first, all things Josh aside). The moment came and went with a huff and sigh. Hamilton had struck out. And, of course, Twitter went crazy, so much so that Mike Peasley, who is the Rangers pregame and postgame host on 103.3FM ESPN, commented facetiously: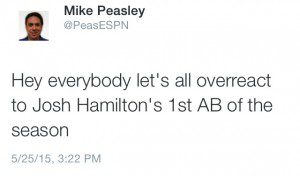 Unfortunately, sarcasm was masking the truth: Fans were so hell bent on nailing Hamilton to the cross that it would be a wonder if they allowed him off long enough to bat again.
During the bottom of the second inning, Hamilton was on display defensively in left field and slipped up when he mishandled a ball that came at him. Back up on the cross you go, sir.
Top of the third brought a walk to Texas' prodigal son with two on and two out, and was brought home by Elvis Andrus' double. A strikeout would be the outcome of his third time at bat in the fifth, while an error on Zach McAllister would get Hamilton to second on an easy tapper after the reliever tossed it 10-feet over the base during the seventh.
Hamilton's appearance didn't seem to cast a shadow over the real stars of the game, however: Fielder (homer in the first, hit in the seventh to tie the game) and Andrus with his 22nd career home run in the eighth to bring the Rangers up 10-8. Texas went on to win the first of three games set in Cleveland, and their sixth in a row.
Welcome back to the win column, Josh Hamilton. Kindly disregard the nails in your wrists for the time being – they're only temporary.