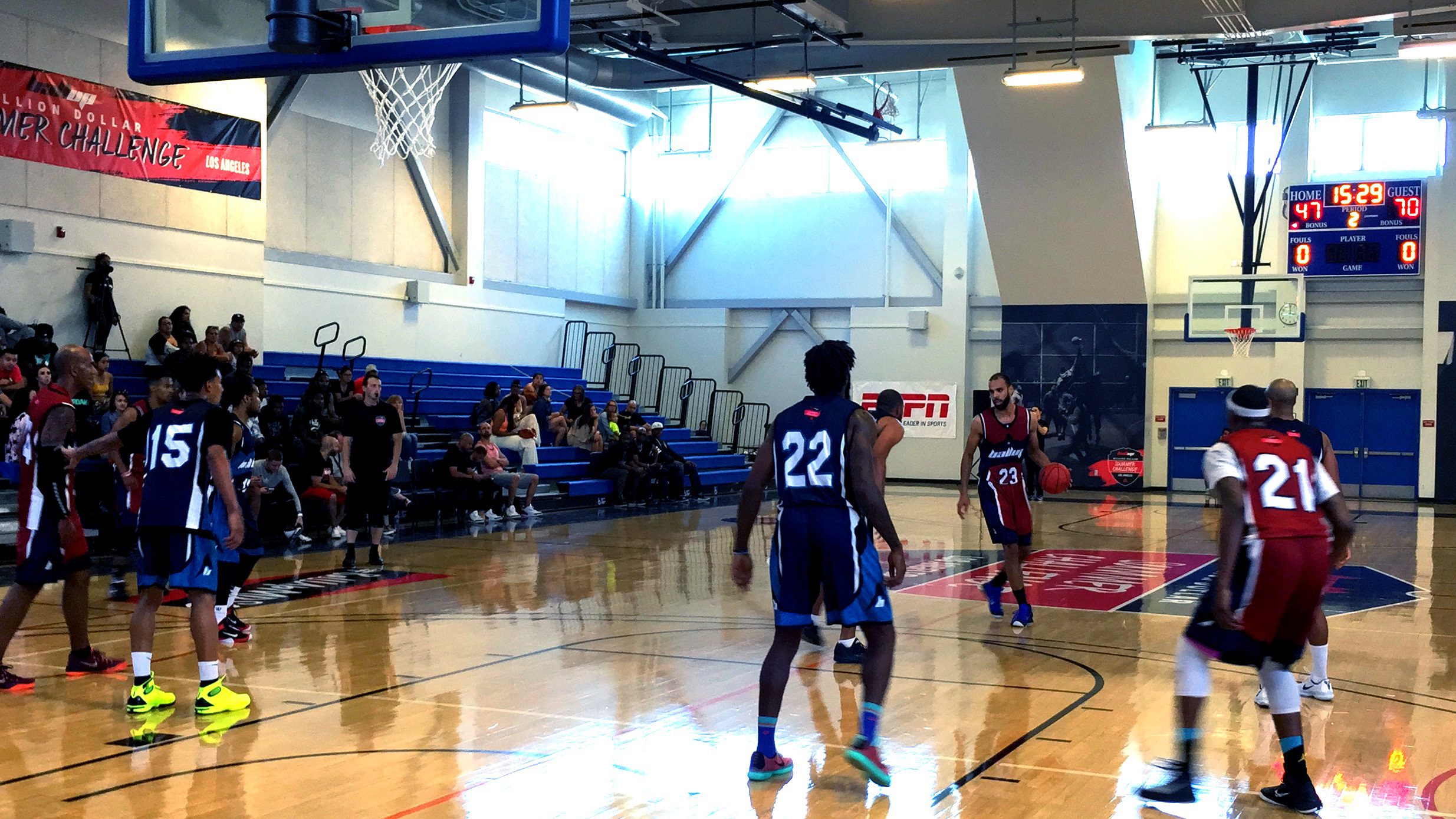 A few miles northeast from Los Angeles in North Hollywood's East Valley High School, eight different teams are geared up to play a basketball tournament. Despite the locale, these aren't high school games. These are streetball games, comprised of the best talent around the area. The eight teams in attendance all don similar looking attire. Their jerseys are mostly a solid color, all varying depending on the team. The trim, a different color altogether, extends beyond the sides and creates a bridge from one side of the jersey to another, which goes across the chest. On the front of their jerseys is not the name of their team, but of the organization everyone represents, Ball Up.
Ball Up calls itself "streetball," but just watching a handful of games reveals how methodical their brand of basketball really is. Yes, you'll still get your outstanding plays–a sick crossover or an alley-oop–but you also get plays that are more synonymous with an NBA game than with crossovers and dunks by The Professor and Air Up There, both of whom are signed to Ball Up. Part of that is because this iteration of Ball Up is new. There's a greater emphasis on winning games and working as a team, as each team strives to be crowned king of their city and eventually king of the tournament they're playing in.
Oh, and the winners of this tournament win a million dollars.
During the first game, the VBL All-Stars are building on their already insurmountable lead with the help of an array of three-pointers. At the helm of this offensive run is former Los Angeles Laker Brian Cook, whose midrange game establishes the momentum for his teammates. Cook ends the game with a team-high 26 points.
Prior to the second game of the tournament, as players are taking their official photos for the tournament, current Lakers guard Nick Young makes his way into the gym. He and his entourage sit in the bleachers. But Swaggy P is more than just a Ball Up spectator; he is also one of the team's owners and was assigned the task of compiling his team. In fact, his team is coached by his father. He sits and watches Jamal Crawford's players push the ball up the court, all of whom are sporting Crawford's signature shoe, the J.Crossover 2.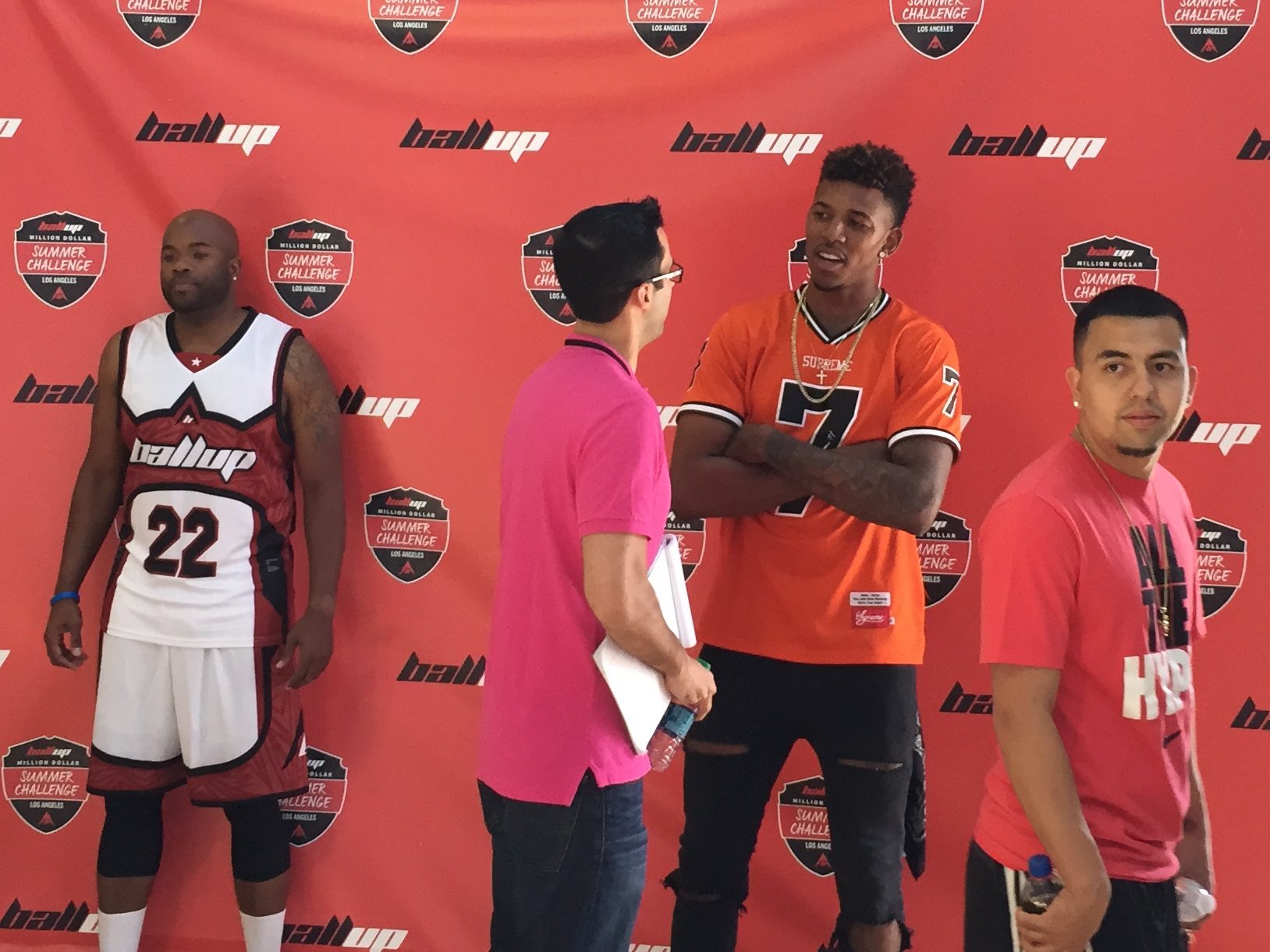 But not everyone has an NBA pedigree. In fact, most of the players took alternative routes in their careers that eventually led to Ball Up. Mike Purdie, a teammate of Cook's who threw down a one-handed alley-oop during the same game, detailed his personal journey that eventually led him to play for Ball Up.
"I've built a relationship with them a couple of years ago out of college and ever since then we have been collaborating and just coming up with beautiful work. I went to Central Arizona College. I transferred out after one year to play professionally in Mexico when I was 19. I left there to play in a private league in Canada. Now I'm back here playing streetball in the Sprite tour and on the Harlem Globetrotters."
Players like Purdie and Cook will play throughout the coming weeks in the tournament. Fortunately, the tournament is not a single-elimination style, so everyone gets a chance to showcase their skills throughout the next seven weeks of play, as the events will be filmed for an ESPN series to air in September. Despite the emphasis on the games taking place at East Valley High, the series will be a reality-based show where viewers can get an in-depth look at personalities such as Purdie.
Chris Young, the regional director for Ball Up, is no stranger to Angelino ball. "We live in L.A. and there's always that glitz and glamor. Things here aren't always authentic as it initially seems, but we're stressing the fact that Ball Up is a thing that's happening and it is going to change a few people's lives, from the workers to the staff to the guys playing. It's a community-building experience."
But Ball Up isn't limited to Los Angeles. The Ball Up Million Dollar Summer Challenge is taking place in six different markets throughout the United States, each with their own pool of talent and style. Regardless, Young has an affirmation for the city he has called home. "I'm tooting my own city's horn but L.A. runs the NBA. L.A. has the best NBA players, and they're all down the street so they all know each other and they all want to support each other, so I made calls out to people like Young and Crawford."
Ball Up's CEO Demetrius Spencer was also in attendance to witness the beginning of his new venture. Ball Up has been around for six years in the form of a dedicated streetball tour, but the Ball Up Million Dollar Summer Challenge is something completely new for Spencer that he hopes resonates within the community and beyond.
"I identified six markets that I thought were strong: L.A., Philly, Chicago, New York, Indianapolis, and D.C. and I've basically launched small leagues within those markets. There are eight teams in each market. These guys play all summer long for about eight weeks straight. They have the regular season, playoffs, and championship game and then they win a cash prize for winning their local market and being crowned the best team in their city."
After winning their local market, Spencer will bring together all eight champions in Los Angeles to determine the national championship on August 2nd. In the process, he hopes to attempt to give an answer to a highly-contested question that periodically pops up in basketball circles.
"I think what we're going to do is answer that age-old question of 'Who has the best ball players?' I mean, we hear it all the time. Is it New York? Is it L.A.?  Is it Chicago? You think from here, normally because it's all local teams here playing, these are the guys that were born and raised here, so eventually you'll see who breeds the best talent. You have guys from other countries, U.S, territories, you have ex-NBA players, you have guys from the D-league, and you have local streetball players. Whoever the best are, they're playing on one of these teams."
[youtube]https://www.youtube.com/watch?v=EkLl-Dxp5Ck[/youtube]
With one million dollars on the line, players who haven't been a part of Ball Up for years are making their way back. The influx of great talent, in conjunction with the exposure from ESPN and the people in attendance, is sure to provide for great television and even better basketball. Purdie is one of these returning players.
"The last time Ball Up saw me was in 2012 when they signed my brother Gary Smith, so it's been a minute since I've seen the whole company and cast. The CEO is out here supporting the brand and we're all out here interacting with all the fans. It's pretty dope. It's beautiful work."