Adidas is releasing the Pride Pack, which I think is very dope. Officially the adidas Originals Pride Pack, the collection looks good and isn't too colorful, but brings some sass to your style life. The adidas Adilette, the adidas Superstar, and the adidas Stan Smith all got a color splash treatment, but still look wearable. Besides looking dope, the earnings will go to LGBT charities, which is always a plus for me.
I like the cause, I like the story, I like the shoes and I like the design. Well done, three stripes.
You can see more on the adidas Originals Pride Pack below.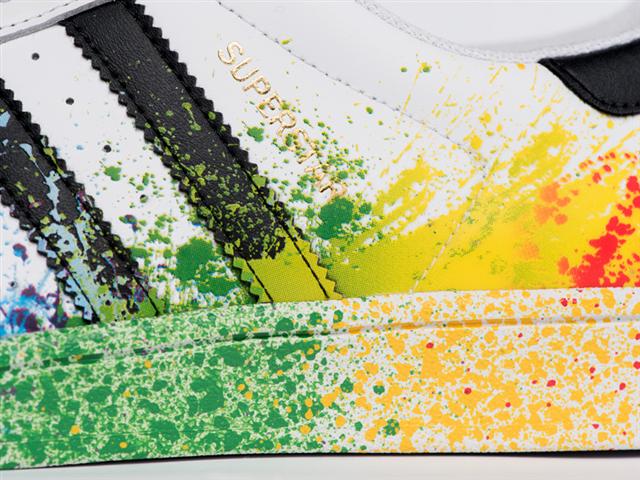 adidas Originals celebrates LGBT Pride this month with the release of a limited-edition footwear series- The Pride Pack.

adidas Originals has taken three of the brand's most iconic silhouettes and re-imagined them for this special delivery. Replete with detail, each style in the pack draws inspiration from the LGBT pride rainbow flag, a symbol of equality and inclusiveness that signifies the diversity of the LGBT community.

Texture and movement are captured in each iteration; multi-colored paint trickles through the perforations in the Stan Smith; the upper of the adilette Slide is saturated in varying hues, leaving the three stripes fully visible; and the Superstar's sole is doused in paint splatter, giving the impression of having stomped through a spectrum of color.

This attention to detail extends to the inside of the Stan Smith and Superstar models as well, with both styles featuring vividly, color-saturated insoles.

To help commemorate the launch, adidas will be donating a portion of the Pride Pack's sales to its hometown neighbor, Portland's New Avenues for Youth, a local advocacy group that helps empower homeless and LGBT youth to build life skills for a successful future.

http://www.newavenues.org/about-us/

Additionally, adidas is teaming with Portland Monthly as a sponsor of the magazine's LGBT Pride Celebration, Flare, who will donate a portion of the event ticket sales to area LGBT charities.

http://www.portlandmonthlymag.com/flare

Launching June 6th, the adidas Originals Pride Pack will be available at adidas Originals stores, adidas.com/originals and select adidas Originals retail partners. Links to product imagery, can be found below.

Pride Pack Superstar – $ 100

Pride Pack Stan Smith- $ 100

Pride Pack adilette Slide- $ 50