A pair of periwinkle pumps stepped lightly on the oddly fashionable carpet that lined the Dallas Mavericks locker room, unnoticed, unbidden, unforgiving as they blended with an overwhelming cascade of sneakers, loafers, platforms, and open toed sandals that were lumped in the center of the room, their owners wide-eyed and searching for a single someone on that mildly cold December night. That someone was sitting to the left of the periwinkle pumps and the rest of crowd, his piercing downcast eyes focused on the task at hand: his food. The gathering had grown to an almost unbearable number for the reasonably large locker room as heat projected from their bodies and the pungent air began to reek of Calvin Klein and disillusionment. All eyes were on him as his own eyes meekly followed the food on his plate, his dark pupils blank as they peered at the slowly shoved around meal. After a particularly long beat of chewing, that very someone rose and quickly disappeared through the group of waiting individuals, parting the red sea with his chilling presence while muttering to no one in particular, "Where's Dwight?" as he walked out of the locker room.
When he finally returned to semi-address our presence an almost castrating 30 minutes after we had been given access to the locker room, Rajon Rondo looked on with a nonchalant expression of pure boredom as the questions began to fire. ESPNDallas.com writer Tim MacMahon asked point blank if he was planning to recruit Josh Smith (whom Rondo knew from his high school days) to the team. With sleepy eyes and an even sleepier tone, Rondo gave his allusive sideways glance that landed somewhat in MacMahon's direction and said that he hadn't spoken to Smith.
That brief and forgettable moment was a hint of the coming months for both Rondo and his new team: the point guard, reflecting his reluctant tone, was planning to sleepwalk his way through the rest of the year, even if he just didn't know it yet.
From his very first days in Dallas, Rondo wanted to make sure that the press knew we were playing on his terms even if he was now donning the colors the media recognized and analyzed long before his arrival. But now, the bewilderingly short era of Rondo had come to the city, and the Mavericks franchise was unwillingly thrust into complete disarray midway through the season.
Media Pup: Opening the 2014-15 Season
Worthy of note: One's rookie year in sports journalism can resemble a behemoth – ugly, massive, terrifying, and absolutely hard to define to outsiders when, you yourself, are standing in the center of the hurricane, face turned toward the lawlessness, eyes wide open examining the dread from the inside-out. At least, this is what happens when the rookie in question is covering a veteran team who is trenchant while walking a wire. And yes, it's fucking amazing. The best way to put it into words is to compare it to Peer Gynt Suite No.1, Op. 46. (or as it's called, "In the Hall of the Mountain King"), a classical Norwegian music piece by composer Edvard Grieg that has a high place in pop culture in this day and age. The piece starts out dexterously soft as double basses, cellos, and bassoons sneak across the notes, careful in their attempt to lure with an underplayed harmony, leaving something to be desired. The notes ascend slightly as different instruments are introduced, the tempo building and building and building until they reach a perfect fifth, eventually becoming all-consuming, piercing the ears in a swift, and even somewhat painful but pleasing, sense. Kind and grasping is the music when penetrated by color as it shifts into a halcyon pace, thrusting and throbbing for attention like an innuendo filled fairytale image before finally exploding.
[youtube]https://youtu.be/r__Dk4oWGJQ[/youtube]
The periwinkle heels added a few inches of height as they clicked on the cement corridor of the American Airlines Center, the soft tiptoeing beats mirroring my own heartbeat as I nervously made my way through the large almost empty building. The pumps didn't do much to boost my original 5'3 frame beyond a couple inches, so I was forever stuck in a vertically challenged purgatory. It was still early in the start of the 2014-15 NBA regular season and even though I had been attending shoot arounds and games for over a month, my nerves were still shot to shit whenever I'd crash the intimate surroundings of Mavericks' practices. I was used to being "dexterously soft" during this young period of time, flying under the radar in a haze of lightly spoken sporadic questions asked a contralto tone as I observed my venue, but it was harder to sneak across the notes during practices.
The door to the practice court was already ajar which meant the media now had access to the team and were allowed down those steps, through those glass doors, and into a world of leaping giants and J.J. Barea. My heels clicked as they touched the hardwood of the court, but were oddly muted by the obtuse sound of basketballs thudding against the ground, against the backboards, against the rims. A majority of players were working personally with the staff on their shots as laughter echoed off the walls.
Monta Ellis was practicing shooting free throws with his eyes pinched shut.
Brandan Wright was leaving earth for a cluster of seconds at a time whenever he lept for the net.
Dirk Nowitzki was throwing up threes as the infamous Holger Geschwindner peered at his star pupil's form, saying nothing yet everything with his calm expression.
I was busy trying not to get nailed in the head with random loose basketballs that appeared to be flying out of nowhere as I made my way to the base of the steps that led up to the Mavericks' locker room where the media had gathered, patiently waiting for head coach Rick Carlisle to finish up practice. I angled myself to the left of the 6'5″ former basketball player when he approached to take questions, right behind the elbow I had grown so familiar with considering my height. Since I was directly behind the man, I raised my microphone instead of my camera in order to catch what was said. Five minutes later, after "Thanks, Coach" was uttered by myself and the small circle of other members of the press, Carlisle paused and turned around. Peering at me, he squinted slightly (a look I had come to see whenever he would size up an individual from the media), before his face softened – something you don't see too often on a powerful, and feared, NBA coach.
"Well, look at you," he said, his tone light, void of any asperity outsiders usually tend to associate when it comes to Coach Carlisle, before turning to one of the senior journalists, "Look at her." He had to bend down slightly to see my credentials in order to make out my name next to my headshot. "Taylor? Taylor."
After I answered a few mirthful questions about the company I worked for, Coach then took the time to introduce me personally to the pantheon of senior Mavericks journalists that circled us, including Fort Worth Star-Telegram NBA beat writer Dwain Price, Dallas Morning News' Eddie Sefko, Mavericks insider Earl K. Sneed, and ESPN's MacMahon, who Carlisle jokingly told me to go to if I ever needed help. Though I had been walking the wire for a few weeks and asking facetious questions, it took the attention of Rick Carlisle, after seeing me out of the corner of his eye, to set me on the right track for the 2014-15 season, giving me the confidence to ascend the tempo of my own beat.
It was the defining starter moment of this writer's young career.
The Unnecessarily Necessary Trade
There was point guard trouble in paradise, despite having around, oh, five tragazillion PGs on the Dallas roster (starter Jameer Nelson, Devin Harris, an injured Raymond Felton, booster-seat J.J. Barea, the ghost of Gal Mekel, a card-board cutout of Jason Kidd giving the thumbs up, and Marreese Speights' left shoe). The offense was soaring through the months of November and early December (1st in offense), thanks to an easy schedule, but Hospice was about to be called in regards to the defense (20th). As a result of some timely thinking and much panicking on the part of the front office, five players' lives would suddenly shift chaotically.
Nelson was averaging 7.3 points per game and 4.1 assists in 23 games played with the Mavs and the crowd at the AAC seemed to go into electric shock convulsions whenever the small PG got his hands on the ball in the backcourt. No one knew what to expect 25 percent of the time – though 75 percent of the time, they knew he would shoot as if someone has sewn his eyes completely shut while being completely non-existent on the other end, effete in his slowly driven skill-set. Pretty soon, most of the press box were silently chanting to put in either Harris or the card-board cutout.
Then you had forward Jae "The Beast" Crowder, who only averaged 3.6 PPG and .5 assists in 10.6 minutes per game in the 2014-15 season with the Mavericks (in only 25 games), a number that had dropped since his professional career started back in 2012. However, Crowder was a fan favorite off the bench, and usually made his presence known in Carlisle's rotation, and not just because of his strong resemblance to the Predator.
And finally there was back-up big, Brandan Wright, a beloved figure in the city of Dallas who had averaged 8.8 PPG, .4 APG, 1.6 blocks, in 18.7 MPG. Wright, or as Mavs Moneyball sometimes refereed to him as that "basketball ballerina", was quiet, polite, extremely observant, and deadly on the court when taking flight to the rim. His titanium build and 7'4″ pterodactyl wingspan was bewitchingly timorous when hooked with his variegated versatility. Plus, points were added because I'm pretty sure he is the only other Tennessee Titans fan on the face of the planet besides myself.
The last day I would see the three of them on the AAC court together in person was on a surprisingly warm Saturday afternoon in mid-December, when the Mavericks took on the Gods of the West: the Golden State Warriors. It was a very early game, something I wasn't accustomed to at that particular time, considering the fact that they were serving a breakfast void of screwdrivers and Bloody Marys in the media dining hall. While the Warriors would go on to dismantle a Chandler Parsons-less Mavericks 105-98, that's not what most would remember about this game. During the third quarter, Marreese Speights lost his shoe as he was making his way across the court. When teammate Stephen Curry attempted to toss the shoe back to Speights, Tyson Chandler stepped in and delivered the first ever "shoe block" in NBA history.
[youtube]https://youtu.be/_7vhKWWPd94[/youtube]
While the moment was sure-fire entertainment, the loss prickled at the necks of the team along with the media. This offense was in no way frangible, but the few gaps they had seemed magnified without the shot of Parsons.
Wright stood out most to me during this loss. In a surreptitious motion, Brandan attempted to solely bring his team back into the game in the fourth by putting up seven points to bring them within eight with two minutes left on the clock. Even though he wasn't able to help the Mavericks nab the win away from Golden State, Wright proved that he was at the apogee of his own powers during his invisible swan-song at the AAC in a Mavericks uniform.
A couple days later, awareness would rain down in the form of a late night ESPN SportsCenter notification that paraphrased a simple fact:
Nelson was gone. The Beast was gone. And, in a haze of blunt acrid gloom, Wright was gone.
And something rather daunting was about to rise in their place.
The Iceman Cometh
Geniuses have a way of being equivocate in an environment that is less than desirable according to their taste and more often than not can be marked by a false sense of smug earnestness. Regardless of his stolid exterior, the wheels inside Rajon Rondo's head were in constant motion, and he didn't give two tiny rats' assess whether you took notice or not. Despite his size, Rondo had a way of being ubiquitous in every building he graced, but in a goddamn haunting fashion.
Yes, the man was a bonafide genius who was always 18 steps ahead of the game. And yes, he knew it. Oh, and yes, that would be his downfall.
Per Synergy, the former Celtics point guard ranked in the 31st percentile on defense and faltered in the pick-and-roll, a system that the Mavericks offense had built around. It was said he would disrupt the flow of the Dallas offense and not do much to help out on defense which led some of the media to ask a very simple question: "What the fuck?"
On December 19th, 2014, five men paced into the interview room that was hidden within the depths of the American Airlines Center following an hour delay: Coach Carlisle, owner Mark Cuban, general manager Donnie Nelson, Center-Forward Dwight Powell, and 4-time All-Star Rajon Rondo. Despite the jokes and smiles that swam around the introductory press conference, something felt off, and it wasn't the fact that both Rondo and Powell (a 6'11" Stanford rookie who had been traded along with Rondo) seemed tired and overwhelmed.
[youtube]https://youtu.be/ltdAAyU1ARA[/youtube]
Rondo often lifted his head in order to look directly into the eyes of reporters asking questions with a cool unexcitable blink, his tone neither harsh or welcoming. He smiled on queue, he nodded when provoked, he didn't act out atrabiliously when mind-numbingly moronic questions were asked – but yet, there was still something… well, vaporous.
It wasn't until Rondo's second game with Dallas, when the Mavericks faced the Atlanta Hawks on December 22nd, that it became known to the press that this point guard, who had led the Boston Celtics to a championship in 2008, would end up being the frigid draft that would utterly paralyze the warm locker room vibe. Following their disconcerting 105-102 loss (after the Dallas bench made a stunning 24-point comeback in the final 12 minutes of play) it was clear that Rondo's teammates weren't used to his visually stunning bounce passes – the team knew it, the press knew it, and Rondo, harboring in his recalcitrant nature, knew it. He put the press on hold in the locker room, and milled around, knowing that if he was being forced to speak with us, he was going to make us sit on our hands a while.
Because of the Brandan Wright-shaped hole in the offense, the question on everyone's mind was who was going to be good enough to replace the back-up center in the paint? Josh Smith was one such option at the time, so Rondo, who was friends with Smith, reluctantly answered Tim McMahon's direct question on if he had spoken to Smith, and if he was planning on recruiting him to Dallas.
[youtube]https://youtu.be/0OQCidDRTY8[/youtube]
With his spine dangerously straight, head held high, and his eyes viperous, Rondo drew the line in the sand that night with the Dallas media, and it would be a line we would attempt to dexterously kick at in the months to follow.
Dallas' Waterloo
The locker room was noticeably different since the arrival of Rondo. Tension festered in the air for the first few weeks. I had longed for the days of listening to Crowder and Ellis playfully banter with one another from across the room, watching Wright shake his head and smile at some inside joke the players were expressing as they dressed, and laughing at Dirk and Parsons as they poked fun at each other while messing around with the press. While those days would be semi revived once the team settled into a somewhat steady groove with Rondo, they were dismal at the start.
A month following the trade, foreseen trouble arose. After the Mavericks fell to the visiting Chicago Bulls 102-98, Carlisle was probed on why he decided to grant rookie Powell with a balls load of minutes while benching Rondo during the last crucial stretch of the fourth quarter. "Coach's decision," he sharply responded.
When the same question was asked to Rondo in the locker room after the presser, he echoed his coach's gruff tone. "It's coach's decision."
[youtube]https://youtu.be/NJcRg_Wqt0c[/youtube]
No matter how many times following that incident that coach would say "I love Rondo!" we knew better. The desperation in the air was so thickly noxious, you'd get a nosebleed during the pressers. There should have been a running prop bet on if Cuban ever got a ominous call from Boston Celtics GM Danny Ainge in the middle of the night with just him yelling "HAHAHAHA, SUCKER," before hanging up. The over compensation was living off of Viagra and was so apparently visible that it was embarrassing.
We're weren't blind.
We weren't stupid.
And oddly enough, they didn't think we were. They were just doing their job.
On February 24th, a few weeks after Rondo broke his face against Richard Jefferson's knee, tensions would implode on the court against the visiting Toronto Raptors. During the third quarter, Carlisle called out to Rondo, who was dribbling up the court at the time and blatantly ignored him. Carlisle called a timeout and began to rip Rondo a new one in front of thousands of fans, both in person and those watching on television. Things got so heated that assistant coach Jamahl Mosley intervened to calm the two down. Rondo was benched for the remainder of the game and the entire momentum of the game shifted. The Mavericks would end up beating the Raptors 99-92 as Rondo looked on, his face unemotional as usual, from the bench.
Yet again, Carlisle was drilled in the presser by Tim MacMahon.
[youtube]https://youtu.be/yV-s8UBNwN4[/youtube]
Rondo played his normal waiting game with the press in the locker room as he chatted it up with his former Kentucky coach, Tubby Smith, who was visiting, before completely abrogating us altogether with a stern "Discuss (it) with Rick."
Not "Coach" but "Rick".
A hailstorm of injuries would bring the Dallas Mavericks to their knees come February onward as their very own Battle of Waterloo began creeping forward as the post season closed in. Help appeared in the arrival of Amar'e Stoudemire, the outline of veteran Richard Jefferson's surprising dunks that broke the internet EVERY SINGLE TIME, and even in Raymond Felton.
Yeah, you read that right. Raymond. Felton.
But that wasn't enough. With Nowitzki nearly looking every bit his age, Rondo's temper tantrums, Ellis' shooting slump, Harris' turf toe, it would be almost definite that the role of White Knight would rest on Chandler Parsons' young shoulders.
You know, if his knee hadn't metaphorically fallen off, to say the least.
Even with the fractured lineup, the Dallas Mavericks managed to secure the seventh seed in the Western Conference Standings and would go on to face the Houston Rockets in Round 1.
Parsons, however, would end up missing the final six games of the regular season with a right knee injury, though it was rumored that he would be able to play during the postseason against the number two-seeded Rockets, his former team. As expected, Parsons took to the court for 37 minutes during their Game 1 118-108 loss on April 18th, wincing in pain with almost every step he took.
After it was announced that Parsons would not suit up for Game 2, all seemed to be lost in a exasperated sigh of despair, a sigh that was echoed by Rondo's final appearance in a Mavericks uniform.
After a lopsided performance in the first quarter of Game 2 at the Toyota Center, the point guard was pulled in favor of Raymond Felton, only to return after the half where he began to commit idiotic fouls unnecessarily. His mind was no longer with Dallas, and he proved it by doing absolutely nothing to help his team.
The very next day, words were uttered by Coach Carlisle that a handful of us saw coming a ways back on that mildly cold December Day:
[youtube]https://youtu.be/Bgpjj8-64Yw[/youtube]
The official report that Rondo would be benched indefinitely was due to a "back injury" he sustained during Game 2, but, hello – those of us who had been caught in the middle of the cross fire between Coach, Rondo, and his teammates, knew what was truly going on.
The death rattle sounded loudly that night as the age of Rajon Rondo came to a  end in the city of Dallas, the season finally exploding under the weight of its own halcyon pace.
As history would go, the Mavericks ended up losing to the Rockets in five games, unraveling all of the off-season expectations and exposing a slew of bitter weaknesses.
Killing the Messenger 
As a female rookie sports journalist thrown into the field, there was a typical greenness surrounding my wide-eyed observations. But as the season wore on, the tempo quickened, and I was able to understand a few things on a different level than my male counterparts, some of whom seemed slow on the uptake:
First things first: You ARE the enemy as a journalist covering the lives of these athletes. The blood, sweat, and tears they sacrificed are now seeping into the well you are currently drinking from in order to advance your own career, even if you're not deliberately attempting to. They know this even if you don't yet so don't fucking kid yourself. Your childhood hero does not want to be your best friend. You're simply someone they have to put up with for their own careers.
I stood back and watched as eager journalists covering the game moseyed along courtside and tried to playfully banter with the players as if they commonly spoke with them on a off-the-court daily basis, only to witness the players slightly shake their heads once the "enemy" walked away. Don't get me wrong – there are reporters and writers that the players respect, admire, and can trade playful insults with (these are usually the ones with a brilliant sense of humor who tend to ask authentic questions) and even keep in contact with during and following their careers. But that's a scenario more rare than a limbless guy throwing a major league perfect game in a hail storm.
You are the mouthpiece to the public, sent in to gather all the information you can. You're not a friend, and they don't consider you one. Knowing this, a level of respect needs to be outlined on both sides because there is a reason why a majority of athletes want to kill the messenger:
Lack of trust.
Earning trust isn't just a pseudo word-of-mouth code of honor – it's utterly essential for survival in this business.  If you don't respect the player or the game, it shows on your skin – entirely visible for the remainder of your career.
Plain and simple.
Random Locker Room Factoids
Here are a just a fraction of things I learned during my first year observing a very prominent point in Mavericks history during the 2014-15 season:
*Never, and I mean NEVER, stand near the wet towel bin directly in the center of the Dallas locker room – you will have to be rather agile when ducking or diving to the floor whenever a player skillfully shoots their damp garment into the bin.
*This team is better than most when it comes to having a wicked sense of humor. They prove it daily. Seriously – they're funnier than you, even when it comes to handing out odd facial expressions.
[youtube]https://youtu.be/ysU7_e-M9cQ[/youtube]
*Don't mess with Monta Ellis' Dallas Cowboys. He won't stand for it. And it's hilarious when he doesn't stand for it.
*Nowitzki can sing the hell out of Oasis' "Wonderwall". And by "sing the hell out of," I mean butcher till dead.
*The camera is in love with Chandler Parsons, and he, in return, loves the camera.
[youtube]https://youtu.be/guPB7_HkmLw/youtube]
*Learn to duck when standing courtside – either on the practice court or on the main court. Balls are everywhere. And they tend to hurt when you're not paying attention. Or even when you are paying attention.
*Being surprised at whatever Amar'e is wearing is a move for an amateur. Seriously, the guy is known to have bathed in wine at one point in his life – get with the program, people and grow up.
*You WILL see Tony Romo court side many times – try not to make fun of him, however difficult that sounds.
*Dirk will almost always prefer to give his post-game interview over with directly out of the shower while in the locker room. And he's a legend, which means you get comfortable with it fast because he's Dirk-"You Think I Care?"-Nowitzki.
[youtube]https://youtu.be/TQbPIiJdXFU[/youtube]
*Tyson Chandler will forever dress better than most GQ models.
*Charlie Villanueva has a serious social media presence and is one of the few players I see actually interacting with his fans via Instagram, Facebook, and Twitter. He appreciates and observes every kind word spoken about him, and lives for every minute he gets to play on the court. It's always completely refreshing to witness the luminous character of a damn good player and an even better human being.
*To keep up with the other members of the Dallas Mavericks media, your Twitter game and dry sense of humor need to be on-point. Otherwise, we'll laugh directly in your face.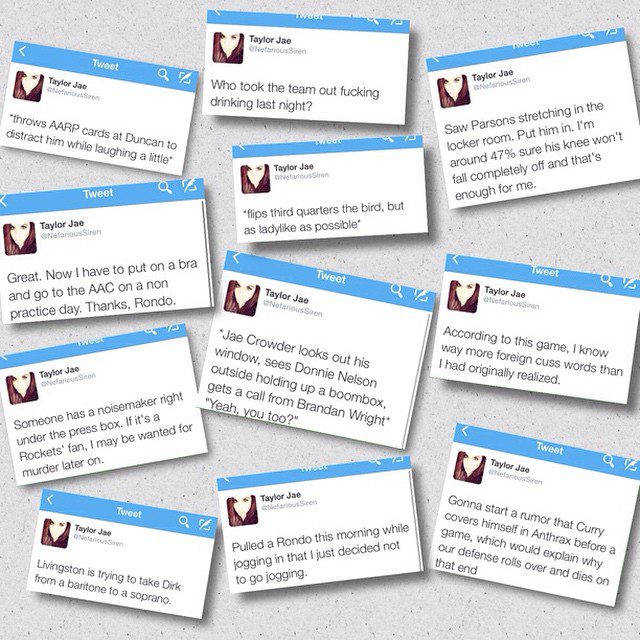 * And finally, regardless of what team you grew up rooting for, once in the locker room, especially one as dynamic as the Mavericks, you WILL end up drinking the Kool-Aid, and come to respect the team on a different level other than fandom. They no longer are the larger-than-life figures seen on television or moving specs on a faraway court seen from the nosebleed section – they are all too human, all too real, all too alive.
And all too iridescent.