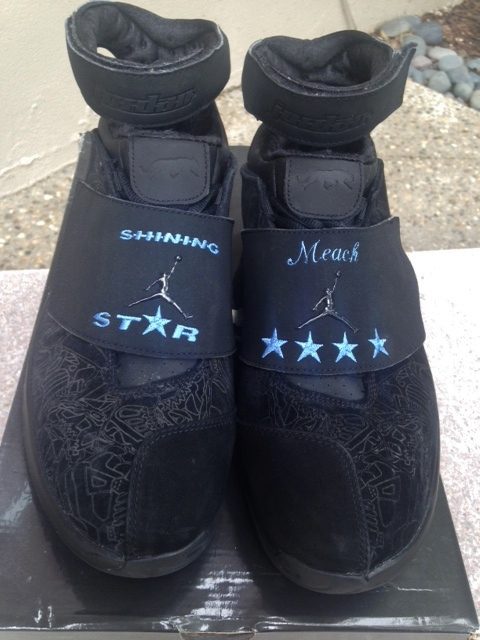 This is basically common knowledge now for
Michael Jordan
aficionados — MJ was often called the "Black Cat" amongst his teammates and closest friends in basketball. Of course, complexion and race set aside for a moment, it was fitting, largely because he played the game like a predatory cat in the wild, not unlike a panther (or the superfluous moniker "black panther" — side note: a panther is any large cat that is black; calling something a panther means that it's black, so calling a panther a "black panther" is unnecessary. Alright.). Playing up on the moniker, Nike started introducing Black Cat colors of his Jordan Brand shoes, first in reintroduced Air Jordans with the "Retro" designation (like the
Air Jordan 4 Retro
), and eventually in fresh signature models of his Air Jordan sneakers.
A
former collegiate basketball player
for the University of Cincinnati from 1997-2000 (then, the first Jordan Brand affiliate to be officially sponsored by Jordan himself) who's friends with former teammates and NBA players such as the freshly-retired former All-Star
Kenyon Martin
, and former Los Angeles Lakers
Ruben Patterson
(
The Kobe Stopper
!) and
Melvin Levett
, Meacham stayed attached to the game of basketball through coaching and training children at the high school level before seeing a vision for himself in AAU basketball in his native Cincinnati, OH. Forging important relationships with people at Nike and Jordan from his days with the formerly-Nike-sponsored Cincinnati Bearcats basketball team, Meacham founded
Shining Star Sports
, a co-ed basketball program with the purpose of building up the lives of young people starting from elementary school ages through high school. With all of that said and considering his personal relationships, he was able to secure a Jordan sponsorship for his various teams in the program — it comes with some perks.
One perk as Founder and President of Shining Star Sports is the access to the hypest Jordan apparel and footwear, and upon the re-release of the Air Jordan XX, it came in a special all-black colorway, also known as the Black Cat colorway. Meacham, of course, secured his pair, identifying it as a "standard Black Cat"; however, he decided to go a little bit farther, and get a custom job.
(Just FYI, Meacham is no stranger to inspired Jordan special makeups. The former Bearcat was the inspiration of the famed
Air Jordan V Premio Bin 23
, a shoe that was arranged like the original Nike Air Jordan 5 Retro with luxury materials with a special homage to Jordan wearing the shoe in 1990 with white laces.)
"I had a guy who has a embroidery company do those," explained Meacham. "They were tough to do because of the way you have [to stitch] on that strap. They turned out smooth, though."
Smooth is the right word. The Air Jordan XX Retro Black Cat is already a unique shoe with its floating strap, unorthodox build, and laser-cut suede graphic print; throwing your company logo and accents on it makes it even more unique, and to Meacham's credit, it's a pretty finish to an already-beautiful sneaker.
See more of the Air Jordan XX Retro Black Cat 'Shining Star Meach' here.