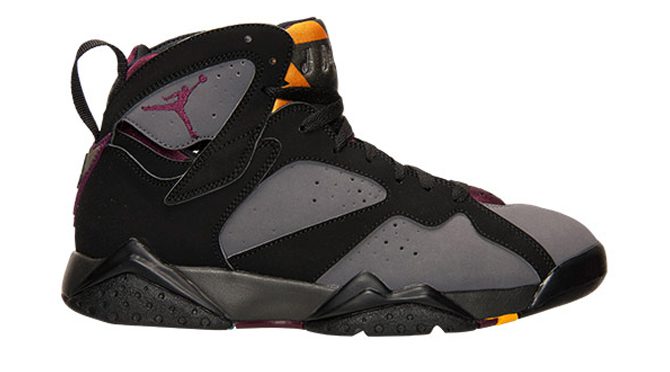 The following is a fictional representation of what I believe went into the planning of the Air Jordan 7 Retro 'Bordeaux'.
---
Meanwhile, at Jordan Brand global headquarters…
Random executive raises hand: "We should stop bringing back all the classics. These wild colorways and the blue icy soles are way cooler!"
Other guy: "But we've already announced the Bordeauxs."
First guy: "Oh shoot! You're right. Let's just change the midsole. Let's…let's make it black!"
*everyone else applauds*
*end scene*
---
I'm not aware of who the top color designer at Jordan Brand is and who has to actually give things a go, but they both seem to suck. How can you take an Air Jordan 7, that's a classic, and that everyone has been waiting on for years, and just give it a black midsole? We aren't talking about a detail here, they have changed the whole look of the shoe. I know people whose favorite shoe it is, that won't buy it. Everything else seem to have stayed the same. Kind of. Rather just throw a blue icy sole on it. I'm not amused.
(Ed.'s note: Different photos from different sources have shown the Air Jordan 7 Retro 'Bordeaux' with varying shades on the midsole. Some photos show what appears to be a black midsole, others dark graphite or a solid gray. The photos featured in this piece show a dark graphite color, but the actual appearance of the sole is yet to be determined on sight.)
Photos courtesy of Finish Line