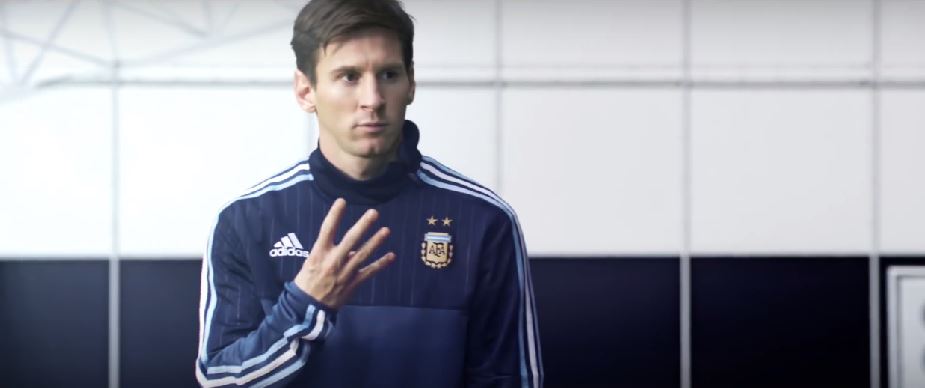 Superstars like Leo Messi are wondrous figures of stature, but few ever truly reach that state of fame or talent — or success. In adidas' "Create Your Own Game", the short film makes the point that you should be inspired by your heroes, but seek to take what makes them great and apply those things to your own make-up.
See the film here, courtesy of our friends at adidas.
[youtube]https://youtu.be/hIqC9IYMUOU[/youtube]
adidas is challenging athletes to see their idols differently. Global soccer stars Leo Messi, Gareth Bale, James Rodriguez, Mesut Ozil and Thomas Muller, as well as NBA's Ricky Rubio, take a leading role in the latest chapter of Sport15 that launches today. 'Create Your Own Game' is an inspiring 90-second film that challenges those who defy the norm and set out to create their own path – the next generation of creators – to 'unfollow' their heroes.  

Bale's speed; Ozil's vision; Muller's killer touch; James' control; Messi's brilliance – all unrivalled in modern soccer. 'Create Your Own Game' challenges viewers to take from their heroes, but go out and create something new. adidas is empowering creators to lead, not follow. To be the difference, you need to create, not emulate.

'Create Your Own Game' is a new chapter of Sport 15. It represents a complete shift in how adidas communicates as a company, driven by the brand's mission to be the world's best sports brand. Shown through the lens of soccer, the film underlines its leadership and passion for sport and further demonstrates adidas' continued desire to revolutionize the game around the world.

Eric Liedtke, adidas Board Member responsible for Global Brands, said, "The game of soccer has changed and we want to celebrate the new, the different, the rule makers and innovators. Create Your Own Game is a compelling concept, inspiring the creators of today to push the game forward. It encapsulates the brand's vision that is relevant to all sports and athletes and encourages creators to think differently, take inspiration from heroes, but ultimately create their own game."

The 'Create Your Own Game' film is the first to be developed alongside 72andSunny, who were named global creative agency for adidas' sports business in March 2015. The creative agency is responsible for global brand campaigns across a number of sports.

Follow youtube.com/adidas and join the conversation on Twitter @adidas or on facebook.com/adidas.