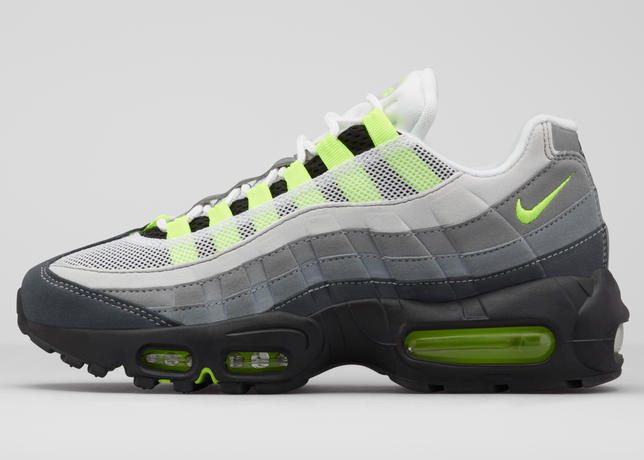 I'm not sure what served as the main inspiration for the Nike Air Max 95 OG's design. The silhouette and the materials are supposed to resemble the human body. While the sole is the spine and the side panels with the signature fading colorway are supposed to look like muscle fibers, the mesh is the skin and the lace loops were embedded by the ribs. The Air Max 95 is one of those sneakers, that keep hiding details the first time you look at them.
With every wear, you'll see one more little piece that you weren't aware of the last time you've pulled them off. What should I say about this icon that comes back for its 20th birthday? The silhouette is still super unique and so is the OG neon/black/grey/white color combo. With the Air Max 95 OG, Nike also drops a new women's version, the Air Max 95 Ultra. The colorway stayed in an inverted version. The silhouette got slimmer and the material updated and is seamless and lighter now. Furthermore, Nike has release the Air Max 95 Ultra Jacquard. Besides the woven upper, it does now have an exposed Flywire that makes it wear more flexible.
With the comeback of the Air Max 95 OG, Nike has no only brought back an icon, but they also celebrated its return properly.
Photography courtesy of Nike