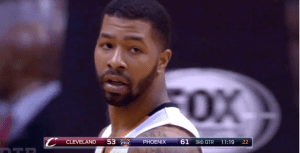 Markieff Morris has kept largely to himself, shunning most in the organization ever since twin brother Marcus Morris was traded to Detroit in July, a fact head coach Jeff Hornacek alluded to during his remarks to the evening's invited guests at The Canyon Suites at The Phoenician.
"Now we have one little thing we got to take care of, hopefully," he said, smiling.
Morris wants out, and he has not been shy to express his feelings, mostly on social media.
His public demand for a trade earned him a $10,000 fine from the NBA, which deemed his comments to Keith Pompey of the Philadelphia Inquirer last month "detrimental" to the league.
The communication between Morris and the team has been limited, at best.
The occasional text message has been exchanged, according to Hornacek, who delved into the topic further with a handful of reporters.
"Hopefully he can get here and we can all talk to him. I think once he gets here with the players — and maybe the players can help out in that regard — and realize that, probably like anything else, it happens when you might not be happy with the organization, but you're a professional, you go out there and you play as hard as you can," he said.
"Really, when you get out there and start playing games, you're not playing for the organization, you're probably not even playing for your coaches, you're playing for yourself and your teammates because that's the bond that those guys have as players, so once he gets playing with these guys I think he'll be okay." Arizona Sports