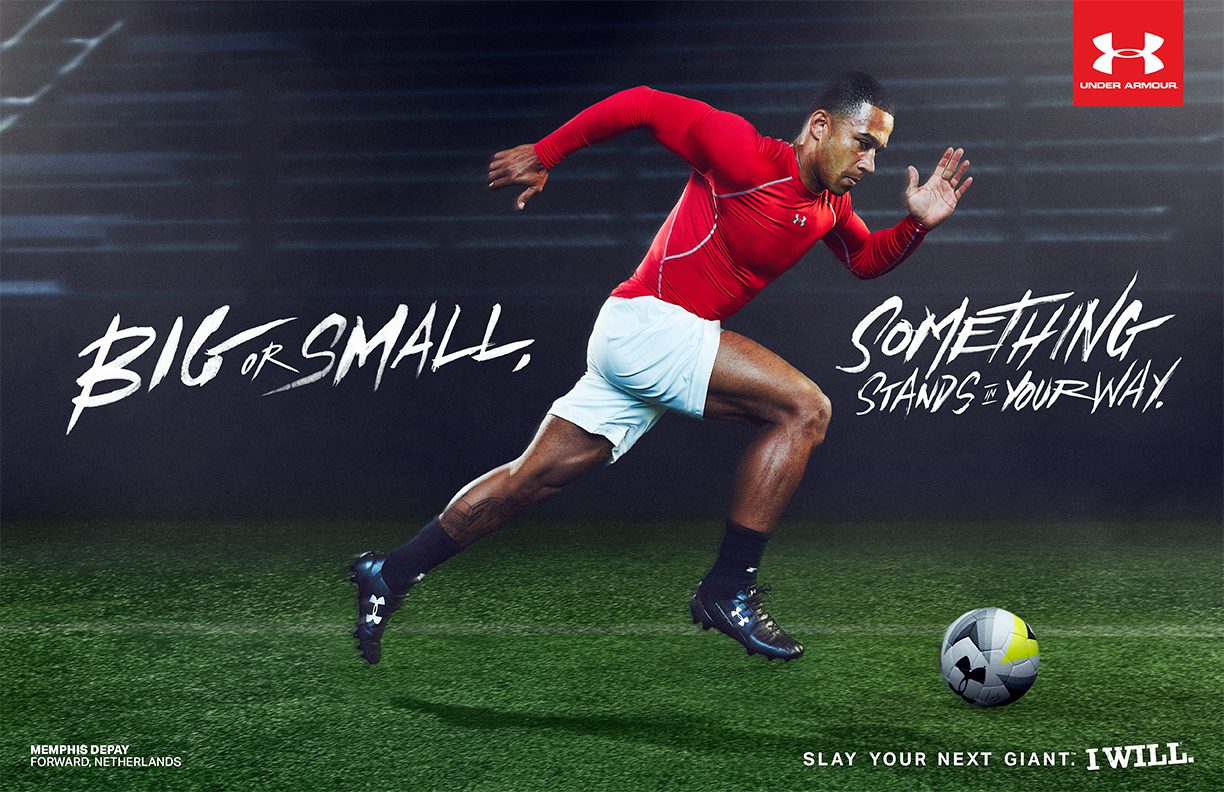 The root of sport is to overcoming a problem or blockade to achieve a goal — to be great, in other words, to be a victor. This is the common denominator of all sports, and so it goes that Under Armour is focused on helping its athletes and consumers do the same. In the new #SlayYourNextGiant campaign, led by Dutch soccer football superstar Memphis Depay, UA seeks to connect pros to children in what could be considered a kind of inspirational mass communication initiative.
See all of what #SlayYourNextGiant entails here, courtesy of our friends at Under Armour.
Regardless of age, nationality, or reputation, an unwavering persistence unites global football players all over the world. Today Under Armour (NYSE: UA) revealed its first global football campaign, "Slay Your Next Giant," which will inform all future story telling and marketing efforts for the global football category and cements Under Armour as a brand that values the journey over the destination. "Giants" exist at every stage of the game, and to elevate their game footballers must overcome them.

Slay Your Next Giant was developed in partnership with Droga5, the creative agency behind other successful Under Armour campaigns including I WILL WHAT I WANT featuring Misty Copeland and Gisele Bündchen and this summer's RULE YOURSELF featuring Misty, Stephen Curry, Jordan Spieth and Tom Brady. The campaign's digital story features Memphis Depay of Manchester United, Cameron Carter-Vickers of the Tottenham Hotspur Academy, as well as young up-and-coming players from around the globe (Brazil, Chile, Mexico, and the UK), who are developing their talent on grass pitches, cement courts, and empty lots all over the world. Additional storylines feature Jermaine Jones of the MLS' New England Revolution, Oswaldo Alanís and Jesús Corona of the Mexican National Team, and Gonzalo Fierro of Colo-Colo in Chile. Each player's story is united by the final phrase "You're just getting started," which speaks to the ethos of the brand's global football category as a whole.

A unique element of the campaign is the focus on players' laces – the item that completes an athlete's ritual before heading into battle. As a call-to-action, UA will arm football athletes with customized laces engraved with a personal goal, each pair representing a new giant to slay. As players reach each milestone, they will symbolically remove their laces and replace them with a new pair, sharing their journey to greatness on social media channels along the way.

"This campaign feels very personal for me as I start my first Premier League season," said Memphis Depay. "I have a lot of giants to slay in the coming months, but I'm feeling more than ready to take on every obstacle and challenge that's presented to me. It's how I've always played and lived—it defines me on and off the pitch."

"Whether you're Memphis, an aspiring academy hopeful in Brazil, or a Chilean kid playing with your neighborhood team, the goals you set for yourself loom just as large in your head," said Peter Murray, VP, Global Brand and Sports Marketing, Under Armour. "We're going to be with every player, every step of the way, bringing down every giant he or she faces. We're making a statement, we're standing by it, and we're pushing forward in a big way with our global football category."

SlayYourNextGiant.com offers visitors the opportunity to dive deeper into the worlds that these athletes inhabit everyday in an engaging, interactive experience. Learn about the player stories and their giants, and at the end of each video, visitors can share their personal giants by creating their own lace image for Facebook and Twitter.

In June, Under Armour launched the UA SpeedForm™ CRM FG, bringing their revolutionary UA SpeedForm technology to the pitch for the fastest footballers in the sport. Memphis will wear the boots throughout the season, lacing them up with his Slay Your Next Giant laces for each game.

To shop the full UA SpeedForm boot range and as well as the brand's other football boot offerings, including their game-changing UA ClutchFit™ technology, visit UA.com. To learn more about the campaign and to join the conversation, tag @Underarmour and #SlayYourNextGiant on Twitter and Instagram.