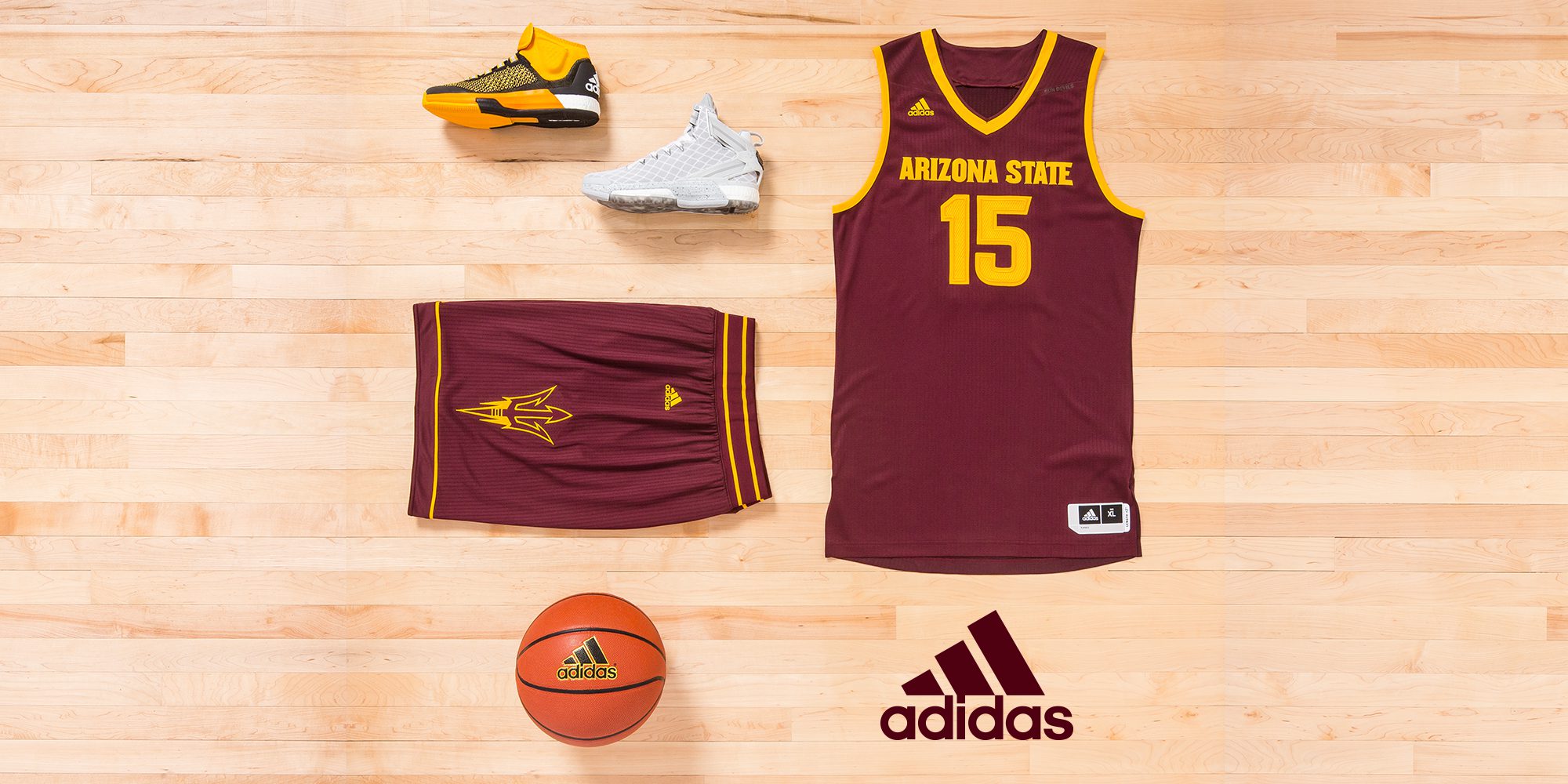 Adidas has been on the rise in the last few years in college basketball, in its styling of on-court team profiles and the like, but for all of the teams that have had adidas its official uniform outfitter, few teams (if any) have the fine tailoring and construction of the Arizona State Sun Devils basketball team uniforms for 2015-2016 — a very impressive Sun Devils look.
Making a splash with the Sun Devils in the PAC-12, the new sets for home and away are some of the cleanest uniforms you'll find in all of college basketball, and are expounded upon with adidas Basketball's finest footwear in the adidas Crazylight Boost 2015 and the adidas D Rose 6.
See the full collection here, courtesy of our friends at adidas.
adidas and Arizona State University today unveiled new uniforms for the Sun Devils basketball team to wear during the 2015-2016 season.

The jerseys, which feature the "Sun Devils" moniker laser etched across the shoulder, were designed with the same lightweight, sweat-wicking technology used in the NBA, keeping players cool even in the most intense moments of the game.

The shorts feature a multicolored waistband displaying all the Sun Devils' school colors, while an enlarged pitchfork flanks the side of each leg. Constructed of lightweight knit, the short was designed to enhance breathability and ventilation.

Players will lace-up the latest adidas basketball footwear including special Sun Devils colors of the Crazylight Boost 2015, D Lillard 1, and D Rose 6 signature shoes from NBA All-Stars Damian Lillard and Derrick Rose.

Fans can pick up their new Sun Devils gear this November at adidas.com and campus area retailers.

Follow @adidasHoops and @SunDevilHoops with #ForksUp and #teamadidasASU for more.