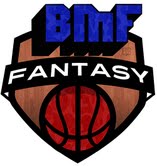 I'm proudly entering my second year as a participant of the 30-Deep Experts League. Every season 30 of brightest minds in fantasy basketball lay it all on the line in what is widely regarded as THE toughest league on the planet. It's a 9-cat, head-to-head, point-per-category league, with 30 teams (obviously), graciously hosted at CBS Fantasy Sports. I made it to the the Final Four in my rookie campaign and am looking to improve on that finish this season.
It's an invite-only league and its participants are a who's who NBA and fantasy basketball experts from TV, online radio and the web. Websites represented include NBA.com, ESPN, USA Today, CBS Sports, Buser Sports, HoopsKlyce, Basketball Insiders, SB Nation, and of course Baller Mind Frame, just to name several.
Aaron Bruski (Rotoworld) and Steve "Dr. A" Alexander (Rotoworld) handle to commissioner duties and run a tight ship.
Aaron did a recap and shared his impressions HERE. You can check out the pick-by-pick breakdown over there.
I'm proud to share that Baller Mind Frame has three representatives in the league. BMF's founder and creator, Dennis Velasco, our Editor-in-Chief Frankie Lloyd, and yours truly. All things being equal, BMF has a 10% chance of winning it all this year. I'm kidding, don't let my attempt to dazzle you with fuzzy math skew the enormity and difficulty of winning this league. It's a lot harder and more complex than it looks. Unfortunately for the three of us, our draft positions were randomly determined to be in the lower half of the snake draft. I ended up with the 23rd overall pick; Dennis, the 26th; and Frankie got the last pick at 30th.
Here are the teams we drafted and will be fielding this season:
My Team
PG: D'Angelo Russell
SG: Jamal Crawford
SF: James Johnson
F: Jeff Green
PF: Thaddeus Young
G-F-C: Josh Smith
Bench: Lance Thomas, Greivis Vasquez, Tyler Hansbrough, JaVale McGee
This was a tough draft for me, not just because of the level of competition involved, but also since I live in the Philippines, I needed to wake up at 3:30 A.M. (normally the time when my pick was up in the staggered "slow-timer" draft) to make my picks.
I went with DeAndre Jordan as my first pick. I wanted his elite contributions in rebounds and blocks. A big plus was the fact that he has played in all 82 games over the last THREE seasons. In a league this deep, normally it's the healthiest teams that make it far.
I decided to pair him with Victor Oladipo and at this point committed to focus on the counting categories and throw my shooting percentages to the wind. From that pick onward I tried to grab guys who did a bit of everything, but fit the positions I needed to fill on my team. I know you're probably raising an eyebrow or worse, doing that confused JaVale McGee meme face, at my JaVale McGee pick, but yeah, I needed a backup C-eligible player and yes, I was scraping close to the bottom of the NBA barrel at that point.
I am hopeful and quite optimistic that my guys will be able to take me far, if not go all the way and win it all this season, with a little bit of luck of course.
Here are Dennis and Frankie's teams:
Dennis' Team
PG: Kyle Lowry
SG: Bojan Bogdanovic
SF: Luol Deng
PF: Wilson Chandler
C: Brook Lopez
G-F-C: Maurice Harkless
Bench: Kirk Hinrich (originally Andre Miller, but Dennis was quick to remedy that pick with an FA move), Leandro Barbosa, Kendall Marshall, Andrea Bargnani
Frankie's Team
PG: Zach LaVine
SG: Ben McLemore
G: Dion Waiters
SF: Tyreke Evans
F: Tony Snell
PF: Greg Monroe
G-F-C: Terrence Jones
Bench: Miles Plumlee, Marcus Thornton, Dante Cunningham, Festus Ezeli.