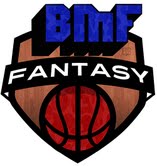 My first official draft is in the books. It's a 12-man, head to head league, against no less than some of the industry's top fantasy basketball minds. It's the "Triple Crown Hoops Challenge," an annual league (since 2009) organized by Dave Gawron of eXperLeagues.com. I've participated in it in four of the last five years. I won the league back in the 2011-12 fantasy season and am hungry for another gold trophy to add to my make-believe trophy case in Yahoo!
Draft order was randomly determined a week ahead of time, so I knew I was picking ninth coming into the draft. It was all good fun, with a solid turnout if 11-of-12 managers present for the live online draft.
Here are the participants and the draft order:
Will Overton, RotoProfessor
Damian Schaab, Formerly of Baller Mind Frame (absent)
Randy Dean, eXpertLeagues
The Hectorious One, independent (Team AutoDraft)
Tom Lorenzo, SB Nation
Mark Kaplan, Fantasy Alarm
Allen Tippy, Fantasy Basketball Daily
Ryan Knaus, Rotoworld
Me, Baller Mind Frame
Daniel Dobish, RotoExperts
Kyle McKeown, DailyFantasyBasketballPodcast.com
Justin Fensterman, Fantasy Score
Kyle McKeown live-casted the draft. Here is the YouTube video.
[youtube]https://www.youtube.com/watch?v=SkgiiIIZii0[/youtube]
Round 1
| | | |
| --- | --- | --- |
| Pick | Player | Team |
| 1 | Anthony Davis (NO – PF,C) | RotoProfessor Overton |
| 2 | Stephen Curry (GS – PG,SG) | BallerMindFrame Schaab |
| 3 | Chris Paul (LAC – PG) | eXpertLeagues Dean |
| 4 | James Harden (Hou – SG,SF) | Team Autodraft |
| 5 | Kevin Durant (OKC – SF,PF) | RotoExperts Lorenzo |
| 6 | LeBron James (Cle – SF,PF) | FantasyAlarm Kaplan |
| 7 | Russell Westbrook (OKC – PG) | FantasyBasketballDaily |
| 8 | Kawhi Leonard (SA – SG,SF) | Rotoworld Knaus |
| 9 | DeMarcus Cousins (Sac – PF,C) | BallerMindFrame Ong |
| 10 | Al Horford (Atl – PF,C) | RotoExperts Dobish |
| 11 | Paul George (Ind – SG,SF,PF) | RotoKyleNBA |
| 12 | Carmelo Anthony (NY – SF,PF) | FantasyScore Fensterman |
There were very little surprises here in Round 1. That third-overall Chris Paul pick by Dean is intriguing. I personally would have preferred that move in a league with a rotisserie format. Hector had trouble logging in with his co-manager's account or something and the system selected James Harden for him in the first round, which prompted him to rename his team to "Team AutoDraft." I think was aiming for Durant, but was "OK" with the Bearded One in the first round, nonetheless.
I was happy to get DeMarcus Cousins ninth overall. I got a Tier 1 center to build my team around and I figured I could go for a solid point guard or shooting guard at bounce.
Round 2
Part of me felt a bit sad to Paul Millsap go before my pick. He's been one of my consistent pet picks in the second round in most of my mock drafts. I narrowed my choice to Jimmy Butler and Damian Lillard, both of whom I expect to go bonkers in fantasy this season. I decided to go for Lillard, because who isn't on the Portland Trail Blazers Fantasy Hype Train?
What surprised me in Round 2 was that no one went for the now-slimmed down Kyle Lowry. His getting gassed in the second half of last season might have played a factor. The most eye-popping 1-2 combo I liked was Anthony Davis and Draymond Green. Less assists and treys, both guys combine as solid core for seven of the nine categories contested!
Round 3
OK, Overton has a mean core of Davis-DrayGreen-Lowry now. Sick!
As expected, the Gasol brothers get picked in quick succession at this point. I'm iffy about picking Kyrie in the third. I know he's a top-tier PG and all, but his injury makes me wary and was glad he was off the table. I kind of wanted DeAndre, but felt I wanted to grab some support for Lillard ASAP. It was down to Jeff Teague and Victor Oladipo. In the end, I went for Dipo because of his SG-eligibility. I wanted to lock down a solid shooting guard and at the same time improve on my steals. Victor was the best available 2nd-tier shooting guard, who also happens to have the upside to crack the higher tiers.
Mental note: Most of the quality big men go off the board by Round 3.
Round 4
| | | |
| --- | --- | --- |
| Pick | Player | Team |
| 37 | Al Jefferson (Cha – PF,C) | FantasyScore Fensterman |
| 38 | Gordon Hayward (Uta – SG,SF) | RotoKyleNBA |
| 39 | Rudy Gay (Sac – SF,PF) | RotoExperts Dobish |
| 40 | Nicolas Batum (Cha – SG,SF) | BallerMindFrame Ong |
| 41 | Hassan Whiteside (Mia – C) | Rotoworld Knaus |
| 42 | Derrick Favors (Uta – PF,C) | FantasyBasketballDaily |
| 43 | Reggie Jackson (Det – PG,SG) | FantasyAlarm Kaplan |
| 44 | Brook Lopez (Bkn – C) | RotoExperts Lorenzo |
| 45 | Dirk Nowitzki (Dal – PF,C) | Team Autodraft |
| 46 | Andrew Wiggins (Min – SG,SF) | eXpertLeagues Dean |
| 47 | Trevor Ariza (Hou – SG,SF) | BallerMindFrame Schaab |
| 48 | Dwyane Wade (Mia – PG,SG) | RotoProfessor Overton |
Ok, you got me. I'm high on Nicolas Batum having a bounce-back season with Charlotte, and yes, I am willing to reach for him to secure his services for my fantasy team. I kind of feel bad that Trevor Ariza fell that far down. I'd think he'd be a consideration as a pick ahead of Batum for sure.
Round 5
| | | |
| --- | --- | --- |
| Pick | Player | Team |
| 49 | Danny Green (SA – SG,SF) | RotoProfessor Overton |
| 50 | Marcin Gortat (Was – C) | BallerMindFrame Ong |
| 51 | Goran Dragic (Mia – PG,SG) | eXpertLeagues Dean |
| 52 | Isaiah Thomas (Bos – PG) | Team Autodraft |
| 53 | Tobias Harris (Orl – SF,PF) | RotoExperts Lorenzo |
| 54 | DeMar DeRozan (Tor – SG,SF) | FantasyAlarm Kaplan |
| 55 | Monta Ellis (Ind – PG,SG) | FantasyBasketballDaily |
| 56 | Brandon Knight (Pho – PG,SG) | Rotoworld Knaus |
| 57 | Tim Duncan (SA – PF,C) | BallerMindFrame Schaab |
| 58 | Giannis Antetokounmpo (Mil – SF,PF) | RotoExperts Dobish |
| 59 | Nikola Mirotic (Chi – SF,PF) | RotoKyleNBA |
| 60 | Greg Monroe (Mil – PF,C) | FantasyScore Fensterman |
After my grab for Batum in the previous round, I realized that the move forced me to pass up on some solid big men like Derrick Favors, Marcin Gortat, and even Brook Lopez. So, I kind of panicked. Just a little. I knew Cousins needed some help and looked to Tim Duncan for those boards and blocks. Greg Monroe probably has a higher upside given his new team, but he doesn't block shots. Duncan's passing ability was a huge plus as well.
Round 6
I totally had Karl-Anthony Towns all queued up. Thanks RotoKyle! Argh! So here we have another pet pick of mine this season. Tyreke offers assists and rebounds at the same time. I am counting on having guards that rebound well to offset the fact that Cousins and Duncan are my only bigs so far. Interesting that I opted to reach for Reke with Kemba still on the board. My concern with Walker is that I think that Batum and Lin could cramp his style this season. That said, I could be totally wrong here and Kemba would be the better pick. Again, as I've stated, this is a biased pet-pick grab on my part.
Round 7
Thaddeus Young got sniped right off the top of my draft queue. Like I always say, "It's not a competitive league if someone you want isn't sniped off your queue in the draft." Well played, Mr. Knaus, well played. Seeing that Duncan might need to handle my team's power forward position for now, I went off and got the most reliable, really old guy available and took Ty Chandler. Not the prettiest pick, but I like his situation in Phoenix this season. That is, if his back (and everything else) will hold up with all of that running. Now, I can add rebounds to the list of categories my team is competitive in. In hindsight, I probably should have gone after Robin Lopez instead.
Round 8
I have little to say about my pick in this round, other than that I am a full-fledged, card-carrying member of the "Stanley Johnson Fan Club." Reach? Perhaps. I had a funny feeling that he wasn't going to be there on my next pass at the player pool, so I did what I had to do.
Round 9
List me as one of the people impressed by what Meyers Leonard has shown so far in the preseason. Given my team's theme so far, I felt grabbing a stretch-four was a good move. Leonard supports the line I've taken and comes with a bit of that magical Trail-Blazer upside.
Round 10
At this point in the draft, I like to grab what I call "locking mechanisms." Between Lillard, Batum, and now Ryan Anderson, I essentially lock down the three-point shooting category. Again, he's a stretch four and at this stage in the draft, I think he can return some good value. Markieff Morris would stand out as a superior all-around choice, but I was after the high volume of three-pointers made and a part of me is wary about Kieff's beef/drama with the Suns this off-season. Then again, this could come back to haunt me later on in the season.
Round 11
This league has a weekly roster changes setting and I decided that I would sit on Brandon Jennings until he's 100%, with the hopes that he'll recover and perform well enough in the second half of the season to boost my team's performance down the stretch. I know that his injury is a scary one, but in the event that he does bounce back to anywhere close to his 2014-15 numbers, I've got a gem on my hands. Conversely, if he experiences any setbacks in his recovery and Reggie Jackson locks up the starting PG gig, then I just drafted a lump of coal. Risks and rewards people, risks and rewards.
Round 12
Rounds 12 and 13 in standard sized leagues are normally the spots where I go for upside picks. I like what I've seen from Julius Randle so far, and even if he takes the first half of the season to get his groove on I've got him stashed on my bench.
Round 13
Speaking of upside picks, TJ Warren will be a solid producer off-the-bench for the Suns, if not outright win the starting SF job, this season. He's a solid guy who can score and knock down threes. That, and he's fun to watch.