As athletes continually develop superhuman abilities, the anomalies within sports can become rather elementary. Milestones like a completing a touchdown catch or making a deep two-point shot are often considered to be uneventful or lackluster in the aggregate body of sports plays. The appreciation of athletes being able to contort and morph their bodies with the quickness and ease that sports demand from them in order to even compete is often unappreciated. Especially with high-octane, adrenaline-pumping, stimulus-compelling sports like the NFL, how do you expect these types of plays to compete?
It can become rather hard to appreciate the skill within all sports. Especially when the pinnacle of mankind's bodily achievements are pushed further and further, every single day. It has now been nearly 30 years since Michael Jordan broke the barricade of human flight in an iconic NBA Slam Dunk Competition against Dominique Wilkins. Gliding through the air on national T.V., over 15 feet distance, to put a ball into a hoop that is 10 feet high.
How could any dunk after that point even come into comparison?
Blake Griffin jumped over the hood of a car and dunked a basketball.
Dwight Howard raised the hoop two extra feet and dunked a basketball.
Heck, Jeremy Evans was able to dunk two basketballs simultaneously.
These stupefying acrobatics aren't even some of the most amazing byproducts of the NBA Slam Dunk competition. In fact, these dunks have become so increasingly boring, that Kenny "the Jet" Smith stated that the Three-Point Shootout had become more exhilarating that it should be the closing event on NBA All-Star Saturdays night.
The NBA Slam Dunk competition has gradually fallen into sports Darwinism over the past couple of years and hasn't been able to acclimate to the demand of an increasingly short viewer attention-span that as more aesthetically pleasing games and events have.
And this for good reason.
The event has become rather stodgy, as there hasn't been any real competition between competitors the past couple of years and the dunks becoming rather repetitive and cumbersome.
However, as the 2016 dunk contest finally was underway to conclude All-Star Saturday night, fans had originally bought into the lethargic stigma of the competition. Unaware that this year would draw comparisons to that of Michael Jordan vs. Dominique Wilkins, or a Vince Carter vs. Steve Francis type of contest.
The dunks that were performed had never been seen, done, or even accomplished for that matter. The players participating in the contest were able to draw the allure from all fans alike. Captivating the marquee event, once again, for all to enjoy.
Will Barton, Andre Drummond, Aaron Gordon, and Zach LaVine were all four of the contests. Each representing Denver, Detroit, Orlando, and Minnesota, respectively.
While Zach LaVine had won the contest the previous year, many fans ruled Aaron Gordon and Will Barton as dark horse candidates to dethrone the champion this year with their freakish athletic ability.
Completely ignoring the weak first round, here are the highlights and what you need to know when talking by the water cooler with your boss:
Will the Thrill had a great opening dunk, but didn't get the scores he deserved:
https://vine.co/v/inPit3wDLKm
However, his intro was 10/10 in my book:
https://www.youtube.com/watch?v=_B2RYQU5SBg
Andre Drummond shaved his shoulders for the contest:
(Before)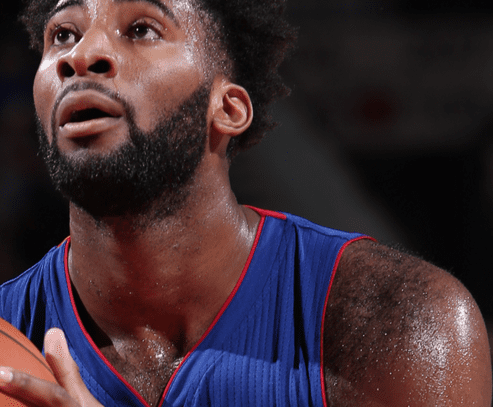 But, didn't see past the first round.
Zach LaVine looked like he was going to clean sweep the contest with his first dunk:
https://vine.co/v/inPvWi65Z0Q
Which he landed on his first try.
Aaron Gordon was able to showcase his immediate presence with his reverse, between the legs throwdown:
In just the first round alone, the dunks were rather minimalistic is showmanship and performance. They accentuated the sole capabilities of the dunkers themselves and created a shared appreciation for the accomplishments that they were contributing. Lavine and Gordan had easily run away with the competition early as Drummond and Barton's second dunks came after multiple missed attempts.
Then, in the final round, all hell broke loose.
LaVine and Gordon both advanced into the final round and performed some of the most jaw-dropping illustrious displays of athletic ability that I have ever seen.
This video best explains the whole process in less than two minutes:
Each dunker exchanged blows and put the other into a high pressured situation as both exchanged perfect 50 scores back and forth. Players from around the league voicing their pleasure with the contest:
The dunk contest is back!!!

— Dominique Wilkins (@DWilkins21) February 14, 2016
Best Dunk contest. Ever!!!

— DeMar DeRozan (@DeMar_DeRozan) February 14, 2016
Best since Dominique and Jordan #NBADunkContest

— Paul Pierce (@paulpierce34) February 14, 2016
Best dunk contest I've ever seen in my life !

— CJ McCollum (@CJMcCollum) February 14, 2016
Best Slam Dunk contest in years. I slept on this. Didn't see it coming. Gordon and Levine are bringing it

— Stephen A Smith (@stephenasmith) February 14, 2016
And of course, the Iron Sheik:
SLAM DUNK EXCELLENT

— The Iron Sheik (@the_ironsheik) February 14, 2016
It was a whirlwind of intensity, mystery, and attachment. People were captivated by the plays and it was one of the best slam dunk contests that many have ever had the privilege of watching. While many of the fans believe that Aaron Gordon should have won the contest, Lavine came out on top and was the fourth back-to-back Slam Dunk contest winner in the history of the event.
The two went toe-to-toe for one of the most exciting contests of all-time. Setting a new precedent on the standard of what the fans expect.
Be sure to check out the full highlights below.
https://www.youtube.com/watch?v=FKFF78tHN_k