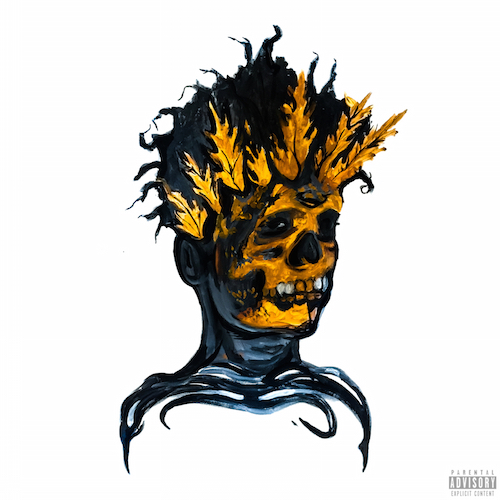 As respected and celebrated as Danny Brown is in our current musical space, it's no wonder that the first release off his label, Bruiser Brigade Records, is a power child of auditory ecstasy and trippy-ethereal trap. The artist is ZelooperZ and the album is Bothic: a project featuring ten exceptionally produced tracks that encompass some of the hottest and most relevant sounds in rap, house, Indie, and R&B music today. Thanks to the collaborative efforts of Bulletproof Dolphin, Black Noi$e, Skywlkr, and Professor Megablown, the album is diversified in a way that makes it accessible for a plethora of fan bases, elevating itself into a colorful place above any genre-specific norm.
Nothing goes harder than a pure dolphin scream sounding right before the bass drops, and if you've never experienced the trippy calling card of production duo Bulletproof Dolphin, you're in for a delicious treat when listening to Bothic for the very first time. Bulletproof Dolphin features the talents of both Danny Brown's DJ and producer extraordinaire, Skywlkr, as well as the enigmatic and extremely talented Black Noi$e. And while they both contribute to the record individually, their combined efforts help make up the record's signature sound, covering 50% of Bothic's production.
This album is turned all the way up! From tracks like "Elevators" that keep you jumping, clenched fists, body banging, ass dropping in the club type-vibes to jams like, "Bothic Bout It," that's perfect for playing in the whip, smoking, riding with your set, just chilling-type-music, the record's personality is wide-ranging, possessing sensuality with pieces like "Automatic" along with pure head-knocking tracks like "Heart". But what's really insane? Every single song is a banger. There's this piece about the album that showcases the highlights of rap music. It's fun as hell without being depthless, dark while still possessing light, raw without being crude.
On top of the flawless composition and production stylings, ZelooperZ's vocal imprint is uniquely enjoyable, yet reminds one of some of the better aspects of the game's heavy hitters today. Present in his style is the tonal fluctuation of Young Thug combined with the signature energy of Danny Brown and relaxed like Future, yet super hyphy like Bay Area gold.
Bothic fits everywhere. Whether you're crushing it at the gym, feeling yourself at the club, relaxing, loving, raving to the grave at a music festival, on an island with a margarita… this album you'll want to hear in all places, spaces, and mindsets. It's the total package and a true achievement for Danny Brown, Bruiser Brigade Records and all the artists involved in the project. If this is a preview of what's to come from this highly anticipated record label, we're all in for a multitude of tasty, musical pleasures.