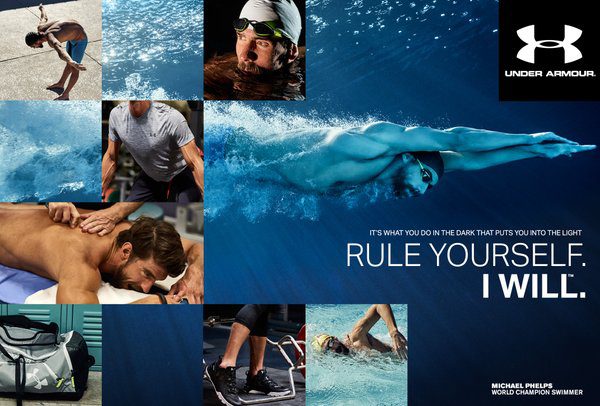 Brought to you by our friends at Under Armour.
Earlier this month, as you may know, the brand debuted the next chapter of RULE YOURSELF with two television spots featuring members of USA Gymnastics Women's National Team and Netherlands football star Memphis Depay. The final spot featuring Michael Phelps highlights the sacrifices he makes- and the grueling hours of training and recovery- as he prepares for his moment in the spotlight.
https://www.youtube.com/watch?v=BQOTxRS7Pfk
The campaign tagline is "It's What You Do in the Dark That Puts You in the Light," which Michael embodies as he trains for competing on the world's biggest stage. The film captures the intensity of his 24/7 training regimen – from pushing through countless workouts in the pool and at the gym to enduring the often brutal recovery rituals that follow. It is within these moments, often removed from the view of cameras and spectators, that we see how Phelps has truly built his sporting legacy.
At an event at the company's global headquarters in Baltimore, the brand also unveiled the official uniforms for USA Boxing, USA Gymnastics and Canada Rugby and showcased the innovations built into the footwear and kits that will be worn by athletes for training and in competition in 2016, including Phelps, Stephen Curry and Andy Murray.
https://www.youtube.com/watch?v=CDM1FPFxbVk
https://www.youtube.com/watch?v=pp4iSsL0YSw