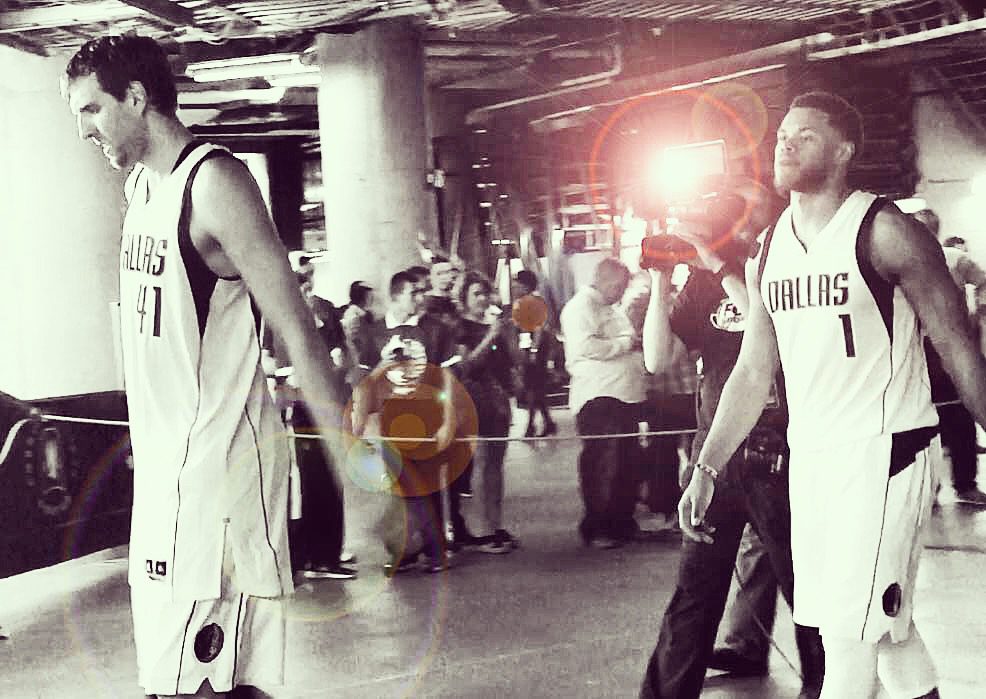 It was a crucial moment in the career of Dirk Nowitzki, although it probably will get muddled up in the outlining shadow that whisks and tickles softly the golden light that is the crux of his very history. In those final fatal minutes of Game 4 against the Oklahoma City Thunder, Dallas Mavericks head coach Rick Carlisle watched his star closely and made the educated decision to pull him in favor of David Lee. On the court, Nowitzki turned his seabird neck a fraction in order to look at his coach, his doe-eyes exhorting in an intrepid way, and spit out one specific word:
"No."
The legend had spoken – he was to stay in the game and lead his troops.
"It is just (about) fighting until the end, until it's over," Nowitzki said in his usual soft tone following Dallas' 119-108 loss to the much younger and more powerful Thunder team. "I felt like my wind was decent enough to battle it through."
The crowd at the American Airlines Center felt something was off in that last quarter. The 37-year-old idol they worshiped in an almost religious fashion was pushing himself to the limit by playing 35-plus minutes, and while they fed off his energy and encouraging demeanor, something was noticeably timorous in the air. They started chanting "Dirk, Dirk, Dirk" in order to give him an extra boost in his fade-away step, their need to add their voice to a part of, what could be, his last chapter at an all-time high.
"All you think is just make one more push."
Whispers of retirement started to sneak across the lips and tweets of the media – something was just plainly different in Nowitzki's motivation. If this was his final playoff game in front of his crowd, he was going to make it passionately germane.
"We all got to enjoy it while we can," Carlisle said about Dirk following the loss. "We're seeing one of the most special athletes in sports history and (he's) doing it at an amazingly high level at, really, an advanced stage in his career."
Nowitzki finished the night with 27 points on 12-of-21 shooting in 40 minutes.
The physical aspect of this particular game (or rather, this particular series) has been acerbic, often resulting in bench clearing altercations. When Carlisle was asked about the physicality of the match-up, he sharply shut down reporters.
"I'm not talking about that. Do you have questions about basketball?"
One such altercation was between rookie Justin Anderson and a heavy-handed Kevin Durant, the latter having swatted Anderson across the right side of his head with 50.6 left in the game after the rook grabbed an offensive rebound. Anderson then fell to the floor, writhing in obvious pain. Durant was issued a flagrant 2 foul and was ejected from the game.
"I texted him and told him I wasn't trying to hurt him at all," Durant said solemnly to the press. "There are plenty of plays this season where I've blocked shots from behind like that and it's just unfortunate that I hit him over the head. It was a flagrant even though I wasn't intentionally trying to foul him, but the refs had to make a decision and they made the right one."
Now it's up to the NBA league office to decide Durant's fate for Game 5 on Monday back in OKC. It's possible that Durant could be suspended from the game itself, which will put the Thunder in an awkward position and potentially send the Mavericks back to Dallas for a Game 6.
With this loss, Dallas is on the brink of elimination, one game away from their final death rattle. Guts, grit, and unwavering ambition has pulled them through before, so they have pull it together and win in Thunder territory in order to give Dallas fans the chance to, maybe one last playoff time, properly and openly worship at the heels of their beloved star.
If anything, they have to do it for Dirk.
119

| | | | | | |
| --- | --- | --- | --- | --- | --- |
| Final | 1 | 2 | 3 | 4 | Tot |
| Oklahoma City | 33 | 24 | 32 | 30 | 119 |
| Dallas | 18 | 30 | 31 | 29 | 108 |

108
8:00 PM ET

, April 23, 2016
American Airlines Center, Dallas, Texas  Attendance: 20,516
Oklahoma City
Player
Pos
Min
FGM-FGA
FTM-FTA
3PM-3PA
+/-
OR
Reb
A
Blk
Stl
TO
PF
Pts
K. Durant
F
42:35
7-20
4-8
1-4
+7
0
4
4
1
1
1
2
19
S. Ibaka
F
33:49
7-11
1-1
1-3
-2
2
5
0
0
1
0
4
16
S. Adams
C
24:49
5-7
4-6
0-0
+4
3
8
2
0
0
1
2
14
R. Westbrook
G
38:50
7-19
8-12
3-5
+4
3
5
15
0
2
2
0
25
A. Roberson
G
26:05
1-3
0-0
0-0
-1
2
8
1
1
0
1
1
2
D. Waiters
27:18
4-5
3-3
1-1
+14
0
4
4
1
0
2
4
12
E. Kanter
25:57
12-13
4-4
0-0
+6
2
6
0
0
0
1
4
28
N. Collison
11:25
0-1
0-0
0-0
+14
0
1
0
0
2
0
2
0
R. Foye
9:10
1-4
0-0
1-3
+7
0
1
0
0
0
1
0
3
A. Morrow
0:02
0-0
0-0
0-0
+2
0
0
0
0
0
0
0
0
M. McGary
 DNP — COACH'S DECISION
C. Payne
 DNP — COACH'S DECISION
K. Singler
 DNP — COACH'S DECISION
J. Huestis
 DNP — INACTIVE
N. Mohammed
 DNP — INACTIVE
Totals
240
44-83
(.530)
24-34
(.706)
7-16
(.438)
–
12
42
26
3
6
9
19
119
Dallas
Player
Pos
Min
FGM-FGA
FTM-FTA
3PM-3PA
+/-
OR
Reb
A
Blk
Stl
TO
PF
Pts
D. Nowitzki
F
39:59
12-21
3-3
0-1
-8
1
8
2
0
1
2
0
27
W. Matthews
F
37:43
5-13
6-7
3-8
-16
0
2
1
0
0
2
3
19
Z. Pachulia
C
20:45
4-4
1-1
0-0
-14
0
2
2
0
0
0
5
9
R. Felton
G
35:44
9-16
0-0
1-4
-6
1
3
11
0
0
1
3
19
D. Williams
G
1:29
0-0
0-0
0-0
0
0
0
0
0
0
1
0
0
J.J. Barea
26:37
0-7
0-0
0-1
-10
0
1
6
0
0
1
2
0
D. Harris
23:39
4-5
1-2
3-3
-11
0
1
0
0
0
2
3
12
J. Anderson
18:50
4-8
1-2
1-3
+8
3
7
2
0
0
2
3
10
S. Mejri
18:25
2-2
2-2
0-0
+1
1
4
0
2
2
0
3
6
D. Lee
15:39
3-5
0-0
0-0
-1
1
4
1
0
0
0
5
6
C. Villanueva
1:10
0-2
0-0
0-2
+2
0
1
0
0
0
0
0
0
J. McGee
 DNP — COACH'S DECISION
D. Powell
 DNP — COACH'S DECISION
J. Evans
 DNP — INACTIVE
C. Parsons
 DNP — INACTIVE
Totals
240
43-83
(.518)
14-17
(.824)
8-22
(.364)
–
7
33
25
2
3
11
27
108
Officials: Ken Mauer, Ed Malloy, Sean Corbin
Time of Game: 2:46

Technicals
Oklahoma City
– R. Westbrook (11:31 – 2nd Qtr)
– S. Ibaka (0:21 – 4th Qtr)
Dallas
– S. Mejri (11:31 – 2nd Qtr)