Two very different players, two very different storylines, and yet both are very close in the debate of best player in the draft. The potential for both is there, but only one can be chosen number one overall.
Ben Simmons: If you've watched him at all, you've seen his potential, athleticism, and playmaking ability, but you might also've seen his below average GPA, dissapointing exit to his college career, and many other "red flags". His jump shot is subpar, his decision making can be questionable, but there isn't any doubt that he's got star written all over him. But why?
For me, it's about his transition play, vision, and ability to use both hands which makes him one of the most versatile players we've ever seen drafted. Simmons covers an incredible amount of ground, especially for a big-man who's close to six foot and ten inches tall. ESPN's Chad Ford even mentioned him being a point-guard, which tells you a lot about his playmaking, assisting, and ability to move up and down the court with ease.
Compared to likes of LeBron James, Lamar Odom, Blake Griffin, and Boris Diaw, the spectrum of what type of player he'll become is broad to say the least. I think his most comparable past player is Lamar Odom based on the size and athletic ability at the same age. Obviously, we know Lamar didn't turn out to be that supreme talent people thought, but his talent was undermined by playing with other stars and teams that didn't rely on his playmaking ability as much. The game has also changed in a multitude of ways, making it nearly impossible to just compare "apples to apples". The game is all about versatility and finding the "best players" regardless of position, whereas in years past, there was a hesitancy to play a different speed, style, or rotation.
That being said, Simmons doesn't possess the shooting ability of Ingram. His lack of shooting doesn't blend well with the current NBA, but his youth and ability to make inside jump shots gives me hope.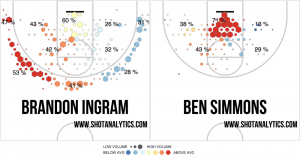 The Australian native, Simmons possesses the stronger "boom or bust" case because of his immaturities and questionable motor. I think the high-energy, always-on, eager competitor, was turned off at times this past season but only because of the team he played with. Even with that, he should have no excuse for the lack of effort , knowing NBA scouts, coaches, GM's were watching.
Overall I think Ben Simmons will be the best player in the draft due to his size, versatility, and ability to rebound. He can play any position you want him to, while providing offense from points, assists, and passes that lead to assists. When he gets in transition, he's a monster, similar to LeBron in that nature. I wouldn't be surprised if Simmons becomes a multiple-time All-Star and MVP at some point in his NBA career.
Brandon Ingram: Brandon Ingram is a little easier to understand. He's got a very similar jump shot, stroke, and body type to Kevin Durant, but pump the brakes on his comparison. While Ingram looks the part, his shot making ability still has to be proven at the NBA level. His intangibles are great and playing under Coach K certainly helps with how he conducts himself as a professional.
I think his biggest hurdle will be facing much tougher defenders and his ability to be able to come off of screens, creating that separation. Ingram isn't small, but his frame and the way he plays lends you to believe that he could become lost in games. The questions about his off-the-court attitude and persona are virtually non-existent, different from Ben Simmons.
There's no question his shot making ability is far superior to that of Simmons, it should certainly stand out in the NBA. His creativity especially when it comes to the difficulty of his shots, shot selection, and mid-range game is impressive to say the least. He can pull-up, fadeaway, and turnaround with ease, making it look like second nature.
The fact that he went to Duke, gives me a little more confidence in the "coachability" factor. Although Duke players have seemingly struggled in the NBA, I think Ingram will be much different. His silky smooth jump shot at his size is incredibly rare to see, separating him from his other alumni.
The question I really have with Ingram is whether he can make his way on the defensive end. His size, length, and mobility allow him to cover up a lot of the defensive mistakes and errors he had in college. But now, it's the NBA, where Ingram will be facing stronger, bigger, and more athletic players. This won't be new news for Ingram, as he knows he'll have to perform better on the other end of the floor to make it in the league, but he'll certainly have to work on it throughout this offseason.
Whoever drafts him will be getting a more polished offensive player, that should continue to get better on the defensive end. You won't need to worry about the intangibles, work-ethic, or motor, but you will need to worry about his ceiling and potential. While he's young and can improve, I think his game didn't develop as much as I'd expect, giving me pause for his growth opportunity. Either way, this is very similar to the 2007 NBA Draft, where it's easy for the second team picking. They just choose whoever wasn't taken between the pair.
Final Decision: If you want versatility, athleticism, and potential to be great, I think Simmons is the easy answer. I don't see how you could pass up on the opportunity to draft a player with his potential upside. His creativity, playmaking, and size, give me reason to think he'll put the off-the-court issues aside and realize his true potential. I will be shocked if Simmons doesn't become a perennial All-Star and potential MVP candidate for the next 10 to 15 years.