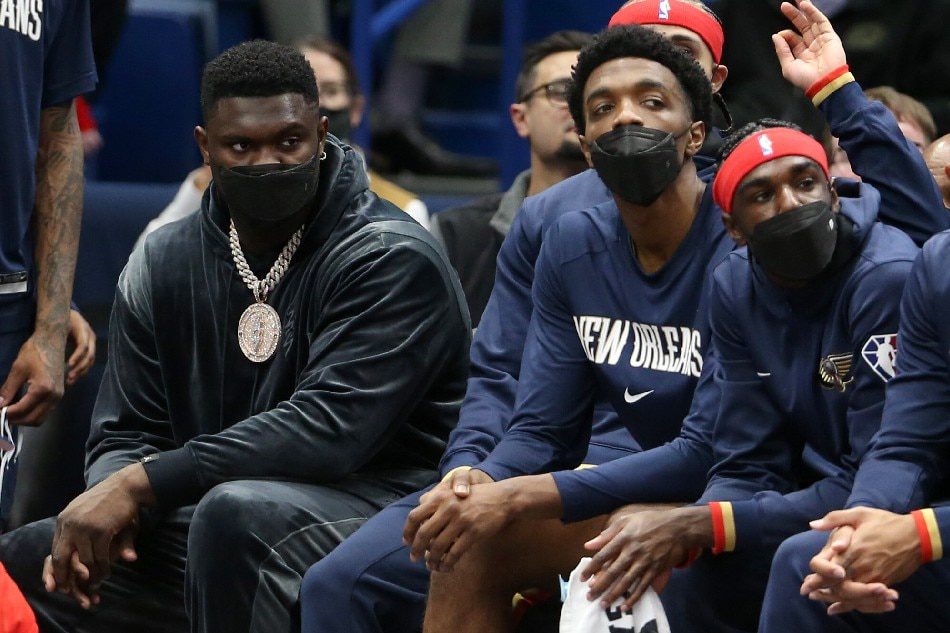 The New Orleans Pelicans fell to the Miami Heat, 113-98 this past Wednesday in what continues to be an extremely disappointing season for them and their fans alike. The loss marks the seventh time the Pelicans have been beaten by double digits this season, as they have shown little to no signs of life at all. Offseason acquisition Jonas Valančiūnas said after the loss Wednesday that 'we' re not going to give up' but with the product the Pelicans have been putting on the floor recently, it certainly seems like they have.
One of the reasons for the Pelicans dumpster fire up to this point has been the absence of Zion Williamson. The All-Star power forward and former first overall pick received surgery this past offseason for a fractured right foot and was expected to be ready for opening night. However, the rehab has taken longer than expected and Williamson is still yet to play in a single game this season. This trend is all too common for the third year pro who has now already missed 75 games throughout his first three seasons, just adding to the concerns involving his conditioning and durability. There's also a concern about his weight. According to Jake Fischer of Bleacher Report, Williamson weighed over 300 pounds after the surgery in the offseason. "He's since reached north of 300 pounds this offseason, sources said, again fueling concerns among New Orleans staffers similar to the months leading up to his rookie debut," Fischer wrote. Looking at Zion, it's hard to imagine he's taken off these pounds.
But, despite Zion's extended rehab and weight concerns, no one could've predicted that the Pelicans would have the second worst record in the league 16 games into the season. After the departure of starting point guard Lonzo Ball, the Pelicans immediately replaced him with former Charlotte Hornets point guard Devonte' Graham. Graham averaged almost 15 points and 5.4 assists per game  in Charlotte last year despite sharing valuable minutes with Terry Rozier and LaMelo Ball. In 2019-2020, Graham had an even more impressive season when he got more playing time, averaging 18.2 points and 7.5 assists a night while also appearing in the Mountain Dew three-point  contest during All-Star weekend. While Graham hasn't been terrible in his first season in New Orleans, he hasn't been as good as the Pelicans would have hoped considering the numbers he put up with extended minutes back in 2019-20.
Graham wasn't the only addition this past offseason, as the Pelicans also acquired center Jonas Valančiūnas from the Memphis Grizzlies in their quest for a playoff appearance this year. Valančiūnas, unlike Graham, is having arguably the best numbers of his career at the 16 game mark. The seven-footer from Lithuania is not only setting a career high in points (19.0 per game) as of writing this, but he is also setting a high in rebounds per game as well (12.9). However, the most impressive statistic from Valančiūnas this season is the fact that he's dominating the league in terms of three-point percentage. He's hitting deep balls at a 55.2 percent clip; 7.3 and 8.6 percent higher than Brooklyn's Patty Mills and Joe Harris who are in second and third in the NBA, respectively. If one thing is for sure, it's that Valančiūnas is not to blame for New Orleans' struggles.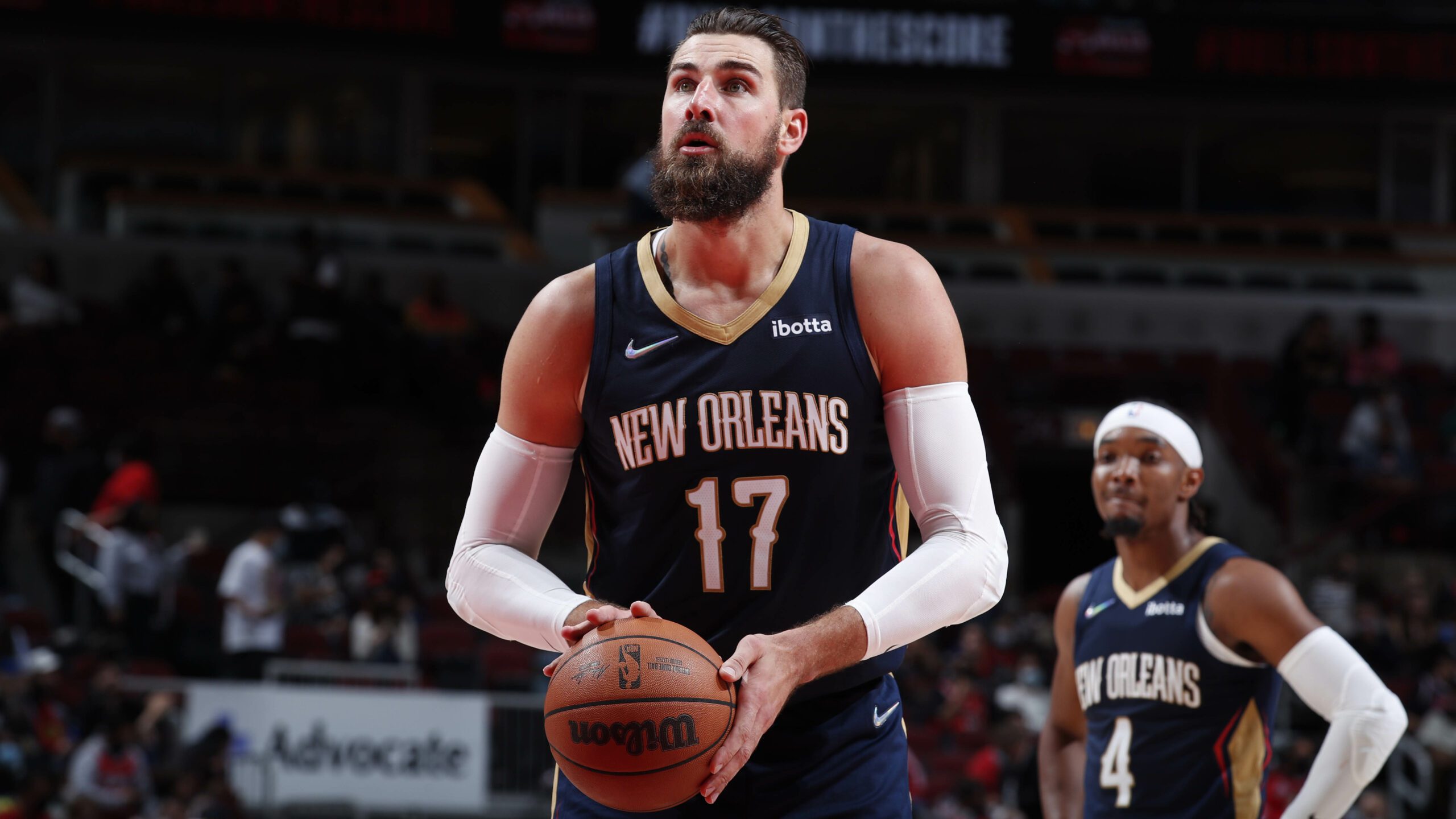 What has also helped is the return of Brandon Ingram from injury, and he too is averaging career highs in per game averages for both points (24.3) and rebounds (6.2) in the nine games he's played thus far. The Pelicans' only two wins have come when Ingram has been on the floor, so there's some correlation there.
Even with Zion's injury and Lonzo's departure, why are the Pelicans regressing so much from last season if they have two players playing at an All-Star level and another one putting up similar numbers to Lonzo? Well, there can be a few reasons why, and one is poor defense. At the moment, the Pelicans rank 26th in points allowed per game with an average of 111.4. You know how the old saying goes, 'defense wins championships' and the Pelicans defense isn't even close to making them semi-competitive, let alone a playoff team. Second reason, a lack of depth. The Pelicans do not have a single player averaging more than seven points per game coming off the bench, and since you can't play your starters 48 minutes each night, a lack of scoring from your role players proves costly. In general, after having looked at this Pelicans team more in depth, it's no surprise that they're as bad as they are despite having a solid looking starting lineup on paper.
To the surprise of no one, first year head coach Willie Green has probably been the most upset over the team's disappointing start. Green has already had multiple postgame press conferences where he ripped the team, and himself, over a lackluster start. Following a 108-100 loss to the Oklahoma City Thunder, Green stated that he thought his players 'weren't competing hard enough' and that they were getting 'out hustled' over the course of the entire game. "It's not one quarter. It's our approach to this game. There were moments in the game where we just didn't have guys who didn't compete hard enough," Green said following the team's eighth straight loss at the time. He wasn't quick to excuse himself either. "My approach has to be better. I gotta get the team prepared to play. I did a poor job tonight," he said.
Either way, the Pelicans need to start winning games immediately if they want any chance at success this season. If not, they might be stuck in the dreaded middle space between competing and rebuilding. The team is set to face the Los Angeles Clippers tonight at 8pm eastern.