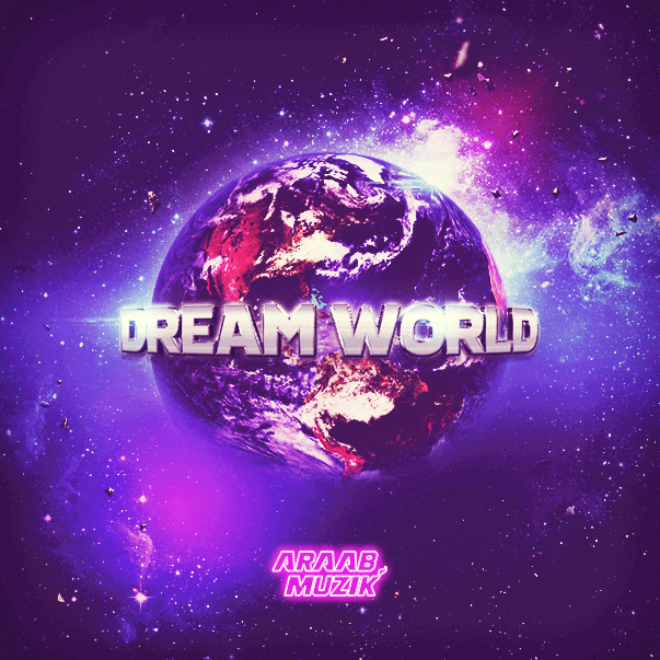 Being young in Los Angeles with a passion for partying usually means you're hitting a couple of music festivals annually, and if we're calling a spade a spade, then we're talking raving. I personally pride myself on infusing dance culture into my life on all levels; it's one of my passions and I happen to crush at it, but I never once found the rave scene appealing. Why, you ask? The music. On the whole, and in my opinion of course, it lacks depth, dynamism, and it's missing a hip-hop soul: the quintessential component of music that makes one move in the most powerful of ways. Listening to Dream World by AraabMUZIK not only keeps my head knocking, but has me dreaming of reliving my festival-ing the right way, and the energy is simply perfect.
Like all publicly-released media, Dream World has been heavily-reviewed, discussed, and critiqued, and through my observation, some of the criticism seems to be heavily misplaced and unimaginative. I'm speaking specifically to this line of thought that deems AraabMUZIK's new album lacking a signature sound, or that who he is as an artist is somehow undefined in this work. To put it plainly, that sentiment is lame: turned all the way down. Dream World is fantastic for being so versatile. It delivers to the listener a cornucopia of delights by way of multiple genres and vibrations. At times one can feel the classic energy of west coast hip-hop; top down, palm trees glistening, something like the way listening to an early Dr. Dre track makes you feel. At others, the intensity of dance hall and EDM sounds take over and the propensity to dance is undeniably epic. It has a worldly feel, incorporating Caribbean sounds, Latin-like grooves, and native chants. Then, when least expected, the mood turns sensuous, finishing with R&B notes and flavor. Like a beautifully crafted wine, the album is complex, full-bodied, and hits all the pleasure receptors. Dream World lacks in nothing. It may just be that it's far too colorful for the dim perspective to experience it.
Cheers to AraabMUZIK for compiling such an intense variation of energy and sound. If you're one who enjoys moving your body, the track list will awaken physical inspiration that can be paired with anything from a powerful workout to an insatiable night on the town, beach, dessert… or even one in the bedroom. It's been pure pleasure reviewing and covering this record, so without further ado, here's a certified T-Killa highlight reel for Dream World. Beginning with some of the hip-hop features, "Loud" (feat. Loud Lord), is a certified banger. This track exquisitely showcases the way Aarab produces content that satisfies both the desires of his wide-ranging electronic and hip-hop-loving audiences. A smooth blend of bass and trippy space-like synth, "Loud" is one of those instrumentals that'll have your head knocking. And speaking of head bangers, song two, "50 Box Of Swishers," is just perfect in its west coast, California personality. As the chorus pronounces, it's just "Way too turnt up." Beautiful in its groove, and even if you don't smoke, you can't deny that this is the blunt-rolling anthem, a spirit in hip-hop that's been lacking in recent times. A true achievement in its own right.
When I mentioned previously the sentiment regarding, "if I could redo my rave-to-the-grave experience all over again (particularly with the power of controlling the music)," I'd be atop the highest platform going out of my mind listening to these next few tracks at a festival. "A.M." (feat. Mavati) is an unreal meld of EDM, hip-hop, and world music. The build ups and drops are so large that one can't help but lose control while listening to this track. And for all those that love the purity of straight rave anthems, "Stadium House" (feat. Mavati) offers that particular listening experience to the user in full. "Take Me Higher" (feat. Jake Page) possesses similar elements with a dub step skeleton and a beautiful melodic backdrop. And to finish off this portion properly, we must end with the mention of track nine, "Señor Breakfast" (feat. Baauer). One of my favorite songs on the album, this number boasts a liquid-like groove that slows down the EDM pace encompassing a tribal, mystical energy that hits incredibly hard.
The sensuous cherry on top has to be the infusion of R&B into the record. It's so satisfying when it unveils itself on tracks like "Dream" (feat. !llmind & vChenay) and "Waiting For" (feat. DVNK SINATRV, THC & Vices). And while "Waiting For" isn't classical R&B by any means, the vocals are passionately seductive and the beat breaks down throughout the duration of the song in a very delicious groove. Definitely a track you want to sing along with, out loud, shouting to the heavens. Now "Dream," on the other hand, delivers that R&B flavor directly and that's massively due to the vocal stylings of vChenay. Listening to this up-and-coming artist do her thing over the ethereal, musical backdrop AraabMUZIK paints for her is quite the lovely experience.
From start to finish, Dream World carries the listener on a vibrational journey filled with auditory pleasures that come in all shapes and sizes. A record so thoughtfully put together that it should be experienced linearly for the first time. When broken up, the songs deliver a plethora of rhythms and grooves that delight the senses in a myriad of ways. It fits in almost all spaces filled with electric energy and above all else, the record is raw, powerful, and fun. Not for the weak-hearted, square, or stiff-minded, Dream World is a gift to those ready for adventure, passion, and electricity. And that's what's to be expected when "You are now listening to AraabMUZIK." I thought y'all already knew.