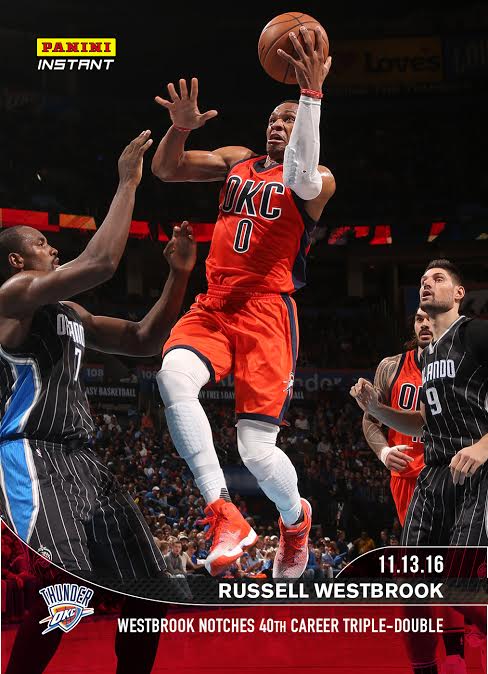 Courtesy of our friends at Panini.
Starting Monday, November 14th, at 3:00 p.m. ET,  for the next 24 hours, Panini America has released a special Russell Westbrook trading card on PaniniInstant.com to commemorate his 40th career triple-double!
Panini Instant Trading cards from Panini open up a new world and a unique opportunity for collectors by producing trading cards that celebrate the biggest moments, milestones, and key performances in sports on a daily basis. Our staff works to note the defining moments in the world's biggest sporting events and instantly designs a card with dynamic graphics and pictures of the action. Panini Instant Trading Cards featured are only available for 24 hours, beginning mid-day after a game is played.
It's literally available for 24 hours!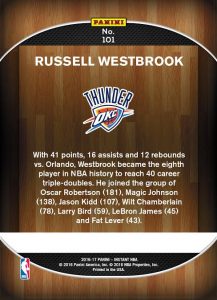 These special trading cards are part of the Panini Instant collection, which exists to commemorate milestones and achievements in real-time so fans don't have to wait months (or even seasons) to capture their favorite moments.
These specific cards will only be offered for 24 hours and are available in a base version, numbered to 50, numbered to 25, numbered to 10, numbered to 5 and one-of-one on a first come basis
The cards will be shipped to consumers within three to five business days after the 24-hour ordering window expire
Price ranges from $9.99-$149.99 depending on the variation