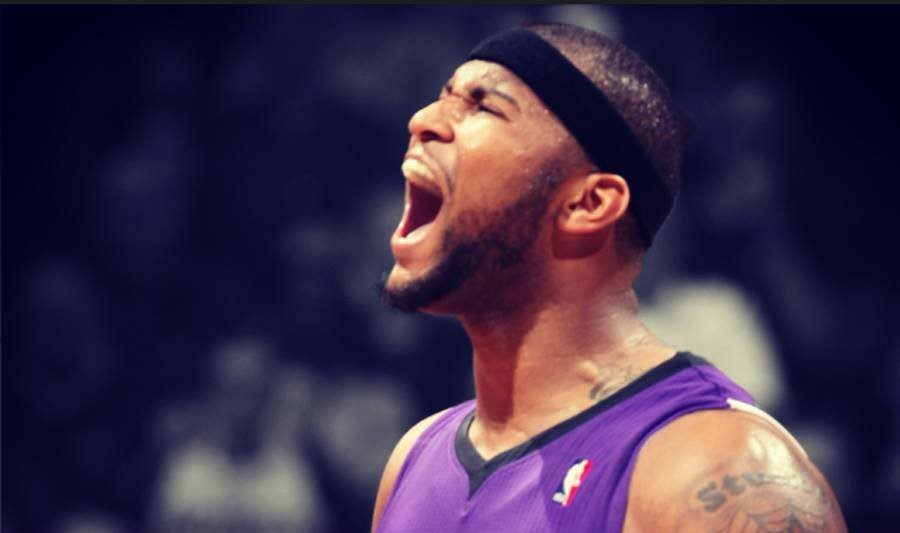 There are a few constants of a NBA season–LeBron James making the finals, the Knicks doing something stupid, and DeMarcus Cousins' name coming up in trade rumors. Cousins trade rumors have become an annual story for sportswriters to run during slow news days. There is always a bit of truth to the rumors although the Kings ultimately resist the urge to engage in preliminary trade talks. This year seems different. The Kings are going nowhere fast again and Cousins has rarely hidden his constant dissatisfaction–that is completely justified–with the organization.
Even Shaquille O'Neal, a minority owner of the Kings, said it may be time to move on from Cousins, citing his lack of leadership:
"He hasn't shown me his leadership qualities yet," he said. "That's why I'm hearing talk of, if things don't start to become correct then they may be looking to go in a different direction."
To back that up a Western Conference GM has said he expects a trade in "three months, tops". A divorce between the two seems like the only way to go. The Kings have a solid head coach in Dave Joerger they can hand the keys to for a serious rebuild. Cousins is the most talented center in the league, but it's obvious he needs guidance that will never come to Sacramento. Per 100 possessions Cousins is contributing 41.1 points, 13.3 rebounds, 1.7 blocks, and 4.5 assists in eleven games this season. It's a tiny sample size, but still mind numbing how the team is 4-7 during that stretch.
So who can salvage such a talent? In the right hands Cousins can be a key player for a contending team. He's only 26 years old and is entering the prime of his career. For what it's worth I think Cousins gets a bad wrap as a coach killer. Is he immature? Yeah. But a good organization finds a coach that can help someone like Cousins grow. The Kings had that guy in Mike Malone, but inexplicably fired him thus bringing us to this point. I still believe that was the moment the Kings lost Cousins forever.
It is now time for both parties to go their separate ways and begin anew. The following five trade scenarios are dream trades for Boogie, not necessarily one that makes the Kings better. One of the realities of trading a star in the NBA is that you rarely get face value like the Timberwolves did for Kevin Love, but more likely to receive fifty-cents on the dollar like the Nuggets got for Carmelo Anthony. With that in mind let's find Boogie a new home.
Trade 1: San Antonio Spurs
Spurs receive: DeMarcus Cousins
Kings receive: LaMarcus Aldridge, 2017 first-round pick
This will save Cousins' basketball life. It would mean his destiny is to win championships. The Spurs are known for many positive things, but chief among them are maximizing player potential and a stable organization. From the front office all the way down to the water boy, the Spurs operate as one body. R.C.Buford and Popovich have been at the helm since 2002 winning four championships. In that same time the Kings have burned through ten head coaches, three general managers, and two owners in that time.
Joining the Spurs has obvious benefits like everything covered above, but from a strictly basketball standpoint is where the best part lies. Now would be the perfect time for Boogie to step into the picture. Despite the continued success the Spurs are rebuilding. Kawhi Leonard has taken the reins as de facto alpha and while old guards Tony Parker and Manu Ginobili prepare for their last ride. LaMarcus Aldridge has not been the Tim Duncan replacement at all and has proven he can disappear in grind out playoff games.
Replacing LA with Boogie immediately boosts the team's toughness as the latter has never shied away from confrontation.
From a skill level Cousins can do more at this point than Aldridge. The only area where you would see a drop off is in perimeter shooting where LA has thrived his whole career. What the Spurs lose in perimeter shooting they get back in post scoring. Kawhi's game seems to get exponentially, but he is still not going to thrive in the paint. The best way to defeat their biggest obstacle, the Golden State Warriors, is to attack the rim and live in the paint. This season Cousins is shooting 51-percent in the paint and bringing down 13.3 rebounds per 100 possessions. This trade can give Parker and Ginobili the proper last ride Tim Duncan deserved last season.
Trade 2: Washington Wizards
Wizards receive: DeMarcus Cousins
Kings receive: Bradley Beal
Kentucky fans know where I'm going with this. Since the dynamic duo of Cousins and John Wall were separated by the NBA draft both have been tortured by bad teams. We've covered everything wrong with the Kings, but what about the Wizards. They too have wasted the talent of John Wall with bad coaching (Randy Wittman), mediocre players, and a not so passionate fan base. At this point there is zero reason to believe Wall will even negotiate an extension with the team when his contract expires in 2019. The team decided to extend Bradley Beal before Wall despite Beal's body being made of paper mache.
Beal's $128 million extension would not look so bad if Beal had actually earned it. Outside of the two year run from 2013 to 2015 the backcourt of Wall and Beal have not been on the court together much. Beal has been injured often the past two seasons playing only 55 games last season while Wall has tried to carry the team every night. The only way to save Wall from leaving D.C. would to get him a true partner. Enter the Boogie-Wall reunion.
They were unstoppable at Kentucky and that was while they were still learning their games. A reunion now would be lethal. Wall now knows who he is, a double-double machine, and Cousins knows that he is a monster in the post with guard-like skills. This would immediately be one of the better duos in the league and the best part is they would not have to learn each other's playing tendencies.
Trade 3: Denver Nuggets
Nuggets receive: DeMarcus Cousins
Kings receive: Kenneth Faried, Jamal Murray & Jusuf Nurkic
The only coach that got through to Cousins was Mike Malone. When the Kings fired Malone in 2014 it seemed to be the moment they lost their franchise big man. Not only was he clearly upset about the firing, he believed the Kings would have been a playoff team under Malone. The firing came from owner Vivek Ranadivé who also thought Nik Stauskas was worthy of a lottery pick so you can tell he lacks a fucking clue. Malone landed on his feet in Denver along with former Kings GM Pete D'Alessandro.
A deal between the Nuggets and King would be beneficial to both teams. Cousins gets to reunite with Malone and a talented roster while the Kings get the best return for their best asset. Kenneth Faried and Jusuf Nurkic can make an impact immediately while Murray can either be the point guard the franchise has been looking for since Mike Bibby (you know times have been rough when Mike Bibby was your last great point guard) or an enticing shooting guard prospect. For the Nuggets, the finally snag a star player and start thinking about making a playoff run.
Cousins would join the best supporting cast of his career as well as get a second chance at being the guy. The nucleus of Nikola Jokic, Emmanuel Mudiay, Danilo Gallinari, and others is good enough to make the playoffs and make some noise once they're in. Anyone that has watched the Nuggets this year has seen a team that is painfully close to being good, but need that one star piece to make everything work.
Trade 4: Boston Celtics
Celtics receive: DeMarcus Cousins, Darren Collison
Kings receive: Kelly Olynyk, Avery Bradley, Amir Johnson &  2018 Nets first-round pick
Danny Ainge has been dying to cash in his stack of assets for something tangible. Brad Stevens has done wonders winning with a roster that is stockpiled with solid players, but lacks significant star power. The Al Horford signing was a nice start, but to realistically compete with LeBron James again the Celtics are going to need a blue chipper. Cousins gives them a polarizing star who could be lethal under Stevens who might be the best coach in the league after Popovich.
Stevens can run pick-and-roll with Cousins and Isaiah Thomas or Marcus Smart. He can play off Al Horford in the post, or even more deadly–run his own sets while handling the ball. Much like his Kentucky big man brethren Cousins has a unique skill set for a big man in that he can run the floor and handle the ball like a guard. He can be Stevens' Rob Gronkowski so to speak. His ability to dribble could open the door to a place of Cousins game we never saw coming.
Ainge has been dying to flip his assets from the Nets heist since the summer, allegedly attempting to trade for Jimmy Butler, Jahlil Okafor, and Cousins. The asking prices have been too steep according to Ainge, but now might be the time the price of the brick comes down. If the Kings are serious about moving this is the time to strike. The Celtics can offer solid role players to complement the coveted Nets picks. Which pick the Kings ultimately would take is unknown.
If Ainge is as smart as I think he is he tries to sell next year's first rounder which is likely to be another lottery pick in a less stacked draft. Offering a players of Avery Bradley and Kelly Olynyk's caliber plus an expiring Amir Johnson deal could be enough for Vlade Divac to pull the trigger.
Trade 5: Golden State Warriors
Warriors receive: DeMarcus Cousins
Kings receive: Klay Thompson
We had to end this off with a bombshell. For the record I think this trade will never happen. But I also said that about Kevin Durant joining the Warriors last season so what do any of us know. We've covered the Cousins trade rumors, but this deal involves two players whose names have come up in trade talk this week. Klay Thompson has been the one most affected by Durant's arrival and the bullshit trade rumors have commenced. Celtics analyst and former Warriors coach Brian Scalabrine said he "heard a rumor going around" Klay might be available and a team in green (Celtics) might be the team he goes to. Scalabrine has said he doesn't believe those rumors as does the rest of the world.
But what if it is true. This whole season is an arms race with the Cavaliers.  The Warriors know the best way win the rubbermatch is protecting the rim. LeBron will kill them regardless, but the best way to keep him and Kyrie Irving at bay is rim protection. That is why the Warriors fell off in the finals once Andrew Bogut went down and it's the one hole in the Death Star lineup this year. Zaza Pachulia and a washed up David West are not going to replicate what Bogut was able to do. The one player that could hypothetically save the Warriors is JaVale McGee. Obviously the Warriors need to address the center position.
The more practical way to handle this is trading a lesser piece for a solid rim protector, but what if they do the ballsiest move in recent memory? Trading Klay would be the height of stupidity, but if there was ever a deal to pull the trigger on it would be for Boogie Cousins. This would keep the Warriors at a big four and Cousins' ability to handle the ball could be just as deadly in Golden State as anywhere else. The adjustment period wouldn't be as steep given Cousins has played with Durant, Steph, and Draymond on Team USA. The big loser here is obviously Klay who would finally get a chance to be the guy, but it would be in Sacramento. Who the hell can get excited about that? The Warriors have proven they will do the impossible before and it has always seemed like Klay would be the first to leave town if need be.