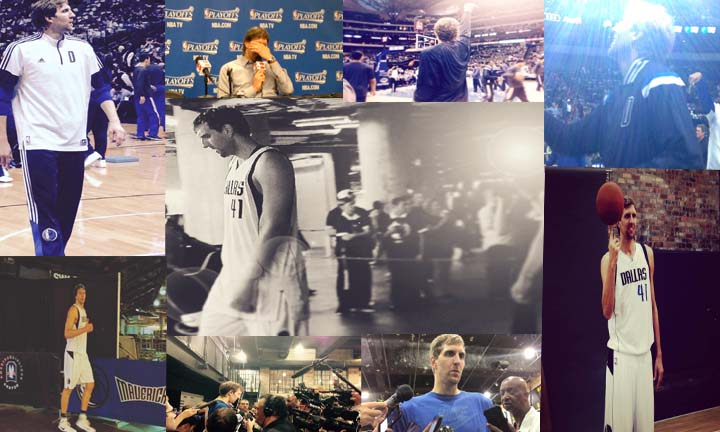 From an outsider's perspective, Tuesday night was no different from any other night. On any given day, sports milestones are shattered with a vigorous grace and fans move on: perfect games are had by MLB pitchers, 42-yard Hail Marys are thrown by cerebral quarterbacks in order to save a playoff game with 2 seconds left in the fourth, and disgruntled point guards will score 58 points yet still manage to lose the game. But for a particular fan base in North Texas, Tuesday night won't soon be forgotten.
When I first saw him, he was nothing more than an unpredictable action shaded in blue. The year was 2002 and the Dallas Mavericks were set to face off against the Sacramento Kings in the Western Conference Semifinals. His name was Dirk Nowitzki and he had managed to help his Mavericks pulverize the Minnesota Timberwolves in the first round by averaging 33.3 points during the sweep. Thanks to the fatuous blinders that often paralyze young fans of the game, I didn't see, nor care to see, Nowitzki as nothing more than a pervicacious road block that stood in the way of my Kings nabbing the NBA crown.
With their playoff fate on the line during the third quarter of Game 5 at Arco Arena, Nowitzki came through when his team and fan base needed him most by scoring eight straight points in order to get the Mavs within one point. I remember saying out loud "THIS fucking twit-weasel just won't back down," (sorry, Dirk). The man faded to the back of my thoughts as Hedo Turkoglu, Chris Webber, and Mike Bibby exploded down upon the Big German and his mates. The shade of blue and blonde retreated as the Kings brought down the hammer and the Arco crowd began to chant "BEAT LA!" in the final two minutes of the game. The Mavericks were cast aside in the 114-101 win in order for the Kings to move on to face the Los Angeles Lakers. I forgot all about the pesky, floppy haired power forward with a suspicious looking fade-away and set my sights on the Kings arch nemesis – the goddamn Lakers.
15 years later, that man who barely dinged my thought process as a fan, loomed larger than life as he casually leaned against the podium, the weight of his recently phenomenal feat causing his back to bend slightly as he looked out into the sea of press.
On March 7, 2017, with 10:57 remaining in the second quarter, the inscrutable and already legendary Nowitzki, laid down that very same famous fade away over Larry Nance Jr. of the Lakers, and made history. That former floppy haired, ghost-faced "drilla" had just made the 30,000 point of his NBA career, joining the likes of Wilt Chamberlain, Michael Jordan, Kobe Bryant, Karl Malone, and Kareem Abdul-Jabbar.
The roar was deafening, but Nowitzki simply turned around and made his way to the other end of the court. It wasn't until the official time out when his teammates, coaches, and owner Mark Cuban himself, mobbed the big man. It was then when he let his guard down and welcomed the embrace as a video of Dirk's moments leading up to this earthshaking one played over the jumbotron.
Moments after he hit his 30K point, this tribute video ran in-arena for @swish41! #Dirks30K pic.twitter.com/kvuR9ZRGHl

— Dallas Mavericks (@dallasmavs) March 8, 2017
Twitter exploded with congratulations near and far. From LeBron James to Ben Stiller to Jason "Jet" Terry to Steve Nash (who literally called his former teammate a "ball hog").
.@RedHourBen congratulates @swish41 on 30K points! #MFFL pic.twitter.com/yt6GPwOAsZ

— Dallas Mavericks (@dallasmavs) March 8, 2017
.@kingjames comes through with a huge congrats to Dirk Nowitzki on joining the 30,000-point club. pic.twitter.com/CaOsYAnXFI

— UNINTERRUPTED (@uninterrupted) March 8, 2017
"We all witnessed one of the most amazing accomplishments, really in the history of sports," head coach Rick Carlisle expressed about Dirk's accomplishment, his manner akin to that of a gushing teenage schoolgirl. "For me, this was a 13:02 microcosm of one of the greatest careers in the history of this game; meticulous preparation, total commitment, unbelievable competitive spirit and a real flair for the moment."
Coach, in an unguarded moment, became rather animated as he recalled a story of who Nowitzki dealt with nerves before throwing out the first pitch during one of the Texas Rangers' World Series appearances.
Yes, you heard that right.
"I make love to pressure."
Finally, Dirk himself came out to address the packed room. "Just an amazing experience," he said when reflecting on scoring those final two points. "After every basket I made, I felt a buzz in the crowd."
Dirk went on sentimentally about his quest to that moment. "Every milestone make you reflect a little bit. It makes you reflect on the people that have helped you and been with you all this way. It makes you think of all the coaches, Cuban, the players, and the fans that went with me through thick and thin."
Oh, and another thing? He had a little drink in celebration following the game.
While there were many tear filled moments that evening, one that stood out (you know, AFTER the whole milestone thing), was when the cameras panned to Dirk's mentor and shooting coach Holger Geschwinder, who was overcome with emotion.
RIP MY HEART OUT NOW…THANK YOU HOLGER #Dirk30k pic.twitter.com/q0PPnQ8yTb

— Isaac Harris (@IsaacLHarris) March 8, 2017
If you would have told me 15 years ago that would witness an irrefragable and awe-inspiring moment of a man-turned-legend who I merely huffed at as a fan, I would have throat punched you.
One thing I would have believed though? That I would still be hardcore hating on the Los Angeles Lakers even after all these years. And, why yes, yes the Mavericks DID crush the balls of the young team and went on to win 122-111, thank you for asking.
Now I can sit down and properly reflect how much I fucking hate the Los Angeles Lakers.

— TJ Macías (@NefariousSiren) March 8, 2017
While most people would use the tired line "He's a god among men," which is also true, I tend to lean toward the much classier Latin line "Cygnus inter anates," meaning "a swan among ducks".
It sounds better in Latin, shut up.
Never even change, Dirk. Keep making love to that damn pressure.
Huge thanks to everyone, who has reached out. I'm humbled and overwhelmed. Honored to be part of the 30k club! #old

— Dirk Nowitzki (@swish41) March 8, 2017