When word slipped down the ladder that recently-retired Dallas Cowboys quarterback Tony Romo would sign a one-day contract with the Dallas Mavericks, the Metroplex sports media divided themselves into two very distinct groups:
The Haters.
The Praisers.
The Haters scoffed at the notion of hoisting a glass-like athlete up on the cross in order to worship at his very mediocre feet. The Praisers, well, the Praisers praised. The Haters took note that Mavs owner Mark Cuban was attempting to glamorize tanking the remainder of a bullshit-crusted season, which is pretty much like decorating a bloated corpse with glitter. The Praisers praised.
On Tuesday morning, the media flooded the Event Level of the American Airlines Center, their obvious verbal observations of "this looks like a playoff game" slipping and dying the second they fell from their lips. We get it, there's a balls-load of press covering the shootaround of a team who had a half-ass season.
When we were finally summoned and allowed to swarm the court, we were given a glimpse of the quarterback kneeling over his young son, Rivers, at the centercourt. He had already wrapped up shootaround and was sweating from head to toe. The only ones besides his new "teammates" allowed to witness Romo huffing and puffing his way through the work out were the Mavericks official photographers. Video had already surfaced of Romo, decked out in a Mavs jersey that showed off his dad-bod, nailing a jumper during the workout.
The Haters criticized and rolled their eyes.
The Praisers had erections as they praised.
When it was finally time to address the media in the interview room, the once "heart of the Cowboys" didn't exactly know what he was supposed to do. "You guys gonna ask me questions or do I have to make a speech?" he asked, dimples all dimply.
The actual game itself didn't fare any better or give fans satisfaction. Sure, he warmed up with the guys, laughed with Dirk Nowitzki, hit a three over a laughing Devin Harris (for fuck's sake, actually challenge the guy), was introduced in the starting lineup, and had his number 9 banner HUNG UP IN THE RAFTERS NEXT TO THEIR GODDAMN REAL CHAMPIONSHIP BANNERS WHAT THE UTTER HELL, CUBES?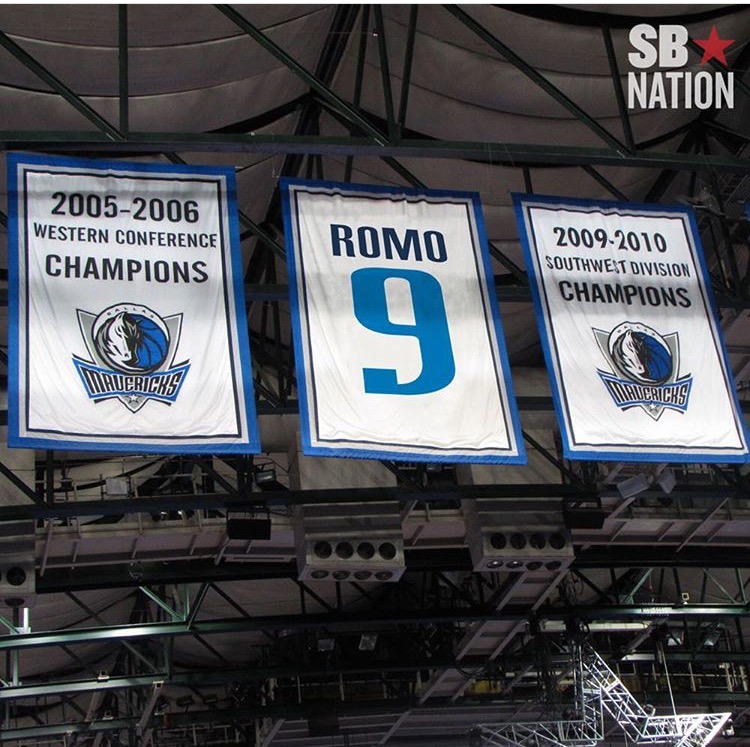 But as most of the media will tell you, this felt a little like Cuban was jumping the shark to close out this dismal year.
C'mon man, you're better than that.
And Tony? You owe me like 200 bucks for screwing up my fantasy football team three years ago. I'm waiting…