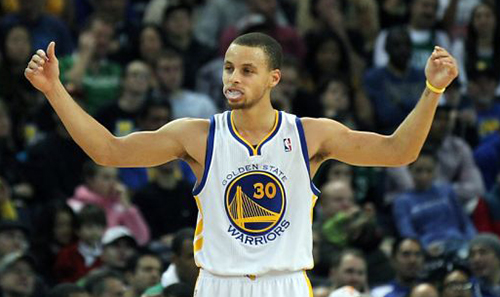 The Golden State Warriors were far from its best in a Game 1 win over the Utah Jazz. However, defensive excellence by Golden State on Gordon Hayward and Joe Johnson helped propel them to a 106-94 victory.
Hayward went just 4-15 from the floor and 2-9 from deep for 12 points. Joe Johnson was 4-10 for 11 points. George Hill also struggled, going 3-9 for 7 points. The slow-paced Jazz will have difficulty winning any games during this series with this trio struggling offensively.
It wasn't exactly a mesmerizing offensive performance by the Warriors, either. They simply did enough to win. Stephen Curry was sharp with 22 points on 7-11 shooting (and 7-7 from the line). Draymond Green also majorly contributed with a 17/8/6 line and no turnovers. He also went 2-5 on threes which continues his great long-range shooting in the playoffs.
Kevin Durant and Klay Thompson were both rather average by their standards. Durant took 17 shots to reach 17 points and Thompson took 13 shots to have 15 points. They did combine to shoot 4-10 on threes, though.
This game also marked the return of both Shaun Livingston and Matt Barnes for the Warriors. Livingston went 4-5 for 9 points while Barnes only logged 4 minutes.
On Utah's end, Ruby Gobert was 5-7 for a 13/8 line and Rodney Hood contributed with 12 points off the bench. Gobert was briefly abused and put on ice skates, however, during an attempt to guard Curry on the perimeter. Curry literally made Gobert do a full 360 spin before losing him and marching through the lane for the layup.
Aside from this play and a couple of emphatic Golden State dunks, this was a relatively standard game. The Jazz hung around in some instances, in others, the lead was pushed to around 20, and ultimately, the game never felt as if the Warriors had a chance to lose.
If Utah wants this to change, it starts with the production of Hayward.
Game 2 will be a home contest for Golden State once again on Thursday, 5/4 at 10:30 PM ET.