In the past I've made no secret about the fact that I consider College Basketball to be a two month and two week a year sport. For those first two weeks of the season (during the opening tournaments and marquee non-conference match-ups) and once the NFL concludes in the first week of February, College Basketball is moved up to 1B status for two months alongside the NBA, which permanently resides as 1A. For those two months and two weeks I fully dive into College Basketball, not so much because I find it aesthetically pleasing to watch basketball players that are inferior to those who play in the NBA participate in rock fights in front of raucous crowds; it's moreso because I'm intrigued by what guys I'm watching will eventually be playing, ya know, meaningful basketball.
I took the scenic route to telling you that I don't look at the NBA Draft from a College Basketball fans perspective. I'm always looking at the Draft with an eye on the upcoming NBA season. And this year … Holy Cow this years Draft is due to be a doozy! So many potential future All-Stars, so much potential for draft day insanity, so many questions to be answered. And if you're familiar with my writing, you know that I'm the absolute master of asking questions and then turning right around and answering them myself! Let's get to it!
Who won the Boston Celtics/Philadelphia 76ers trade? 
Believe it or not, I actually believe this is the very rare kind of trade that we'll look back on many years from now and agree that both teams were winners in the deal. If Markelle Fultz is the player everyone expects him to be (and based on everything I've seen and heard, I'm cautiously optimistic he can be), then Philadelphia finally grabbed the last piece of their Process Puzzle that Sam Hinkie started putting together five years ago. The Sixers have been stockpiling assets — both players and future picks — since 2012; it's time that they move all of their chips into the center of the table and transition from Trusting The Process to Trusting That You've Built a Contender. A Futlz-Embiid-Simmons-Saric quartet is a core that could contend to play in the NBA Finals so long as the group stays together long-term. And we haven't even begun thinking about what the Sixers could do with boat load of cap space they have this summer. Philadelphia has so much cap space, they could bring Soo Yung back to Consul Han with a few million dollars to spare.
I'm sure there are frustrated Celtics fans out there wondering why their team would pass on a potential franchise Point Guard to add even more assets to the giant pile of assets that Danny Ainge has already acquired. I feel your pain, but I implore you to remember three things:
1: Don't forget that it's almost universally agreed upon that this is one of the deepest and most talented Draft classes ever. Danny Ainge has insisted that the player the Celtics plan on drafting with the 3rd pick is the player they would have selected with the 1st pick. Now they can pay him a million and a half less per year on his rookie deal and they'll have acquired more assets in the process.
2: You've got yourself a 50+ win team already, and as good as Markelle Fultz might end up being in three years, it's unlikely that Markelle Fultz gets you past LeBron James next year. You know how you could get past LeBron James next year? Proceed forward and I'll gladly tell you.
3: You take some of those assets away from that big pile and you try woo Indiana with a deal that looks something like this:
Paul George to Boston … Jae Crowder, Jaylen Brown, Tyler Zeller, #3 Pick in the 2017 Draft, Memphis's 2019 1st Round Pick to Indiana.
And do you know what you're still able to do if you make a trade for Paul George? Make a big push for Gordon Hayward or Blake Griffin in Free Agency, because you'll still have enough cap space to offer either one of them a max contract in less than two weeks. That's how you try to get past LeBron James next year. And contending immediately is also how you convince Paul George to sign a long-term contract with someone other than the Los Angeles Lakers.
Should the Los Angeles Lakers be scared off by Lonzo Ball's wacko father? 
As much as I think the media's fascination with and coverage of LaVar Ball is absolutely ridiculous, if you think Lonzo Ball is the best player on the available, then you take him. LaVar has two other boys that he'll be probably be busy pimping over the next few years, so maybe he won't be around too much. Or maybe the guy is actually certifiably nuts and he'll be about as big of a pain in the ass as a parent of a Rookie NBA player could be (and I'm not sure that this is as big of a deal as some people think it will be … LaVar won't have the kind of pull with the Los Angeles Lakers as he does with UCLA or Chino Hills High School).
I do think it's entirely possible that this has been a meticulously thought out and well-executed plan by LaVar to keep Lonzo Ball's name in the mind of everyone for multiple months to keep his draft stock high — you know, the old Any Press Is Good Press mentality. If you subscribe to this theory, then you probably felt justified when Lonzo poked fun at his father's antics in a new Foot Locker commercial.
https://www.youtube.com/watch?v=iPteUZfRrKw
My hope is LaVar Ball decides that he can take a backseat once Lonzo is a Laker and let his son's play on the court do the talking, because I do think he has the potential to be a franchise Point Guard. At 6'6″ he's got good enough size to see over defenses, guard multiple positions, and once he straightens out that jumper, shoot over smaller defenders with some consistency or even develop an interesting post-up game a la Shaun Livingston. He's a generational passer and is a great fit in today's up-and-down NBA. Get rid of all of the unnecessary noise and I'm a big fan.
Can the Minnesota Timberwolves make a pick that helps them immediately contend for a Playoff spot? 
Here's what I wonder: While Malik Monk should be available at #7, I'm very curious to see if there is any way, improbably, that his Kentucky backcourt running mate De'Aaron Fox could slide to Minnesota? Let's say Fultz, Ball, Jackson and Tatum go 1-2-3-4 in some order, as has been predicted for quite some time. If Sacramento made a promise to Isaac that they'd grab him at #5 if he were available (a possibility since Isaac has insisted he'll only work out for the Top 4 teams in the Draft), that leaves Orlando's 6th pick as the only obstacle keeping Fox out of Minnesota, and Elfrid Payton has shown enough improvement over time that the Magic could look elsewhere.
I feel inclined to acknowledge that this is a major longshot. Phoenix could absolutely take Fox at #4; the Suns are apparently considering trying to move up a pick or two to select Lonzo Ball. Eric Bledsoe might not be part of the Suns future plans, and there would possibly be plenty of teams willing to take him off of Phoenix's hands if the Suns were to select Ball or Fox. An even more intriguing scenario would be if Phoenix tried out a three guard line-up with either Ball or Fox plus Devin Booker and Bledsoe for chunks of time each game.
Also don't forget, of all of the teams in the lottery, the Kings are the most desperate for a Point Guard. Unless they are intent on grabbing the Frenchman Frank Ntilikina with their 10th pick (which they're receiving from New Orleans via the DeMarcus Cousins trade), Fox makes too much sense for Sacramento at #5.
However, we've seen weird shit happen in the Draft before. Guys who shouldn't slide end up sliding, and suddenly a team falls ass backwards into a player they weren't expecting to still be on the board when they were picking. Even if it's something that would only happen one out of ten times, I think there is a scenario where the #2 player on my Big Board (Fox) ends up falling into Minnesota's lap.
The Wolves spent a Lottery pick on Kris Dunn in the 2016 Draft, but Dunn didn't flash much promise in limited minutes last season. Tyus Jones, a 2015 selection, was just as uninspiring as Dunn was last season. Ricky Rubio is still under contract for another two seasons but perennially on the trade block. Zach LaVine is a former Point Guard the Wolves have wisely turned into a Shooting Guard. The point here is that the Wolves backcourt is crowded and unclear, but landing the Point Guard of the future could provide some much needed clarity.
The more likely scenario is that the Wolves will look at Malik Monk, a prototypical lights out combo guard with the 7th pick, or Arizona's skilled big man Lauri Markkanen to complement Karl-Anthony Towns in the frontcourt. The Wolves were last in three-point field goals last year, and Monk and Markkanen both help in that department. I'm higher on Monk than most are and I don't see why he couldn't be on the floor with both Andrew Wiggins and Zach LaVine. Wiggins could easily slide over and play small-ball Power Forward just as easily as Monk could develop into a capable lead ball-handler.
Am I crazy, or is Malik Monk being way undervalued? 
This is a pretty confusing question considering I'm actually asking it to myself. No, you're not crazy. Yes, Malik Monk is being undervalued. I've got Monk 5th on my Big Board, which looks a little like this:
1: Markelle Fultz
2: De'Aaron Fox
3: Lonzo Ball
4: Josh Jackson
5: Malik Monk
6: Jayson Tatum
9: Lauri Markkanen
10: Donovan Mitchell
11: John Collins
12: Frank Ntilikina
13: Bam Adebayo
14: Luke Kennard
Are there any Late 1st Round/Early 2nd Round gems worth taking note of? 
I always tend to gravitate towards upperclassmen who achieved some level of success in college and are being undervalued because they're classified as "too small," "not athletic enough" or because experts "don't know what position he'll play at the next level." My favorite candidates this year:
Sindarius Thornwell – He attacks the rim relentlessly and rebounds incredibly well for his size. He's a fixed jumper away from giving a good team quality minutes for a very long time.
Frank Mason – He'll get picked apart because he's undersized and 23 years old, but I'd be willing to bet that Mason can walk into the NBA as an above average back-up Point Guard.
Josh Hart – He moves well off the ball and could round into shape as a serviceable 3-and-D wing. This feels like a Spursy pick to me.
Semi Ojeleye – The highest ceiling of the four players mentioned here. He's a muscular and skilled wing that could be used as a small-ball Power Forward. He'll likely go at least eight picks too late because he's 22 years old and played in the American Athletic Conference.
Do you have a Hassan Whiteside in this Draft? 
In case you didn't know, when I put together my first NBA Draft preview back in 2010, I did my part in helping to build the Hassan Whiteside bandwagon.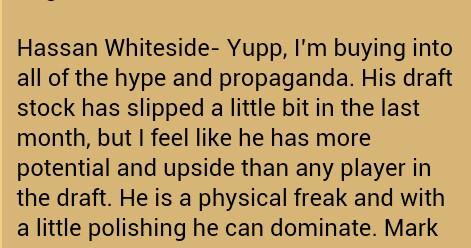 And no, I don't have a Hassan Whiteside pegged for this draft. I'll never be able to make a prediction so bold and outrageous that looks wrong for so long but ends up kinda sorta coming to fruition.