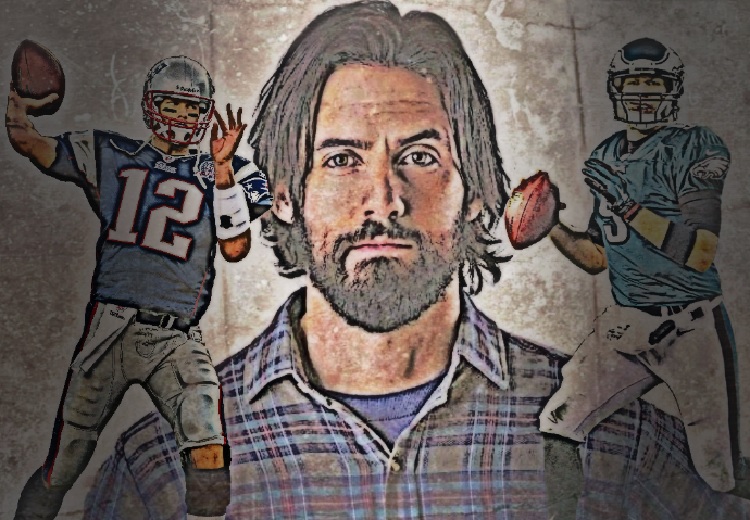 As you likely know, this Sunday is not any ordinary Sunday. This Sunday is Super Bowl Sunday, and Super Bowl Sunday is the biggest sports day of the year. It's the one day of the year when TV commercials matter. It's the one day of the year when non-football fans pretend to love football. And it's the one day of the year when people who rarely gamble put absurd amounts of money on various Super Bowl related bets.
The Super Bowl Prop Bets are one of the most interesting parts of the Super Bowl build-up even though they often have little to do with the X's and O's of the game. Sure, you can bet on basically any game-related outcome both big or small, but you can also bet on obscure concepts like National Anthem length, Halftime performance attire, the number of times the Super Model wife of a Quarterback will be shown on camera during the broadcast, and whether or not the word "Nipplegate" will be uttered in front of 100 million people. Yeah, I ain't bullshittin' ya. You can win money betting on "Nipplegate."
Today I'll be exploring some of the props bets an individual could wager on if he or she had the means and desire to do so. As you'll soon see, I've also made up some prop bets of my own that I feel the Vegas sports books should consider taking bets on. All together, I've made twenty Super Bowl Sunday predictions. I invite any readers to follow along, make some picks, and let me know your selections before the big game. Eternal bragging rights will be on the line.
Will "Nipplegate" be said during the broadcast? 
Yes (+500)
No (-900) 
Get. The. Hell. Out. Of. Here.
The Bet: No (-900)
Outcome of the Coin Toss? 
Heads (-105)
Tails (-105) 
Tails never fails, duh. Two for two, let's move on.
The Bet: Tails (-105)
How many times will Tom Brady's age be mentioned during the broadcast?  
Over 1.5 (-280)
Under 1.5 (+185) 
This one is pretty easy to figure out if you make the effort to imagine how the game might play out. The first time will be during the player introductions when Al Michaels mentions that at forty years old, Tom Brady is the oldest Quarterback ever to start in a Super Bowl. That's such a feat, and Brady is so good at an advanced age that it's pretty much an obligation to mention it right off the bat. The second time will be sometime in the 2nd half after Brady makes a downright ridiculous throw in the face of pressure, resulting in Cris Collinsworth being compelled to gush "Al, I just can't believe how great Tom Brady is at forty years of age. I mean, it's incredible!"
And even though Cris sounds awfully goofy when he gushes like this, he'll be 100 percent correct. What Tom Brady is still able to do at age forty is remarkable. Remember how sad it was when Peyton Manning became a 63 year old man when he was only 39 years old? Remember how quickly Brett Favre went from MVP candidate to creaky old guy who sells Copper Fit Back Braces and Microtouch Hair Trimmers? Remember all of the other quarterbacks who excelled into their late 30's and early 40's? No, you don't remember them because that never happened. Tom Brady is a historical anomaly, and I pray that someday even the Patriots haters will realize this.
The Bet: Over 1.5 (-280)
Who will win the 1st Quarter? 
Eagles (+0.5)
Patriots (-0.5) 
In the seven Brady/Belichick Super Bowl's, the Patriots have not only never led after one quarter, they've also never scored a single 1st quarter point. That's not a misprint. Despite the fact that Brady and Belichick have a 5-2 record in Super Bowl's, they've been shutout in seven 1st quarters. The last time the Patriots put points on the board in a 1st quarter of a Super Bowl was when Drew Bledsoe connected with Ben Coates on a four-yard touchdown pass to give New England a 14-10 lead over Green Bay in Super Bowl XXXV. This was before Brett Favre was just an old Wrangler Jeans salesman.
So this is my thought process: Since the Patriots are a half-point 1st quarter favorite, even if Philly too is scoreless after 15 minutes, I'd still win this bet so long as New England's 1st quarter scoreless streak continues. Philly's defense is no joke, and it's entirely possible that the Eagles offense could find some early success against New England's D.
The Bet: Eagles (+0.5)
What will Sonny Giuliano's caloric intake be on Super Bowl Sunday? 
Over 4,000 (-200)
Under 4,000 (+175) 
I got the scoop from an insider that this one is probably going over.
The Bet: Over 4,000 (-200)
How many stupid Tweets will Skip Bayless send out during Super Bowl LII? 
Over 6.5 (-175)
Under 6.5 (+150) 
My long-standing one-sided feud with sports media buffoon Skip Bayless has been well-documented. I've taunted him multiple times on Twitter and I've routinely written about my dissatisfaction with him as both a sports media member and human being. I don't like the man, and honestly I wish nothing but bad things for him. I hope when he wakes up tomorrow he stubs his toe getting out of bed. Then I hope when he pours himself a glass of milk he realizes the milk had expired after he takes his first sip. I hope on his way to work he gets a flat tire. I hope his stupid show gets cancelled because he can't get there in time to film. I hope he has a terrible day today and tomorrow and every day after that. I'm not typically in the business of disliking individuals who haven't directly wronged my loves one or myself, but Skip Bayless is the exception.
Of course, this is the whole point of Skip's shtick. He says outlandish shit on the reg just to get a rise out of people. Maybe he believes the garbage that is coming out of his own mouth, or maybe it's a calculated effort to get people to tell him to "Eat a Dick" like I always do. Either way, you can expect way more than six-and-a-half stupid Tweets from Skip on Sunday. He'll spend a good portion of the game suggesting that the Philadelphia Eagles are better off without Carson Wentz. He'll probably state that Baker Mayfield, Quarterback of his beloved Oklahoma Sooners, would be more equipped to carry the Eagles to a Super Bowl victory than either Wentz or Nick Foles. And surely, he'll find a way to tweet something moronic about LeBron James' supposed lack of a clutch gene, even though he's one of the greatest basketball players ever and this is a goddamn football game.
I'm already fired up.
The Bet: Over 6.5 (-175)
How many players will be knocked out of Super Bowl LII due to concussions? 
Over 1.5 (-200)
Under 1.5 (+150) 
The real question should be, "how many concussions and head injuries will go undiagnosed or be swept under the rug during the game," but of course we have no way of knowing this. I just know from watching a lot of football this year that I saw the following sequence at least five times a day throughout the season:
Player absorbs a brutal head to the head … A flag may or may not be thrown. 
Player stays down on the field, or even worse, the player tries to get up and "walk it off" but he can barely manage to stay upright. 
Medical/training staff comes out onto the field and escorts player to the sideline so play can resume. 
Player disappears into the flimsy blue tent the NFL has put on the sidelines for evaluations of player injuries. 
Player reappears minutes later and re-enters the game. 
Seriously, this shit happened on a daily basis. Tom Savage looked like he was having a goddamn seizure on the field and the Texans let him go back into the game, and that was during a meaningless regular season game against the San Francisco 49ers.
Do you really think two or more players will leave the Super Bowl with head injuries? No way.
The Bet: Under 1.5 (+150)
Additional Bet: Players cite the NFL's decade-long cover-up of head injuries as one of the reasons why they are holding out in 2021 Collective Bargaining Agreement negotiations (-550)
What will be the total number of "Catches" that are initially ruled a catch, but then overturned after replay? 
Over 1.5 (-175)
Under 1.5 (+150) 
If you really think about it, it's actually not a huge surprise that the NFL had such a difficult time diagnosing concussions for all of those years when they can't even figure out when somebody catches a football.
The Bet: Over 1.5 (-175)
What song will Justin Timberlake perform first during the Halftime Show? 
Cant Stop The Feeling! (+350)
Rock Your Body (+450)
Filthy (+450)
SexyBack (+500)
True Colors (+600)
What Goes Around Comes Around (+650)
Like I Love You (+700)
TKO (+800)
Mirrors (+1000)
Cry Me A River (+1400)
Senorita (+1400)
Field (+200) 
This is my single favorite prop bet for the Super Bowl each year. One of my all-time great sports proclamations came before Super Bowl XLIX when I correctly predicted the opening AND closing song of Katy Perry's Halftime Performance … a "Roar" and "Firework" parlay, if you will. This year I'll be taking it a few steps further. This year I'm ready to fantasy book Justin Timberlake's entire set list.
Now look, you need to consider a few things when you're making picks like this, but most importantly, a great Halftime performer needs to come out of the gate with a song that is going to light the crowd up and shut things down with a song that can easily be accompanied by fireworks (this was why I felt like "Firework" was such an easy choice for Katy Perry's final song). Super Bowl LII is in Minneapolis, and there is no more famous Minnesotan than music legend Prince. If Prince were alive today I imagine he would've been the slam dunk pick to perform during the Super Bowl Halftime Show, but unfortunately the GOAT passed away nearly two years ago. I expect that at some point during the 13ish minute performance, Timberlake will pay homage to the Greatest of All Time, and there really isn't a better time to do it than right at the beginning. My guess is JT opens with "Let's Go Crazy," the first song on Prince's Multi-Platinum album Purple Rain. It's a surefire way to get the crowd energized right from the start. But the 80's nostalgia won't stop there, as Timberlake would transition from the greatest pop star of the 80's to the "King of Pop," Michael Jackson.
There is no shortage of songs JT could swipe from the collection of either Prince or MJ, so you really need to think about what songs make the most sense for the moment. If a social statement is trying to be made, JT could follow up "Let's Go Crazy" with Jackson's 1991 hit "Black or White," a catchy dance song that calls for racial harmony. And speaking of racial harmony, from Prince and MJ we'd transition to two collaborations with Jay-Z — "Holy Grail" and "Suit and Tie."
We can't expect JT to completely abandon his own solo hits. The final three songs of the set would come from three stages of his career as a solo artist. First, we'd be reminded that all the way back in 2006 Justin Timberlake did indeed bring "Sexy Back." Second, off his most recent album Man of the Woods, JT would perform it's lead single "Filthy," a song that doesn't make any bit of sense with what the album is likely about based on the name. And last but not least, JT's premiere fireworks song, "Can't Stop The Feeling!" would bring a close to a halftime show for the ages that half of Twitter would find a way to bitch about because nobody can ever agree when something is good.
The Bet: Field (+200)
Additional Bets: Justin Timberlake will cover a Prince Song (-120), 'N Sync will not perform with Justin Timberlake (-300)  
Which will have the higher total? 
Seton Hall/Villanova Margin of Victory (-2.5)
Jay Ajayi Rushing Attempts (+2.5) 
Ajayi has been nursing a minor ankle injury, and he hasn't had more than 18 rushes in a game since joining the Eagles mid-season. Ajayi is in a time share with LeGarrette Blount and Corey Clement in the Eagles backfield, and Blount, a large human being and hard runner, is a former Patriot and he's been very vocal about his former team now being "enemies." If I were a bettor and leaning towards the Eagles, I'd take a nice long look at Blount's 50/1 Super Bowl MVP odds.
This pick has just as much to do with the outcome of the Seton Hall/Villanova game on Sunday afternoon. Because I'm representing Hardwood and Hollywood in the largest Bracketology contest on the internet, the Bracket Matrix, I've watched a great deal of college hoops this year, and Villanova is one of my favorite teams in the country. They've already beaten Big East foes Xavier and Providence by 20+ points at home, and Seton Hall has two Conference road losses by 15+ points already this year. To me this feels like a 15 rush game for Jay Ajayi, and a 19 point victory for Villanova.
The Bet: Seton Hall/Villanova Margin of Victory (-2.5, Even)
Additional Bet: Arizona Wildcats to win the College Basketball National Championship (+1800 … I like the odds)
Who will win Super Bowl LII? 
New England Patriots (-4.5)
Philadelphia Eagles (+4.5) 
I've never once pretended to be good at picking football games or making sports predictions in general. Of course, if I nail a prediction I'm going to make sure everyone knows about it. Until the day I die I'll brag about being one of the only people in the world who was absolutely positive that Hassan Whiteside was going to be a quality NBA player. But in general, for as much time as I spend watching sports, I don't always have a great feel for things. However, this year was a completely different story. This year on my weekly NFL podcast with my cousin Paul Clark I had win percentage of 56% against the spread. That would have ranked me ahead of every single one of CBS Sports "experts" and ahead of all but three of the 52 "experts" from various high profile outlets listed on a website called NFL Pick Watch.
Only four of my twelve pre-season Playoff picks actually made the Playoffs, so based on that you would think I wouldn't have any clue what I was doing. The only thing I could say is this: more so than any other year making NFL picks each week, I didn't overthink any games I picked on the weekly slate. I just didn't have the time to do so. I looked at the two teams, I looked at the line, I made a pick and I stuck with it. I rarely second-guessed myself and I never over-thought it. Even though this Sunday is the Super Bowl, I don't see why I should do anything different.
I think that without Carson Wentz in the picture, the New England Patriots are a slightly better football team than the Philadelphia Eagles. With Wentz I would've picked the Eagles to win by 3. Without Wentz I like the Patriots by 7. I felt that way a week and a half ago when the Patriots and Eagles both played their way into Super Bowl LII, and I feel the same way today.
The Bets: Patriots (-4.5)
Additional Bets: Under (48.5), Game will be decided by exactly 7 points (+675), 46-50 points scored (+450)
What will be the viewership for This Is Us after the conclusion of Super Bowl LII? 
Over 35 million (-110)
Under 35 million (-110) 
When NBC made the decision over the Summer to slot This Is Us, the buzziest and best show on all of TV, in the lead-out spot after the Super Bowl, it felt equally brilliant and like a no-brainer. In its debut season This Is Us breathed new life into network television and captured a slice of America's attention so large that every post-episode Twitter session felt like an old-school water-cooler meeting. Thanks to an incredibly talented group of actors and writers, and one of the most notable series-long cliff-hangers in TV history, This Is Us is the rare modern-day hit that has a very 1990's kind of grasp on it's fanbase. About 16 million very passionate fans watch This Is Us every week despite a thousand other options available on their televisions or smart TV's or laptops. I would guess that if This Is Us came around twenty years earlier their audience would've at least doubled in size.
The Super Bowl lead-out is known to attract a larger-than-normal audience because the 100+ million viewers watching the big game aren't quick to change the channel after the Lombardi Trophy is presented. Throughout the game fans will see at least ten teasers for the upcoming episode of This Is Us, and when you combine the word-of-mouth power This Is Us has with this teaser …
How the hell do you not tune in after the game after seeing that? NBC's decision to give This Is Us the lead-out slot is looking even better now since show-runner Dan Fogelman decided that the post-Super Bowl episode was the perfect time to answer the question everybody has been asking for a year and a half: how does This Is Us patriarch Jack Pearson die?
To me, it seems the only way someone wouldn't be compelled to watch this upcoming episode is if they were to make the conscious decision that they don't want to cry on Super Bowl Sunday, because make no mistake, there will be tears. This Is Us has become notorious for yanking on the heartstrings of their fanbase, and no episode will be as brutal as this one. On a personal level, there might not be any single television character I've ever cared about more than Jack Pearson (played by Milo Ventimiglia), and I suspect millions of This Is Us fans feel the same way I feel. Jack has raised the bar for fathers, husbands and boyfriends all over the world; he's not perfect, but that's what makes him so damn perfect.
Part of me is more excited for This Is Us than the Super Bowl. Maybe it's because it's yet another New England Super Bowl and deep down I want something new. Maybe it's because I'm bummed out that my favorite non-Chicago Bear in the NFL (Carson Wentz) tore up his knee in Week 14 and will miss out on the opportunity to grab the Great QB Torch from Tom Brady. Maybe it's because a long, injury-plagued, controversy-filled football season wore me down. Or maybe it's just because I know that twenty years from now I'll remember watching this exact episode of This Is Us and Super Bowl LII will just blend in with all of the others that have come and gone.
With that said, another part of me is dreading having to watch This Is Us at all. I'm ready to say goodbye to the 2017 NFL Season. I'm not ready to say goodbye to Jack.
The Bet: Over 35 million (-110)
Additional Bet: Over 25 million people will be in tears at some point during this episode of This Is Us (-125)