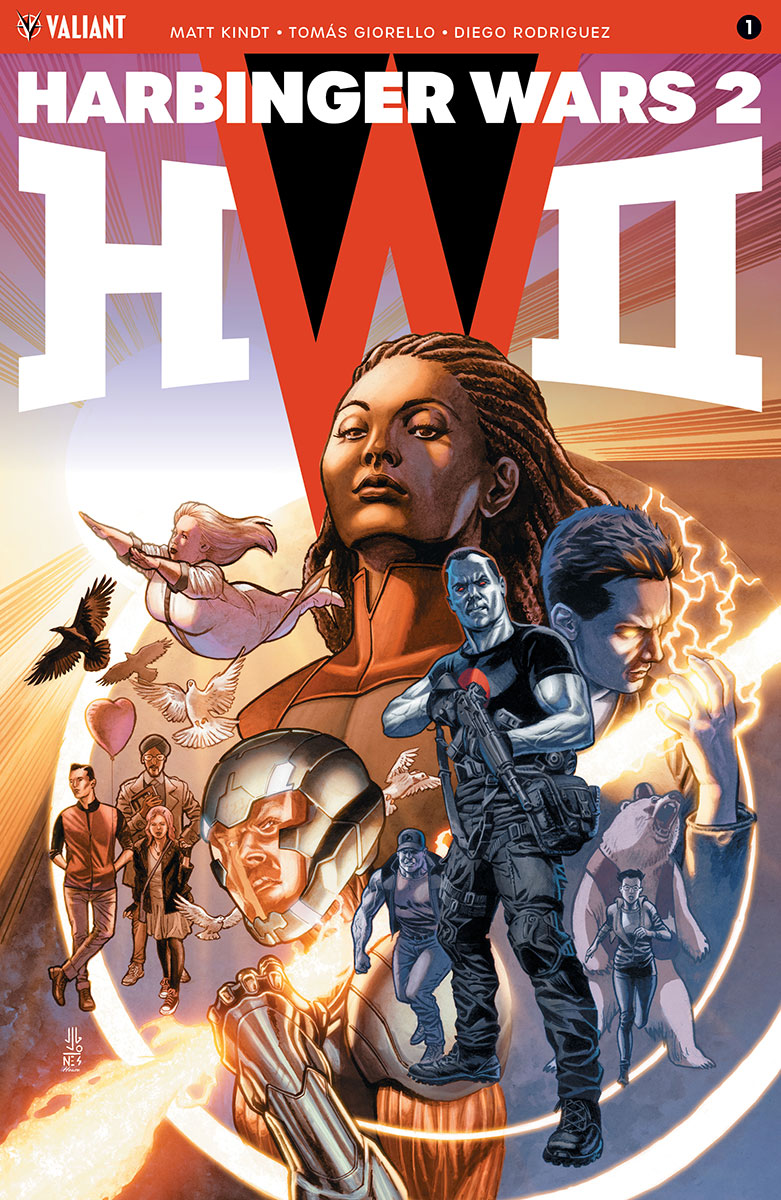 Brought to you by our friends at Valiant.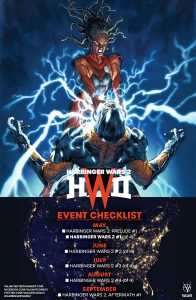 Valiant is proud to unveil the complete battle plan for HARBINGER WARS 2 – A SEISMIC, SIX-PART EVENT uniting New York Times best-selling writer Matt Kindt(X-O MANOWAR, DIVINITY, Mind MGMT) and superstar artist Tomás Giorello (X-O MANOWAR, NINJA-K) with Academy Award nominee Eric Heisserer (SECRET WEAPONS, Arrival) and visionary artists Raúl Allén(SECRET WEAPONS) and Patricia Martín (BLOODSHOT REBORN) for an epic conflagration at the epicenter of the Valiant Universe in May!
This summer, the most powerful Valiant event ever attempted erupts in full force as X-O Manowar, Livewire, the Harbinger Renegades, Bloodshot, the Secret Weapons, Ninjak, and a cast of thousands draw their battle lines in HARBINGER WARS 2 – the ultimate, action-fueled entry point into the most acclaimed superhero universe anywhere in comics today! Spanning six essential issues between May and September 2018, the complete HARBINGER WARS 2 saga will encompass the four-issue main series, as well as a self-contained, new-reader-friendly prelude introducing the main players behind the conflict, and a standalone aftermath special chronicling the scarred landscape of the post-HW2 Valiant Universe:
HARBINGER WARS 2: PRELUDE #1 | ON SALE 

MAY 2nd

HARBINGER WARS 2 #1 (of 4) | ON SALE 

MAY 30th

HARBINGER WARS 2 #2 (of 4) | COMING IN JUNE
HARBINGER WARS 2 #3 (of 4) | COMING IN JULY
HARBINGER WARS 2 #4 (of 4) | COMING IN AUGUST
HARBINGER WARS 2: AFTERMATH #1 | COMING IN SEPTEMBER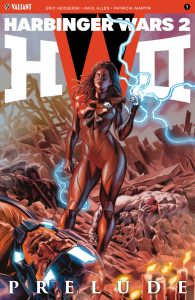 "What I love about these events with Valiant is they grow organically…" series writer Matt Kindt:  "I don't want to be writing some big, sprawling story with no real heart to it, and it's just about connecting different books and characters. I think the thing that attracted us all to this idea was the heart of the story and the characters driving it, and telling a good story with heart. Eric had a great idea with Livewire, and really makes it about these character moments. The big event just happens around it."
"It's not as much about the event as it is about spotlighting these amazing characters, and pulling back a bit and showing how the universe is shared, and the friction that comes from the sharing of it," he added.