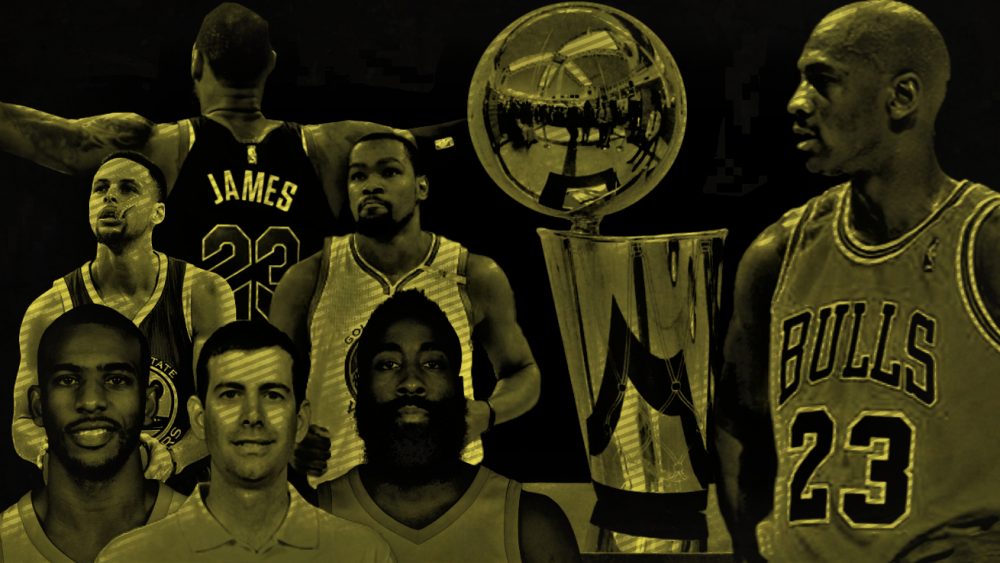 A thing that I like to do before the Conference Finals of the NBA Playoffs is something I call Legacy Watch. Legacy Watch is an exercise that examine what players, teams, or individuals have the most to gain (or lose) from a legacy standpoint depending on how the next two rounds of the Playoffs go. Pretty straight-forward, right? Excellent. Let's dive right in then since there's quite a bit of ground to cover here.
18. Kyrie Irving
Because of two recent surgeries on his left knee, Kyrie won't be suiting up at any point in the next two rounds of the postseason regardless of how far the Boston Celtics end up advancing, but that doesn't mean he's not facing an odd legacy conundrum over the next month or so. If either the Cleveland Cavaliers (Kyrie's former team) or the Boston Celtics (his current team, who have surprisingly advanced to the Eastern Conference Finals) end up winning the 2018 NBA Championship, we'll be spending a portion of the offseason having a conversation about Kyrie Irving's value as a basketball player.
Whether you approve of this potential upcoming Kyrie Irving thought-experiment or not, just be prepare yourselves to hear about it. Even if neither the Celts or Cavs end the season as champs, one of those two teams will make it to the Finals, and Kyrie will be absent from the picture either way. When Cleveland traded Irving last August the narrative was LeBron wouldn't be able to get back to the Finals without a running mate as prolific as Kyrie. When Kyrie was ruled out for the Playoffs in early April, the Bucks became a trendy Round 1 upset pick over Boston. Now look where we are.
Now instead of dinging Kyrie's legacy in a very minor way, we could just all opt to give credit instead of dish out criticism. If the Cavs make the Finals it speaks to the brilliance of LeBron James and the timely contributions of a diminished supporting cast. If it's Boston who is playing in the Finals, we should rightly praise Brad Stevens' coaching genius, the perennially underrated Al Horford, and the Jaylen Brown/Jayson Tatum/Terry Rozier trio that was more equipped to handle big postseason moments earlier than we expected they would be. Instead, you'll be seeing stats like this on fancy ESPN graphics:
Terry Rozier, 2018 Playoffs – 12 games, .667 win %, 18-6-6, 19.5 PER
Kyrie Irving, 2017-18 Regular Season – 60 games, .683 win %, 24-4-5, 25.0 PER
Isaiah Thomas, 2016-17 Regular Season – 76 games, .671 win %, 29-3-6, 26.5 PER
Just something to ponder.
17. Klay Thompson
"I was part of building this culture. It wouldn't be leaving everything I worked for behind, but it would be a whole new start. I was one of the pioneers of this. I'm one of the longest-tenured players here besides Steph, so I'm very prideful of the turnaround the Warriors have made. Just because I'm not the face of the franchise doesn't mean I'm not recognized for it. Real fans and the people in the organization and my peers around the league, they see the work I've put in and realize I've been a huge component to the success here for the last five, six, seven years, so I have an identity here. It would be hard for me to envision going anywhere else." 
That quote comes from Klay Thompson in a recent Bleacher Report piece on his upbringing and his rise in the NBA, and it highlights what we've sort of known about Klay for years … this is a dude who is perfectly comfortable with his role in Golden State, the status of his basketball legacy, and the trajectory of his legacy even if he remains the fourth wheel with the Warriors. He's way too preoccupied with drilling wide open three's and making $18 million a year to have legacy concerns.
16. Tyronn Lue  
Lue has been a punchline for the majority of his tenure as the Cleveland Cavaliers Head Coach; his competency questioned, his overall control of the team (in comparison to that of LeBron James) constantly critiqued … but if the Cavs win the 2017-18 NBA championship he'd become the 15th coach in league history with at least two titles. 11 of the 14 guys on that list already are either in the Hall of Fame or will be Hall of Famers — Steve Kerr, Erik Spoelstra and Gregg Popovich aren't in the Hall of Fame yet.
And if the Cavs don't win the Title, and LeBron James leaves Cleveland this Summer, Ty Lue could be without a job by August. So a lot is on the line here.
15. Jaylen Brown
14. Terry Rozier
13. Jayson Tatum 
Count me as one of the many people who watch a ton of basketball and didn't see a Celtics push to the Eastern Conference Finals in the cards. That's not to say that the collection of talent on Boston's available roster is subpar … truth be told, minus LeBron James, the Celtics have the far superior roster to their Eastern Conference Finals opponent, even when you consider that their two best players heading into the season (Irving and Gordon Hayward) won't see the floor against Cleveland. This is a very well-constructed team and they are expertly coached, but even still, it seemed like it wasn't yet time for their youngsters (Tatum, Rozier and Brown) to be able to carry the sort of burden necessary for Boston to advance into the Conference Finals. Yet, here we are.
Tatum is probably two years away from being completely overqualified to serve as second-option to Kyrie Irving in Boston. Heading into the Draft last year I expected that Tatum's career ceiling would look something like we've seen from him in the Playoffs so far this year; I never expected he'd reach that level before he could head into some crummy dive bar in Southie and buy himself a stiff alcoholic beverage. He's going to spend the majority of his career averaging 25 points per game, and if Boston upsets Cleveland in the East Finals — and if Tatum continues to lead Boston in scoring along the way — there's no telling what kind of career arc Tatum may end up having. Brown doesn't have that same sort of natural scoring ability as Tatum, but he's grown by leaps and bounds from year one to year two. Brown showed glimpses last year of being this kind of two-way impact player, but I didn't think he'd evolve into this within 12 months. At least Brown can already legally drink.
Rozier is the legitimate surprise here. Through two rounds he was second only to Tatum in scoring for the Celtics, and he's dished out more assists, hit more three's, and played more minutes than anybody else on the roster. On January 1st Rozier was a reserve averaging 22 minutes per game, 9 points and shooting below 40 percent from the field. Allow me to put this next statement in italics … This kind of shit does not normally happen.
Maybe Rozier is just a guy who needs starters minutes to produce. Some guys aren't made to come off the bench, and Rozier just might be cut from that cloth. Regardless of what sparked this turnaround — and not just in raw numbers, but in quality of play — the Celts face an interesting dilemma this Summer. Rozier is not just on legacy watch for the next few weeks … he's on bank account watch. Will the Celts fork over a large sum of money to keep Rozier as Kyrie Irving's back-up? How much money will some other team (maybe Phoenix or Orlando) be willing to pay Rozier in July? And how much more money could Rozier make himself (or maybe lose himself) depending on how these next few weeks play out?
12. Kevin Love 
Even though it's a steep drop-off from LeBron to Kevin Love, Love is the Cavs second scoring option, and if Cleveland surprisingly wins the championship, that would make Love, a stats machine in Minnesota and occasional outcast in Cleveland, a two-time NBA champion; once as the second option and once as the third option. Not a bad legacy to leave behind.
Naturally, if/when the Cavs fall short, it's a distinct possibility that Love could disappoint and be relegated to "fall guy." Unless LeBron woefully underperforms, a decent-sized portion of basketball fans will point the finger of blame in the direction of Kevin Love, and it won't surprise anyone, including Love himself:
"I know that you know when we have success I might not get the credit and when we do lose or have a bad string of games that I might get the blame but that comes with the territory."
That's the price of playing alongside one of the best players ever in meaningful playoff games, and Love is aware of that. In time, better perspective will be gained even if it is lost in the present. If Love shines in the next round or two, he'll ultimately be remembered for it.
11. Steve Kerr 
I don't mean any disrespect to Steve Kerr, a likable guy, a great role player in his day, one of the best color commentators ever and an absolutely terrific basketball coach/mind, but there really isn't new level he could reach this postseason. We know that Steve Kerr is a smart dude who raised Golden State's ceiling higher than Mark Jackson was ever capable of, but when you have this sort of top-of-the-roster talent at your disposal, the coaching can only be credited so much.
With that said, what separates Golden State from most other teams that have multiple superstars is that Kerr's system could exist and succeed in the absence of star power, but the willingness of Stephen Curry, Draymond Green, Klay Thompson (and eventually Kevin Durant) to buy in is what has made the Warriors so potent since Kerr took over after the 2013-14 season. Kerr chose Golden State over New York in the summer of 2014 because he knew the direction basketball was heading and he saw that the Warriors roster was better equipped to carry out what he wanted any team he coached to do.
I whole-heartedly believe that had the Warriors stuck with Mark Jackson, or if Steve Kerr chose the Knicks or decided to stay partnered up with Marv Albert at TNT, Golden State doesn't become the mid-2010's dynasty we're so familiar with now. Ultimately, that will be what Kerr is remembered for, even moreso than for however many championship rings he ends up with or for his series-clinching jumper in the 1997 NBA Finals. His legacy will be that he opened the championship window the Warriors in a way that nobody else possibly could've. And because that is what Kerr's legacy will be defined by, whatever happens in the 2018 Playoffs is just gravy.
10. Draymond Green 
A lot of things about the 2016 NBA Finals get lost in what happened in the final two minutes of Game 7 of that series. LeBron's block, Kyrie's shot, Love's stop, "CLEVELAND THIS IS FOR YOU!" … and that's a wrap. That's seven games summed up in eleven words and that's wrong, because honest to God, the 2016 NBA Finals were a roller-coaster ride that resembled an elaborate and expertly produced TV Drama more than a basketball series. Seriously, someday there will be a 30 For 30 about that series and it could be eight hours and it wouldn't be too long.
Anyway, one of the biggest things that gets lost in that series is how amazing Draymond Green was in Game 7, and really throughout the entire series. Draymond missed Game 5 of the Finals after LeBron James goaded him into attempting to hit him in the genitals – a calculated move that LeBron somehow gets knocked for, even though if it were Michael Jordan who did that to an opponent it would be yet another story to highlight how MJ was such a shrewd competitor who would stop at nothing to help his team win a title – and he still should've won the Finals MVP had the Warriors won Game 7 at home.
To be honest, I wrote a Draymond Green, Finals MVP column in the couple of days leading up to Game 7, assuming that the Warriors would win and that Draymond would be named Finals MVP. I never had a chance to publish it (thank God) but I dug through the archives and found the column, and there was one paragraph that still holds up pretty well today, even with Kevin Durant in the picture:
Despite playing alongside a once-in-a-lifetime kind of talent like Stephen Curry, Draymond Green is the most valuable Warrior. He'll never contend for league MVP, have the mass marketing appeal or be as thrilling to watch as Steph, but the Warriors heartbeat is Draymond Green's heartbeat. Without Draymond, these exciting Warriors may as well be just another team that plays beautiful, electrifying offense but always falls a little bit short. Draymond wouldn't let the Warriors fall short, and he hasn't all year. Even though it's been the Splash Brothers carrying the Dubs offense during almost every late game comeback, it's Draymond who is yelling in the huddles, barking at officials, pushing teammates to be better, and doing everything Steve Kerr needs him to do in order for Golden State to skip right past very good and go to historically great. 
Even if Durant and Curry hog all Finals MVP's of the future, this is Draymond's legacy. But if the Warriors accumulate Titles, it speaks just as much to Draymond's presence as it does the talent on the roster.
9. Al Horford 
As much fun as it has been to watch the rapid development of the younger Celtics this postseason, it's been old man Al Horford who has truly been carrying Boston through their unexpected playoff run. Dating back to when he took a backseat in terms of notoriety to Joakim Noah and Corey Brewer at the University of Florida, Horford has always been one of the most underrated/underappreciated players in basketball. He's quiet off the floor, and there very little sizzle to his game, but in the 2018 Playoffs Horford's subtle all-around mastery of two-way basketball has been on full display. He's upped his scoring by five points per game from the regular season, he's shooting far better from the field, and he's been a versatile menace defensively.
If the Celtics complete an improbable run to a 2018 NBA Title, Horford will deserve to win Finals MVP. There's no guarantee he'd win it — the numbers might not be there — but hopefully voters would be smart enough to recognize that it's Horford (and Brad Stevens too, but we'll get to him) who has empowered and enabled the guys like Jayson Tatum and Terry Rozier to play beyond their years. He is truly the most valuable Boston Celtic, and that would've been the case even if Kyrie Irving and Gordon Hayward were healthy. Aside from the 2014 trade that sent Paul Pierce and Kevin Garnett to Brooklyn and the hiring of Brad Stevens, Horford's decision to sign with Boston in Free Agency was been the most important moment in the formation of this new Celtics dynasty-to-be.
I feel obligated to mention Houston Rockets General Manager Daryl Morey in this section too since both D'Antoni and Morey are pioneers who believed in a concept before many others did and they stuck with it before everybody else started trying to copycat them, and it's fitting that they eventually found their way to each other. D'Antoni was incredibly successful in Phoenix but never made an NBA Finals, and after taking his lumps in New York and Los Angeles, he has again found his footing in Houston. This final stop has allowed D'Antoni to fine-tune his philosophies and become a much better Head Coach than he was a decade ago.
Morey was responsible for putting the pieces in place to maximize D'Antoni's coaching skill-set … in James Harden and Chris Paul, D'Antoni has two Hall of Fame lead ballhandlers to run the show, an athletic rim-running big who was shaped from the Amar'e Stoudemire mold, and the rest of the roster is made up of capable 3-and-D wings, the kind that D'Antoni needed more of in Phoenix. Rather than playing at a breakneck pace, D'Antoni's Rockets slow the pace to a crawl, spread the floor, shoot the right sort of shots (three's, lay-up's and free throws) and actually play defense. That's right, on top of posting one of the ten best Offensive Ratings ever (points per 100 possessions) the 2017-18 Houston Rockets were the 6th best defensive team in the league.
Even though there is absolutely no shame in bowing out of the Playoffs to a team as loaded as the Warriors are (who are favored in the series despite Houston having home court advantage), a loss in the West Finals to Golden State would only add fuel to the fire for the anti-D'Antoni crowd. A victory over Golden State, and an NBA Championship after that would turn the story of D'Antoni's career on it's head. The knock on D'Antoni is that he was first the innovator who was too radical to win the title, and then he was too stubborn to alter his M.O. when his personnel didn't mesh with his stylistic preferences. A championship this year – or any year in the immediate future – would strengthen the case that D'Antoni was ahead of the curve, and maybe even more versatile than the rosters he has coached were.
Truthfully, that's what I've always believed. Did it make sense for D'Antoni to take jobs in New York and Los Angeles when those rosters weren't built to play his style? No it didn't, but it made just as little sense for those franchises to expect that D'Antoni could maximize those two particular groups of players. The blame is on both parties entering into those partnerships, but neither of those tenures made Mike D'Antoni a bad basketball coach.
7. Brad Stevens 
There will be a handful of stubborn fans who suggest that until Brad Stevens comes close to matching Gregg Popovich's five titles he shouldn't be mentioned as an all-time great NBA Coach. That's Ring Culture for ya … blatantly ignoring the eye-test and disregarding situational factors just to be able to holler "No Rings! He's not that great!" for God knows what reason. Whether Brad Stevens ever wins an NBA Title or not, you don't need to be a genius to see that he's the best Coach in the NBA today, and there's a case to be made he's an all-timer already.
Instead of nitpicking, we should be marveling at Stevens' ability to get this undermanned group prepared for postseason ball. Because of circumstances out of his control, Stevens has had to make major changes on the fly throughout the season and keep the Celts afloat amidst adversity, all while remaining as cool as a goddamn iceberg on the sideline, diagramming plays on the sideline in timeouts that were certain to net the Celts a bucket. Stevens' even-keeled demeanor has been a trademark since he was leading Butler University to back-to-back National Championship Game appearances in 2010 and 2011, one of the greatest coaching overachievements in modern College Basketball history. But what he's done and what he's tasked with doing in the next two rounds of the NBA Playoffs is next level stuff.
Stevens will have to outwit LeBron James – a basketball savant whose brain and ability make him nearly impossible to game plan for at this stage in his career – in the Eastern Conference Finals and through one game it's a job well done. Assuming Stevens becomes the first Eastern Conference Coach to defeat LeBron in a Playoff series since Doc Rivers did so all the way back in 2010, the job is then to concoct a game plan wise enough to become the biggest underdog to win the NBA Title since 2004 (Detroit over Los Angeles), and against either Golden State or Houston, that would be the case.
Without a shred of hyperbole, it would be the greatest two-round run of postseason success for an NBA Head Coach ever. And that's before you even begin to consider the fact that the Celtics are playing without a legitimate superstar, and their rotation is made up of eight guys, half of whom haven't been in the NBA for more than three years.
6. Kevin Durant
5. Stephen Curry 
Curry gets the slight nod over Durant on this list because he's lacking the Finals MVP that Durant won last year, and as you know, that one Finals MVP trumps Curry's no Finals MVP's, and it definitely is more important than Curry's two regular season MVP's. But then again, Steph and the Warriors won a ring before KD signed with Golden State, so Curry has two rings and Durant only has one, so many this postseason actually means more to Kevin Durant. But then again, Durant and Curry are teammates, so if Durant wins a title, then Curry will win a title too, so Curry might always be ahead of Durant in any sort of player rankings because he has more rings.
(You see how stupid this sounds when all you're looking at is championships and Finals MVP's and absolutely nothing else in any sort of legacy debate?)
In all seriousness though, assuming the Warriors stay together and Curry and Durant each remain in their respective primes for another 4 to 5 years, their greatest competition for Finals MVP's should be each other. In the end, I suspect it won't matter most. Based on current career trajectories, it's easy to slide both Durant and Curry into the top twenty or so players ever as long as they both remain healthy and members of the Warriors. The more titles they win as a duo, the higher they'll climb on that list, and the list of the most talented/successful/dangerous duos in NBA history.
4. Chris Paul 
More on Chris Paul, a player whose legacy I care more about than any other player on this list aside from LeBron James, next week.
3. James Harden 
With a title win and a Finals MVP, Harden is officially the 4th or 5th best Shooting Guard ever. Oh man, there are gonna be a bunch of hardcore fans of 90's basketball who hate flopping who throw an absolute shit-fit about this. High stakes for so many parties here.
2. LeBron James
1. Michael Jordan
Ever since the 2016 NBA Finals, I've noticed a gradual shift in the collective willingness to be open-minded and consider the fact that Michael Jordan might not forever be the Greatest Basketball Player of All-Time; the notion that LeBron James could overtake MJ as the GOAT became a universally understood (I don't want to yet say "accepted") reality. This year in particular, it seems as if there is an appreciation for LeBron James like never before. As they say, Father Time is Undefeated, and that goes for how sports fans perceive athletes as well. NBA fans have been beaten down by fifteen years of consistent and unparalleled excellence from LeBron James. The countless YouTube videos of LeBron's clutch postseason performances and last-second heroics must've been viewed enough times that the long-time notion that LeBron James wasn't clutch, pushed by pathetic weasel's like Skip Bayless, now seems like utter lunacy. There seems to be a better understanding – at least from the basketball fans who attempt to educate themselves – that we need to look at the context of both LeBron's and Jordan's Finals appearances, not just the overall record. When you consider that most of (if not all of) the teams MJ faced in the Finals were inferior to the competition that LeBron James faced, it alters the narrative. And the narrative that LeBron would've been better off going to three NBA Finals and winning them all than appearing in eight (and maybe soon to be nine NBA Finals) and losing five (or six) of them is total bullshit. If you'd prefer that your player gets bounced in Round 2 of the Playoffs, have fun with that.
But this is where we're at now … a tipping point of sorts. It's hard to imagine that LeBron James will ever be able to amass the sort of overwhelming support in GOAT candidacy as MJ has, but it's now in play that the majority could swing in LeBron's favor. What would it take? It would take fans looking at LeBron's overall body of work (I'm not just talking rings) and determining that it was greater than MJ's. It would take fans really digging deep into the individual game's of both LeBron and Jordan and determining that LeBron James was a superior basketball player to Michael Jordan. And here's the big one …
With a 2018 NBA Championship, with this Cleveland Cavaliers team, especially one over the Golden State Warriors – cut to every Warriors fan reading this laughing hysterically – it would surpass any individual single-season achievement MJ ever had. So that's what is on the line. And if you're wondering why MJ is #1 on this particular list over LeBron, it's because in six weeks it might seem like an odd choice to put Michael Jordan ahead of LeBron James on a list having to do with basketball legacies.