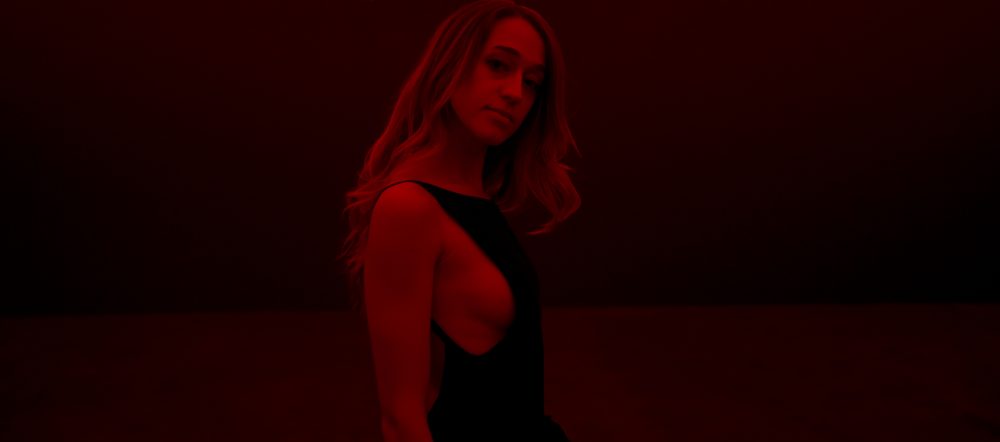 "Green tea, searching for inspiration, constantly humming melodies and writing in notebooks, popping in and out of sessions all while trying to take in life around me and enjoy." According to Alexa Lusader — also known as 'Love, Alexa' — these are the activities (and the beverage) that make up a normal day in her life. Today is a slightly abnormal day though, since Alexa spends a portion of her Saturday morning and evening answering my questions in a back and forth that exists within our Twitter DM's. I don't suspect that the time she spent messaging with me about her upbringing, her career, and her now recently released debut EP "Dear You.." throws her off too much. Even though she claims that she's emotional and has a dramatic personality, and she describes herself in various social media bios as "an overdramatic blondie," it hardly seems like a minor deviation from her daily routine or any increased attention that is about to come her way as a result of the expected success of "Dear You.." will change how she operates.
Alexa grew up in Rochester, Michigan, a small city of around 13,000 people that sits roughly 30 miles north of Detroit. She went to the same high school, Rochester Adams, as Country star Jana Kramer and 1980's music icon Madonna. This made me wonder whether Rochester Adams was some sort of factory for churning out talented female musicians, but Alexa makes it sound much less like an assembly line than that. "It's a great school system and a lot of very talented, ambitious people have walked those halls. Professional athletes, professional musicians, you name it."
As would be expected, becoming an artist was something that Alexa was dreaming about long before she attended Rochester Adams. "I was a freaking loud child," Alexa tells me. "I was always singing something around the house and thankfully my parents nurtured that. They put me into singing lessons when I was seven and I started writing when I was thirteen. Doing a bunch of performances, competitions, musicals. I always knew I wanted to be an artist, it was in my blood." This sentiment and these sorts of adolescent experiences are shared by thousands of artists of all kinds all over the world. For some, the passion fizzles over time. Others remain driven, and for those it is human nature to strive to achieve a personal manifest destiny of sorts; an expansion westward where opportunities are billed to be greater and more lucrative.
"I can remember being five years old dreaming about Hollywood. I always knew LA was going to be the place I'd move to." In August 2016 Alexa made her move from Rochester to Los Angeles, a city roughly 1,000 times larger in terms of population. "People can live here for five years and still not scratch the surface," she tells me after I mentioned to her that I'm making my first visit to Los Angeles in a month. "It took me probably six months to not feel like I was still on vacation. I've lived here for almost two years and there are still aspects that I still haven't adjusted to."
Alexa was kind enough to suggest that I visit Venice Beach or El Matador when I'm in LA for a week, but her move to LA was less about sight-seeing/beach-going and more about continuing to work on her craft. "I started really writing when I was thirteen. When I first started writing, I remember thinking it was so cool. I could literally hear songs being played in my head and then I'd write them out. Writing a great song will forever be one of my favorite feelings."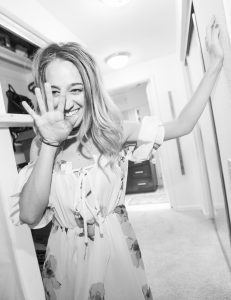 She continues: "I create and sing music because I love it. In this business, you have to do it because you love it or you will be miserable. That goes for any creative career. It is ruthless and so incredibly hard to make it. Everyone's trying. The only thing that's gonna get you up in the morning is the love of your craft. Being super passionate and doing it to feed your soul."
What struck me as odd as I continued to talk with Alexa was that she hasn't always approached the creative process in this manner. The passion, the love, the effort … the essential ingredients have always been there, and it's quite clear after getting to know her that they aren't going away anytime soon. But as she went on to explain, the personal touches, or rather, the very personal nature of her music, was not something she always emphasized so much in the past.
"Most of my music previously released was me making music that I liked and thought other people wanted to hear. 'Dear You..' is me creating music for me. It's the happiest I've ever been making music." The mindset change is noticeable in her a five-song debut EP. 'Dear You..' feels just as much like it was made to give listeners an in-depth glimpse inside the mind and soul of Love, Alexa as it was to highlight her talent and wide-ranging interests as a musician. Before our interview I suspected that she was influenced by artists of more than one genre of music. It turns out, Alexa has been influenced stylistically by artists of all genres. 
"I grew up listening to all eras of music. I had older cousins that got me into Napster and Limewire. We would download anything and everything. 90's pop, rap, R&B, rock. Popular bands from the 60's, 70's, 80's. I started listening to jazz around thirteen when I discovered that my voice shined in that soulful range." This all makes perfect sense. 'Dear You..' is a nice blend of more modern electropop with the soul of old school jazz, and when you listen to it, you'll likely hear half a dozen different artists that Alexa resembles in some way … from Halsey to Sinead O'Connor to Billie Holiday, 'Dear You..' will sound both comfortably familiar and refreshingly original. But as I previously alluded to, what sets the five songs on this EP apart from her previous work is that Alexa broke one of the Corleone family's cardinal rules. She made her business personal.
So if anyone follows you on Twitter or Facebook or Instagram, they'd know that you write these short love notes, and the five songs on "Dear You.." come from actual love notes you have written. That's where the numbers before each song title come from. Did you start writing love notes as a method to spark the creative process, or was that just a cathartic exercise for you that ended up being beneficial for you musically? 
"It was very cathartic and therapeutic. I did it to just release emotions because I wasn't releasing songs as fast as I wanted to. I didn't really have a plan for them I just knew I loved them. When I saw how they affected other people as well and gained support for them, I fell more in love with them. Love Notes inspired the change of name from Alexa Lusader to Love, Alexa. Nothing has made more sense for me creatively."
However in depth you'd be comfortable going, can you talk about what personal events inspired each of the five songs on "Dear You.."? 
"These are easily five of the most personal songs I've ever written. It took a lot of soul searching to get to such an intimate, honest place. I'll try to give a quick little summary of each one."
#77 Good Thing
"It's about falling in love for the first time in Los Angeles and not feeling quite sure of the future but just riding the feeling."
#87 Green Tea 
"The abysmal limbo of not knowing where the other person stands in love, also referred to as straight agony."
#74 Need Me More
"It's about finding yourself again. I've given many parts of myself to people and this song reminds me to come back to me.
#101 Russian Roulette 
"The most personal song I have created to date. It's about something that happened to me when I was 12 years old that has held me hostage. This song is the beginning of setting myself free. I come out and say what it is on my exclusive album art for the song so I won't spoil it before then!"
#64 Highs and Lows 
"The ups and downs of a relationship. Hoping that love will be the ultimate thing that holds two together."
Before I sat down and began the interview with Alexa, I threw on my 'Ultimate Sinatra' record because is there any time that isn't a perfect time to listen to some Frank Sinatra? When she named Sinatra as one of her musical influences, I mentioned that it was interesting that she brought him up since since I was currently in the middle of listening to "That's Life." She replied, "It's like you know me or something," and at first I brushed that comment off as just a witty comeback that would sound good in back and forth banter, but then I thought about it a little more and then I realized that after listening to "Dear You.." it's kind of like I do know her.
I'd encourage you all to get to know Love, Alexa too.
Listen to "Dear You.." on Spotify, Apple Music or SoundCloud 
Follow Love, Alexa on Facebook, Twitter or Instagram 
Or visit: https://lovealexamusic.com/