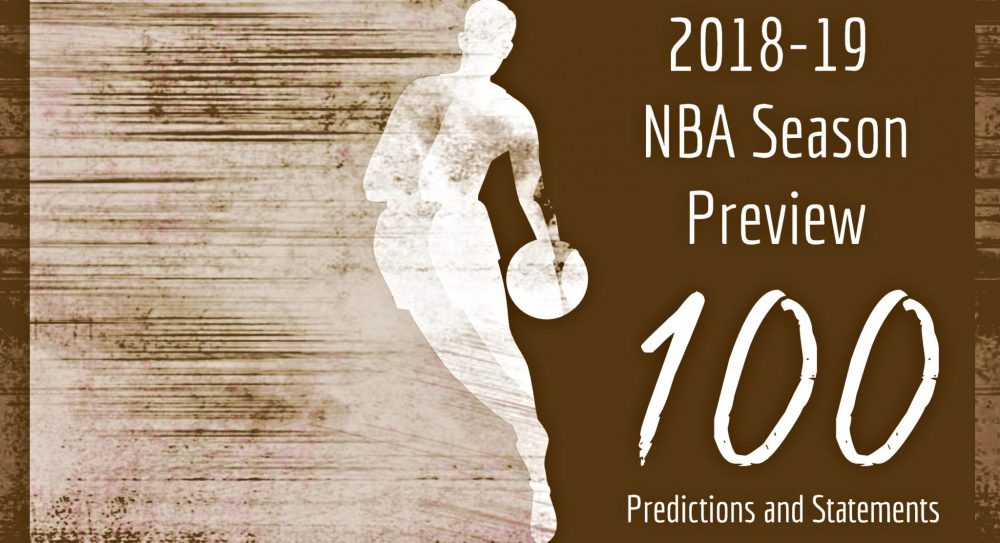 Welcome to my first ever 100 point NBA Season Preview column. Below are 100 predictions and statements that I've compiled during my months of research that I feel comfortable making now that we've arrived at the beginning of the NBA season. Some are completely random, others have more of a purpose. Take a look through them and enjoy the games tonight. The best time of the year begins now.
15 General Player Related Statements
John Collins will have a ten game stretch where he averages at least 20 points and 10 rebounds per game.
Luka Doncic with shoot at least five percent better from three-point range than Trae Young.
Devin Booker will finish in the top five in points per game. 
Andre Drummond will indeed attempt one three pointer per game, and whoa boy, it won't go well. 
However, 
Drummond's front court running mate Blake Griffin will shoot a career best percentage from downtown. 
In at least three Miami Heat home games, Dwyane Wade will hit go-ahead or game winning shots.  
Terry Rozier and Marcus Smart will both finish in the top five in Sixth Man of the Year voting.
Mo Bamba will rank in the Top 10 in blocks per game.
Ben Simmons, LeBron James and Russell Westbrook will all come within a rebound or assist per game of averaging a triple double for the season.
Thon Maker becomes a regular in the Bucks rotation and contends for Most Improved Player.
Carmelo Anthony will finish 5th in scoring on the Houston Rockets.
Clint Capela will contend for an All-NBA Team spot.
DeMar DeRozan and LaMarcus Aldridge will be among the league's most commonly used pick and roll duo's.
There will be at least one 60 point game, one 25 rebound game, and one 20 assist game this year.
15 General Team Related Statements
After Andre Roberson returns, the Oklahoma City Thunder will be a Top 5 defense for the remainder of the season.
The Toronto Raptors bench unit will continue to be one of the most effective high volume line-up's in the NBA.
Steve Clifford will give extended minutes to line-up's featuring the Aaron Gordon, Jonathan Isaac and Mo Bamba trio, and it will produce so-so results.
The Chicago Bulls will finish as the worst defensive team in the league … And Fred Hoiberg will be fired by the end of April.
Portland's Defensive Rating will slip back into the bottom half of the league after surprisingly finishing 8th best last year.
Speaking of Portland, both the Trail Blazers and the Washington Wizards will be looking to break up their core by the beginning of the off-season.
The Ben Simmons/J.J. Redick/Robert Covington/Dario Saric/Joel Embiid line-up will again post a Net Rating better than 15.0, but will play half of the minutes they played together last year.
Under Mike Budenholzer, the Milwaukee Bucks will improve from 9th to 4th in Offensive Rating.
Only the Houston Rockets, Golden State Warriors and Denver Nuggets will have a better Offensive Rating than Milwaukee.
For the second consecutive year, over 50 percent of the Houston Rockets field goal attempts will be from three-point range.
The Lakers improve from 29th in three point percentage last year to Top 12 in the league this year. They will make a similar jump in Offensive Rating as well, going from 23rd to 5th.
The Clippers will make a trade that gets them more Draft picks, more cap space for next Summer, or both.
Dave Joerger will get the memo that it's 2018, and the Sacramento Kings will jump from 30th in Pace to inside the top 10.
The NBA's overall scoring average will increase for the fourth consecutive regular season and the record for three-pointers in a single-season will once again be broken.
The Los Angeles Lakers/Golden State Warriors Christmas Day game will be the highest rated regular season game of the 21st Century. 
15 Best Player Prop Bets to Make if You Are A Gambler  
LeBron James Field Goal % – Over 50.5% (-120)
Giannis Antetokounmpo Points Per Game – Over 26.5 (-125)
Giannis Antetokounmpo Triple Doubles – Over 2.5 (-125)
Mo Bamba Blocks Per Game – Over 1.4 (-115)
Kawhi Leonard Points Per Game – Under 25.5 (-115)
Andre Drummond vs. Hassan Whiteside, Rebounds Per Game – Drummond (-170)
Clint Capela vs. Karl-Anthony Towns, Rebounds Per Game – Capela (+130)
Stephen Curry 3 Point Shooting % – Over 42% (-115)
Dwyane Wade Points Per Game – Over 11.5 (-115)
Nikola Vucevic Rebounds Per Game – Under 9.5 (-115)
John Collins Points Per Game – Over 13.5 (-135)
Dirk Nowitzki Points Per Game – Under 12 (-135)
Nikola Jokic Triple Doubles – Over 9.5 (-115)
Gordon Hayward Points Per Game – Under 18.5 (-115)
Will J.R. Smith Be Fined For Exposing His "Supreme" Tattoo – Yes (-500)
(Note: J.R. threw a bowl of soup at a Cavaliers Assistant Coach last year. He's going to make another bad decision this year, let's be real)
8 Interesting/Important Non All-Stars (And Why) 
Khris Middleton – At only 27 years old, Middleton is coming off of the most productive season of his six year NBA career. I'm all in on Giannis establishing himself as one of the very best players in the league this year, but Middleton will need to remain a high quality second option in order for Milwaukee to
Brandon Ingram – There are plenty of young Lakers to choose from, but Ingram's 2018-19 ceiling seems the highest. Ingram nearly doubled both his scoring and assist numbers last year, and he shot the ball with much more confidence after struggling to score efficiently as a Rookie. If another leap is on the horizon, the Lakers could exceed expectations.
OG Anunoby – Speaking of high ceilings, few teams have a defensive ceiling as high as Toronto does. The Raptors were a top five defense and adding Kawhi Leonard, a two-time Defensive Player of the Year, only helps matters. Anunoby is the sort of switchy, athletic defender that will play a huge role in Toronto's best defensive five man units. If he can remain a 37 percent shooter from three-point range he'll end up getting the majority of the crunchtime minutes available in the Raptors frontcourt.
Markelle Fultz – Fultz will get plenty of opportunities to prove that Philadelphia didn't make a mistake selecting him with the 1st overall pick last year. These opportunities will take minutes away from a line-up that steamrolled opponents last year.
Nikola Mirotic – Mirotic hit 38 percent of his three's last year during the regular season and was a flamethrower during the Pelicans postseason run. In a full season playing alongside Anthony Davis, I'm interested in seeing how that partnership evolves, and if the Pels can maximize a three-man frontcourt rotation with Davis, Mirotic and Julius Randle.
Jamal Murray – The Nuggets believe that Jamal Murray can give them quality minutes at Point Guard. I've always seen Murray as a more natural Shooting Guard. In a Denver offense where so much is created by the passing genius of Nikola Jokic, I suppose it doesn't matter much what position we designate Murray as. What matters is whether Murray can establish himself as a twenty point per game scorer this season after averaging nearly 17 per game last season.
Ricky Rubio – Rubio spent years as a comically bad shooter from all areas on the floor; it was a weakness in his game that made it very easy to forget about how effective he was in so many other areas. In Rubio's final thirty regular season games he shot 46 percent from the field and a scorching 44 percent from three-point range. Rubio will never be a high volume three-point shooter, but if he can hit upward of 40 percent of three-and-a-half spot-up attempts this year, the Jazz offense will be in great shape.
Andrew Wiggins – When will Andrew Wiggins start playing with a fire under his ass? The same question goes for Karl-Anthony Towns.
12 Season Defining Questions That Weren't Asked on the Recent NBA Season Preview Edition of The Sonny Talks Sports Podcast 
Will the 2011 Bulls (Derrick Rose, Luol Deng, Taj Gibson) be the Wolves most-used trio that doesn't include either Karl-Anthony Towns or Andrew Wiggins?
How much will this play into Tom Thibodeau eventually being fired?
How does the bottom of the Eastern Conference Playoff race play out?
Which of the Rookies will make the biggest impact right away?
Will Donovan Mitchell, Ben Simmons or Jayson Tatum make the leap into superstardom this year?
Will TV Ratings and National intrigue for the NBA continue to soar?
Can Joel Embiid stay healthy for an entire season?
At what point will Gregg Popovich announce that he's running for President of the United States in 2020?
Will it be a season of regression for the Indiana Pacers, or will Victor Oladipo maintain All-NBA caliber play for another year?
Now that the Draft Lottery format has been slightly modified, will we see fewer teams tanking?
By season's end, will the Los Angeles Lakers, New York Knicks or Golden State Warriors be the favorites to sign Kevin Durant?
Will there be any ground gained in the push for an alteration of the NBA's postseason format?
4 Notable Players Who Should Be Traded During The Season (And My Favorite Fake Trade For Each of Them) 
Charlotte Gets: Elfrid Payton, Wes Johnson, Darius Miller, 2020 Lottery Protected 1st Round Pick
New Orleans Gets: Kemba Walker, Frank Kaminsky
Analysis: If you're New Orleans, you need to put a title contending roster around Anthony Davis as soon as possible if there is any hope of keeping him a few years down the road. If Kemba Walker is available at the deadline, any pseudo-contender that could use an upgrade at Point Guard should be making calls to Charlotte.
Minnesota Gets: Eric Gordon and P.J. Tucker
Houston Gets: Jimmy Butler
Analysis: As I explained on The Sonny Talks Sports Podcast, the Rockets let Trevor Ariza and Luc Mbah a Moute walk in Free Agency, sacrificing continuity for the chance at something more. We know that Daryl Morey will be aggressive and think outside of the box. If he can turn Eric Gordon and P.J. Tucker into Jimmy Butler, I think he'll take the opportunity. A Chris Paul, James Harden, Jimmy Butler trio has a better chance than any other trio of players in the league at outplaying Kevin Durant, Stephen Curry and Klay Thompson over a best of seven series.
Memphis Gets: Jonas Valanciunas, Danny Green, 2021 Top 7 Protected 1st Round Pick
Toronto Gets: Marc Gasol
Analysis: Toronto is in win-now mode, and Memphis should be looking at their future. Marc Gasol is in his mid-30's but he can still be an impactful player in the right situation. Slotting him into that starting Center spot in Toronto, a low-demand role considering the depth of the rest of the roster, would maximize what he could still bring to the table. Giving up a future 1st is worth it if it puts the Raptors in better position to contend for a championship this season.
Los Angeles Gets: Jeremy Lin and Dewayne Dedmon
Atlanta Gets: Danilo Gallinari
Analysis: These are two teams on different stages of rebuilding. The Clippers are in a position where they could have more cap space than any other team in the NBA next Summer. Atlanta is two Summer's away from being able to make a splash in Free Agency. There's no reason why Atlanta shouldn't take on Gallinari (two years left on his deal) while sending LA two contracts that expire this Summer. Both teams would be better for it.
15 Regular Season Awards Predictions
MVP: Giannis Antetokounmpo
Defensive Player of the Year: Joel Embiid
Rookie of the Year: Luka Doncic
Coach of the Year: Mike Budenholzer
6th Man of the Year: Julius Randle
Most Improved Player of the Year: Markelle Fultz
Comeback Player of the Year: Gordon Hayward
Executive of the Year: Rob Pelinka
1st Team All-NBA: Stephen Curry, James Harden, LeBron James, Giannis Antetokounmpo, Anthony Davis
2nd Team All-NBA: Kyrie Irving, Ben Simmons, Kawhi Leonard, Kevin Durant, Joel Embiid
3rd Team All-NBA: Russell Westbrook, Donovan Mitchell, Jimmy Butler, Paul George, Nikola Jokic
1st Team All-Defense: Patrick Beverley, Jimmy Butler, Giannis Antetokounmpo, Anthony Davis, Joel Embiid
2nd Team All-Defense: Jrue Holiday, Ricky Rubio, Kawhi Leonard, Draymond Green, Rudy Gobert
1st Team All-Rookie: Trae Young, Luka Doncic, Kevin Knox, Marvin Bagley III, DeAndre Ayton
2nd Team All-Rookie: Jevon Carter, Miles Bridges, Wendell Carter Jr., Jaren Jackson Jr., Mo Bamba
16 NBA Playoff Predictions 
1st Round – Golden State Warriors over San Antonio Spurs, Houston Rockets over Denver Nuggets, Utah Jazz over New Orleans Pelicans, Los Angeles Lakers over Oklahoma City Thunder, Boston Celtics over Detroit Pistons, Toronto Raptors over Miami Heat, Milwaukee Bucks over Washington Wizards, Philadelphia 76ers over Indiana Pacers
2nd Round – Golden State Warriors over Los Angeles Lakers, Houston Rockets over Utah Jazz, Boston Celtics over Philadelphia 76ers, Milwaukee Bucks over Toronto Raptors
Conference Finals – Golden State Warriors over Houston Rockets, Boston Celtics over Milwaukee Bucks
NBA Finals – Golden State Warriors over Boston Celtics
NBA Finals MVP – Stephen Curry