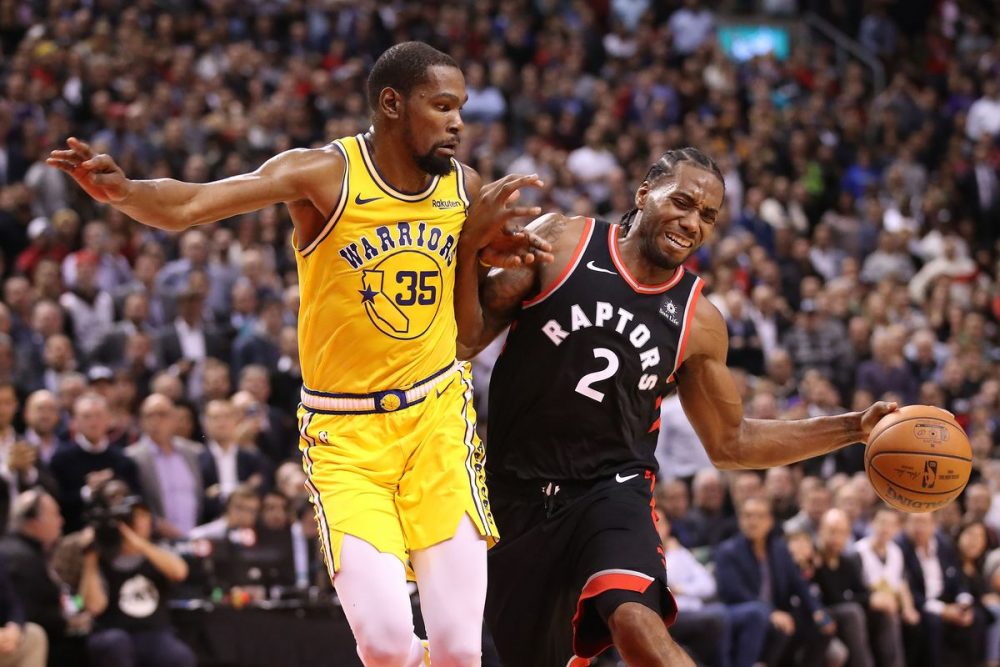 On this second Tuesday in December, it's time we put the first two months of the 2018-19 NBA Season behind us. Even though there are four months worth of games yet to be played — which equates to hundreds of poster dunks, dozens of petty feuds stemming from sub-tweets, six occasions where Skip Bayless metaphorically masturbates on First Take while gushing about how Michael Jordan is soooooo much better than "Drama King" LeBron James, two or three teams we try to talk ourselves into being legitimate challengers to the Golden State Warriors, and one occasion where Skip Bayless literally masturbates on First Take while gushing about how Michael Jordan is soooooo much better than "Drama King" LeBron James (come on, you know it's going to happen eventually … Even though the thought of Skip pleasuring himself is disgusting, it would create insane buzz and FS1 needs those viewers right now) — a handful of developments have already piqued my interest in a pretty major way and they are worth keeping an eye on as we move forward. And by a handful, I mean five. Five fingers are on a human hand, so therefore five topics would make a handful.
1. Processing the new (and improved) Philadelphia 76ers
The Sixers will finish the first third of the 2018-19 regular season as the NBA's most interesting team, as well as one of the few who could legitimately end up playing in the NBA Finals in June. Philly would've been one of the more intriguing teams in the league at this point whether or not they made the trade for Jimmy Butler back in mid-November, but Butler's arrival served as the metaphorical opening of Philly's Championship Window.
We wanted to believe that the Sixers Championship Window was open before they flipped Dario Saric and Robert Covington for Butler, but the hard truth is it wasn't … and the Sixers front office realized this. Philly over-achieved last year, making the unusual leap from under 30 wins to over 50 wins in a single season, thanks in large part to a sixteen game winning streak to end the regular season. They advanced past Miami in Round 1 but were outclassed by a more adaptable and better coached Boston Celtics team that was one win/a few bonkers LeBron James performances away from making the NBA Finals.
The data heading into the year was conflicting. Putting Markelle Fultz's status aside — because at that point in time Philly had no idea what was wrong with Fultz or what to expect from him — Philly's core five (Joel Embiid, Ben Simmons, J.J. Redick, Saric, Covington) had walloped their opponents throughout the 2017-18 regular season, but fluttered in the postseason. Over the first fifteen or so games of the 2018-19 that quintet had regressed to the mean. Here's what I mean:
Simmons/Redick/Covington/Saric/Embiid (2017-18 Regular Season) … +20.4 points per 100 possessions in 600 minutes of play together.
Simmons/Redick/Covington/Saric/Embiid (2018 Playoffs) … -10.7 points per 100 possessions in 74 minutes of play together.
Simmons/Redick/Covington/Saric/Embiid (2018-19 Regular Season) … +2.4 points per 100 possessions in 106 minutes of play together.
Only fifteen line-ups in the league logged more than 400 minutes together in the regular season last year, and not one of them was better than Simmons/Redick/Covington/Saric/Embiid. The Warriors Death Lineup plus Zaza Pachulia unit was 9.4 points per 100 possessions better than their opponents in 414 minutes on the floor together. Toronto played a bunch of five-man units that ran opponents off the floor, but their best (Lowry/DeRozan/Anunoby/Ibaka/Valanciunas) was only 11.4 points per 100 possessions better than opponents. The Rubio/Mitchell/Ingles/Favors/Gobert five that carried Utah to a 29-6 record down the stretch of the season also had a Net Rating of 11.4.
But here's the thing: expecting that this kind of production from this five would roll over for years to come was unreasonable, especially seeing how it went sideways in the Playoffs against consistently stellar opposition. When they didn't bounce back to that elite level to begin this season, Philly had to jump at the opportunity to accumulate better talent. And thus far, it looks like it's a win for the Sixers:
Simmons/Redick/Butler/Chandler/Embiid … +12.7 points per 100 possessions in 122 minutes of play together (As of Monday, December 10th)
Of the 44 line-ups that have played at least 100 minutes together this season, this Sixers quintet has the 6th best Net Rating thus far. Sure, there are kinks to be worked out. Depth could turn out to be an issue, though I don't hate the minutes that guys like Mike Muscala, Landry Shamet and T.J. McConnell give Philly. Joel Embiid recently vented to the media about some of the issues he has with how he's been used in the Sixers offense since Butler arrived, and I don't disagree with his position. Butler is thorny and hard-headed, so surely there will be bumps in the road along the way. But make no mistake, the trade was a win for the Sixers. The Sixers are 9-3 since making the trade and are one of four teams that we should take seriously as a potential Eastern Conference representative in the NBA Finals.
2. The Other 75 Percent
The Other 75 Percent are the three teams in the Eastern Conference aside from the Philadelphia 76ers that I would assign a 25 percent chance to end up playing in the NBA Finals. The Toronto Raptors, Milwaukee Bucks and Boston Celtics — 1st, 2nd and 5th in the Eastern Conference at the moment — are the other 75 percent. At this point in the year, I wouldn't be at all surprised by any of those four teams making the NBA Finals. I don't even suspect that how things shake out over the next four months, except for any major injuries, will change my mind by the time the Playoffs start. I think those four teams are as close to even, in the context of the likelihood of making the NBA Finals, as any other four teams in the league are.
Toronto looks like the class of the East through 25 games. They own the league's best record and the second most impressive point differential. More importantly than where exactly they stand right now, the upgrade from DeMar DeRozan to Kawhi Leonard was indeed substantial. It remains to be seen if Leonard will re-sign with Toronto in the offseason, but for now, the Raptors, for the first time in their franchise history, employ a player who has the capability of being the best two-way player in the NBA. Vince Carter never had that ceiling, nor did Chris Bosh. As successful as the Kyle Lowry/DeRozan pairing was, neither of those two guys could ever get to that level. Kawhi can.
Kawhi has plenty of help here though. Despite being overlooked and written off for a few years now, Lowry remains one of the league's most capable lead guards. Pascal Siakam's ascension has been startling and beautiful to watch, and Serge Ibaka's resurgence is a welcome sight for our friends up North. No team uses their length and athleticism as well as the Raptors do. They make the simple act of passing the basket a pain … no team attacks passing lanes like Toronto does.
The Bucks are just as long and equally dangerous in the grand scheme of the season, thanks in large part to the savviest, yet most predictable coaching change of the offseason. The Bucks needed to hire a Head Coach with a modern view of the NBA; somebody who would spread the floor with shooters, run an actual offense, and maximize the talent of Giannis Antetokounmpo. Enter Mike Budenholzer, who has apparently taken the idea that NBA teams should be taking only three's and shots around the rim very seriously. He has the Bucks playing exactly how a team with that specific roster should be playing.
The Bucks are on pace to attempt the third-most three-pointers in a single-season in NBA history. They're hitting 35 percent of just over 40 attempts per game, a good enough mark to warrant bombing so many triples. Meanwhile, Giannis Antetokounmpo is on track to post a season of paint scoring that is only rivaled in the 21st Century by Shaquille O'Neal. He's averaging 27 points, 13 rebounds, and 6 assists, with three combined blocks and steals, and at least three Holy Shit plays per game. In case you were wondering, he's the league's MVP so far.
As for the decision to include the Celtics in this group, it takes having a little faith that better things than we've seen so far are still to come in Boston. That doesn't require too much conviction … the Celtics have made the Eastern Conference Finals each of the last two years, and on paper, this is the most talent assembled on a Celtics squad since Paul Pierce, Kevin Garnett and Ray Allen were enlisting the help of Scott Van Pelt to settle on a nickname.
Progress in the NBA is not always linear. Just because the Celtics jumped from 48 wins to 53 wins to 55 wins in the previous three seasons, it didn't mean they were necessarily going to jump to 60 this year. And even if they didn't, it shouldn't be an indictment that there is something fundamentally wrong with this group. Kyrie Irving had to shake off some early season rust after a limited amount of off-season work. Gordon Hayward just isn't the same guy as he was 18 months ago. Jayson Tatum and Jaylen Brown are playing with the weight of expectations when last year the degree to which they contributed was not expected. Neither Terry Rozier or Marcus Smart is shooting 40 percent from the field.
It's really easy to see why Boston has the worst record of these four teams at this point, but it's also easy to envision a scenario where they play themselves out of an early season stretch where they are just an average offensive team in the increasingly offensive NBA. At this point in the season, the Celts are the best defensive team of this group … that likely won't change as the season goes on. And even though games are being played in the 120's and 130's, the Celtics ability to lock in and play disciplined defense will prove to be vital in the postseason.
3. Drama in the Bay
So, four small things, and then one bigger thing:
I. We shouldn't take the Kevin Durant/Draymond Green blow-up too seriously in the context of this year.
II. We should be prepared for Kevin Durant to leave the Golden State Warriors next Summer.
III. If Stephen Curry wouldn't have gotten hurt this blow up probably wouldn't have happened.
IV. Even if the blow-up never happened, it doesn't change the fact that Kevin Durant was probably planning to leave next Summer anyway.
V. The Warriors will be significantly more fun next year if Kevin Durant isn't on the team.
Remember the 2015-16 Warriors? I know, it seems like it was ages ago when those dudes were barnstorming across the NBA, so if you're having trouble distinguishing what separated that group from this group, here's a reminder. That Warriors team was one of the most entertaining spectacles in sports. It was more than watching just basketball. It was like watching the basketball version of the Chiefs/Rams Monday Night Football game 82 times a year. It was like watching the basketball version of every scene with The Joker in The Dark Knight. It was like watching the basketball version seeing your child take their first steps (I don't have children, so technically I don't know that this comparison holds up). Then they added Kevin Durant and it was like watching just basketball again. Basketball being played at an insanely high level, but just basketball. It was no longer some sort of profound event.
Sure, Durant raised a Warriors ceiling that was already absurdly high. In 2016 the Dubs had three opportunities to wrap up the most remarkable start-to-finish NBA season ever, and the only reason they didn't do it is because those final three games turned out to be the defining trilogy of games of LeBron James's career. Although Durant's presence essentially guarantees that a lead so staggering could not possibly be blowing, he plays the game of basketball with such little joy and it appears that he carries himself the same way off the court. He always comes off as aggravated and holier than thou, and sadly enough, he's sucked the joy out of the most joyous basketball team of my lifetime.
Durant is an almost inconceivably efficient, uber-talented basketball player who also happens to be moody and not as fun to watch and not as likable as guys like his teammate Stephen Curry, his former teammate Russell Westbrook, his premiere rival LeBron James, or even the crop of young dudes who will take over the NBA soon enough — I'm talking about the Giannis Antetokounmpo, Joel Embiid, Anthony Davis class. He's one of the twenty best basketball players ever and there is plenty of time for him to improve his standing in that respect. He's not, nor has he ever been, one of the most enjoyable players to watch in the NBA. In fact, you could make a strong case that he's the least likable truly elite player in the history of the NBA.
And here's the thing: I have no idea whether it would bother Durant to no end that this will be part of his legacy, or whether it's no sweat to him at all. Part of me thinks he wishes he had the fanfare that LeBron James has, and that it drives him nuts that Oklahoma City embraced Russell Westbrook the way they did when he left, and that he's probably sour that Golden State is still Stephen Curry's team, despite the fact that Durant has won two Finals MVP's to Curry's zero. In the grand scheme of things, this stuff doesn't really matter that much. But then again, in some way it does. I think the guys who were there on that 2015-16 Warriors team loved playing the way they did. I think they loved kicking everyone's asses even though they weren't the traditionally established sort of super team that we expected to reign over the NBA. I think they liked that they had become a spectacle nearly bigger than the NBA itself.
They'll get a lot of that back when Durant leaves in July, and it will be for the best for all parties involved. The Warriors will be fun again, Durant will have the chance to craft his legacy in another city, and the NBA will find a little more parity than there is today.
4. A Truly Wild West
And speaking of parity, look at the freaking Western Conference right now! The Warriors — getting healthy and operating on cruise control until April — are still the prohibitive favorite, but the night to night unpredictability and entertainment value out west has been insane from the jump of the season. As of Sunday afternoon, the difference between #1 in the Conference standings and #14 is just six games. We're nearly a third of the way into the regular season … there should be some separation here. At this point in the regular season there hasn't been a single-digit difference in the standings between the team in 1st and the team in 14th in a Conference since the 2006-07 season, when this was the case in both the East and the West. For what it's worth, the San Antonio Spurs and Cleveland Cavaliers — the teams that played in the 2007 NBA Finals — were in 1st and 3rd respectively at that point.
I'll be honest, I don't know what to make of this mess. The only thing I can say with certainty is that it feels like there will be meaningful West coast games that I struggle to stay awake through all season long, from tonight (Trail Blazers at Rockets) to when the regular season comes to a close on April 10th (Jazz at Clippers). And how the hell are we going to settle on twelve guys from the West for the All-Star Game? I'm getting anxious just thinking about trying to fill out that imaginary ballot in a couple of months.
Forced to make a prediction, based on what I've seen so far this year, and based on what I'm willing to speculate on because of a previously established track record, I would guess that we're going to see Golden State, Los Angeles (x2), Oklahoma City, Houston, Denver, Memphis, Portland, Utah, San Antonio and New Orleans make the Playoffs.
Shit, that's 11 teams. Back to the drawing board.
5. The Los Angeles Lakers – A Work in Progress
When LeBron James signed with the Lakers on the first day of Free Agency, the NBA's most prestigious franchise preached patience. Rather than opting to gut a young, unaccomplished roster to create an immediate contender for the NBA Title, the Lakers would use the 2018-19 season to evaluate what they were surrounding the league's best player with. At first glance, it was a curious stance for the Lakers to take. As LeBron James entered his sixteenth NBA season, one would assume his championship window wouldn't be open for much longer. History just isn't on the side of The King. But when the Lakers struck out elsewhere in Free Agency — namely missing out on both Paul George and DeMarcus Cousins — it made more sense to use the 2018-19 season as the lead-up to a three-year LeBron-created title window. In doing so, the Lakers committed to their young nucleus — at least for one year — and signed a who's who of veteran role players to one year contracts that would be off the books next Summer when Magic Johnson, Rob Pelinka and LeBron together could take a big swing in Free Agency.
The best case scenario for 2018-19: the Lakers would overachieve on the back of LeBron's extended prime and manage to advance a few rounds in the Playoffs, the youngsters would show big time growth and get valuable postseason reps, a trade or two could be made that doesn't sacrifice roster flexibility next Summer, and LA would be left with a butt-load of cap space in 2019 when guys like Lance Stephenson, JaVale McGee, Rajon Rondo and Kentavious Caldwell-Pope come off the books.
The worst case scenario: LeBron mentally checks out early in the year and spends a healthy amount of time filming Space Jam 2, the young guys don't make strides and their trade value plummets, and the Lakers season ends by late April. Even in this scenario, LA would still be left with a butt-load of cap space in 2019 and at least three more years of LeBron.
Right now things are trending more toward the best case scenario for the Lakers. Nightly defensive effort aside, LeBron James is still the most complete basketball player on the planet, and without a second dominant team in the West to challenge the Warriors — similar to last season's Rockets — it's a distinct possibility that the Lakers, led by Playoff LeBron, could end up meeting Golden State in the Western Conference Finals. Even if the Warriors bounce the Lakers from the Playoffs around Memorial Day, the Lakers will have cap space to play with and a much better understanding of which of their kiddos should stick around for the remaining three years.
It seems obvious to me which players should remain in the Lakers long-term plans and which should be dangled as trade bait for a certain seven footer who dons a Unibrow. Lonzo Ball and Brandon Ingram should be the two guys left out. Stylistically, through 25 games, it's not a stretch to say that they just don't fit alongside LeBron James. Ball is a ball-dominant Point Guard who will never dominate the ball as long as LeBron is a Laker. He's not a knock-down spot-up shooter, nor can he create a reliable shot for himself. And his father is a dink.
Ingram might end up being an annual twenty point per game scorer in the right situation, but it will never be an in-the-flow-of-the-game twenty. The offense stalls when Ingram touches the ball. His herky jerky iso attack and contested turnaround jumpers just don't work. LeBron could play along iso scorers if they are elite. It's why the partnerships with Dwyane Wade and Kyrie Irving resulted in two titles. Ingram is barely 21 years old, but by year three Wade and Irving were regarded as transcendent offensive talents. Ingram isn't close. Kyle Kuzma and Josh Hart look like gamers, and more importantly, they look like the right sort of players to place alongside LeBron and whoever comes to Los Angeles next Summer or the Summer after that.
For now, the Lakers will make due with what they have. A Caldwell-Pope for Trevor Ariza swap could be in the works, but that doesn't change anything about the Lakers plans beyond this season. I can't see LA getting involved in the potential Bradley Beal sweepstakes when Beal isn't a guy who could carry the torch when LeBron's prime is up. Anthony Davis or Damian Lillard on the other hand … now we're talking.