We are two weeks away from the 2020 NBA Draft and the anticipation for this draft is high. Not only does this draft feature some talented prospects such as LaMelo Ball, Deni Avdija, James Wiseman, Obi Toppin, Anthony Edwards, all of whom can become stars in this league one day, but it also has a lot of uncertainty and pressure to it. Executives from many teams face big challenges ahead of November 18th. Will the Golden State Warriors look to draft another star-studded shooter or will they draft the big man they've been missing for so long? Should the Minnesota Timberwolves continue to build for the future and draft a promising rookie like Anthony Edwards or Obi Toppin, or should they trade their pick in order to acquire a third star? Will the Detroit Pistons and New York Knicks be in a bidding war to try and trade up in the draft to select LaMelo Ball? The endless possibilities that can occur make this draft an enticing one. Here's what I think each of the lottery teams should do with their picks.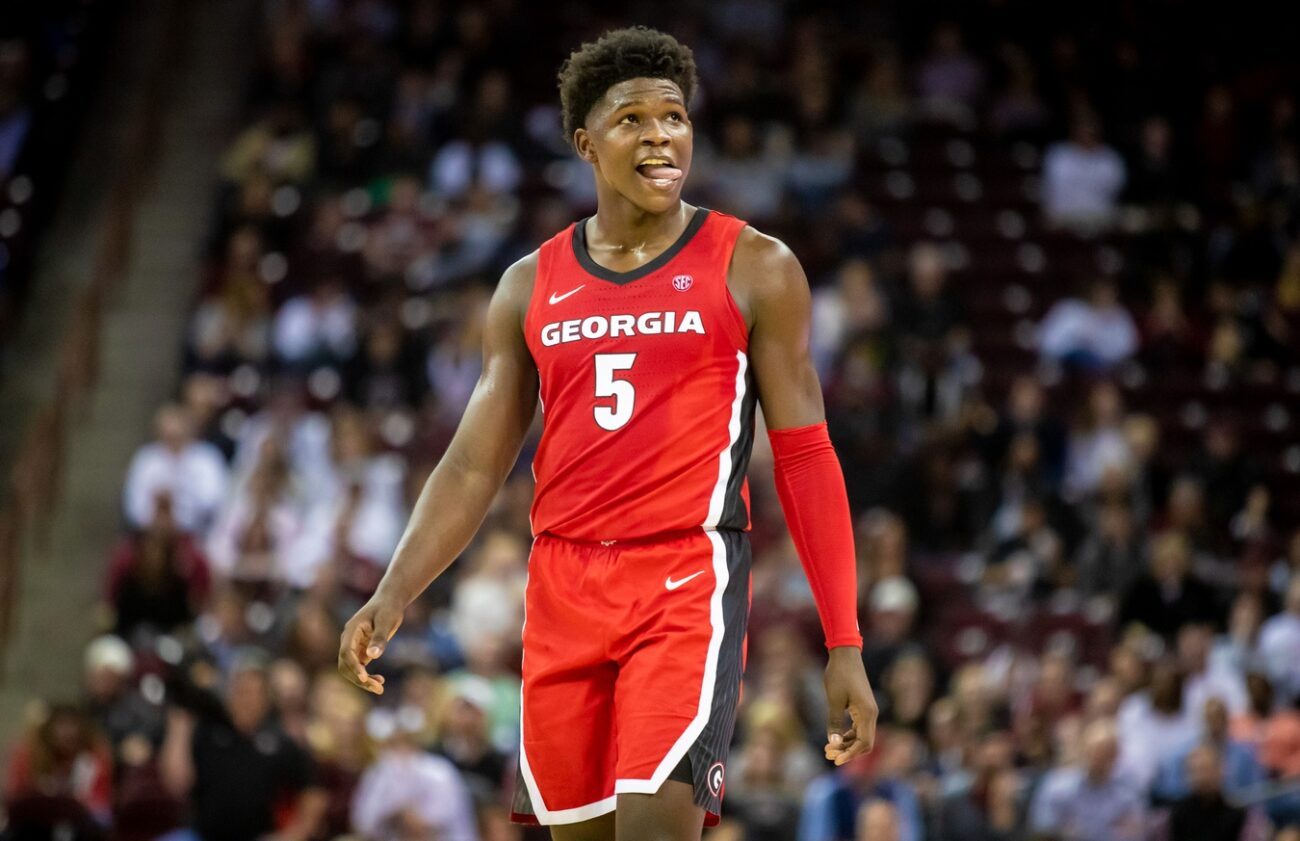 1. Minnesota Timberwolves: Anthony Edwards, SG, Georgia

The Timberwolves lucked out during the draft lottery when they landed the first overall pick, a situation many didn't think they would be in. The team's front office could do a couple of things with this pick such as using it to draft another young stud to add to their already promising young core, headlined by All-Stars Karl-Anthony Towns and D'Angelo Russell. Or, they could trade it away in a package deal to acquire a third star such as Devin Booker, Paul George, or Bradley Beal, or maybe even trade down in the draft if they believe they can select the player they want later while getting assets in return. However, I believe the best way to go for the Wolves is to draft Anthony Edwards as he would fit very well in the backcourt next to Russell. The only way I trade this pick is if I was in the position to acquire Devin Booker from the Phoenix Suns, which seems like a long shot. But, by adding Edwards to this team, you're getting an explosive player with great size and athletic ability. He's a dangerous offensive weapon that can get hot quick, and although his defense is subpar at the moment, he has the tools in his size and length to improve.


2. Golden State Warriors: James Wiseman, C, Memphis

It's no secret that the Warriors have been in need of a real big man for many years now. The best big man they've had recently is Draymond Green, but because he is only 6'7", there's always gaps in the defense down low and it compromises the team at times. Many believe the Warriors should try and trade their pick for a third star, but unless you're trading for a big man like Joel Embiid, you should keep the pick and select big man James Wiseman. Wiseman can easily become a force in the league with his impressive size, length, and athletic ability. It's very rare to see a player as tall as Wiseman is be this athletic and explosive. Wiseman would be a great defensive anchor for this team because not only can he hold it down in the paint, but he can also come up to the perimeter and defend as he moves his feet well. Not to mention that he is also a decent shooter, which would allow for better spacing in the Warriors offense in comparison to a big like Marquese Chriss. He's garnered comparisons to future Hall of Famer Chris Bosh, but more athletic, which is why I think it would be in the Warriors' best interest to draft Wiseman.


3. Charlotte Hornets: Onyeka Okongwu, C, USC

The Hornets are in a tough spot at the number three pick because they could draft point guard LaMelo Ball who would seem to be like the next best available prospect, even though he doesn't necessarily fit on this team, or they could look into a player like forward Issac Okoro, or Obi Toppin. However, they already have a guard to build around in DeVonte' Graham and have Miles Bridges and P.J. Washington at the forward spots. The only players that would make real sense for them to take would be Anthony Edwards or James Wiseman, but if they are already gone, I suggest selecting center Onyeka Okongwu. Okongwu would fit right in with this young Hornets squad and a front court of Washington and Onkongwu would be explosive and dynamic, something perfect for head coach James Borrego's fast tempo style of play. Most importantly, Charlotte fills up the spot they need to the most and Okongwu is great compensation for missing out on Wiseman, as he's an athletic big who is a rebounding machine.


4. Chicago Bulls: Killian Hayes, PG, Ulm, Germany

The Bulls have a plethora of young stars in the making with their core of Zach LaVine, Lauri Markkanen, Wendell Carter Jr. and Coby White, but, they need another young piece that can complement these other four youngsters well. I think point guard Killian Hayes would fit real well with this Bulls squad because he's a versatile guard that can play on and off the ball, is a decent shooter, and has no problem being the primary ball-handler and playmaker on the team. Now, a three guard rotation seems questionable, but it could work if utilized well and I have no doubt that it can under new head coach Billy Donovan. Hayes on the floor alongside LaVine and White would provide better spacing and more three point looks. Deni Avdija would be a good fit for this team also, but it may take more work to develop him. Hayes is a player who would provide an instant boost for this Bulls team looking to make its way back into the postseason.


5. Cleveland Cavaliers: Obi Toppin, PF, Dayton

There are a lot of executives and scouts who feel like Obi Toppin could be the steal of this draft. Many teams are not looking at him because there are few places he would fit in right away, but if he's there at pick four then the Cavaliers should select him. He would be an excellent fit with this team and would be a great building block for their future. The Cavs front court of Kevin Love and Tristan Thompson is getting older and are already seeing a decline. With the acquisition of Andre Drummond, they have their young center to hold it down in the paint and he seems to be content with being in Cleveland, so they don't have to worry about trading him right away. Drafting Toppin would mean putting a more mobile and explosive player next to Drummond in the front court, which could prove to be a tough one to go up against for many opposing teams. Not only does Toppin provide a great inside scoring presence, but he is also slowly developing his midrange and three point shot, which would be beneficial for the Cavs down the line.


6. Atlanta Hawks: Deni Avdija, SF, Maccabi Tel Aviv, Israel

The Atlanta Hawks are on the rise in the Eastern Conference. Their franchise point guard Trae Young is coming off an incredible sophomore year in which he averaged thirty points per game and was even selected to his first All-Star game. Forward John Collins looked like he was breaking out too, until that came to a sudden halt because of the drug-related suspension. However, in order for this team to really make a push going forward, they need another scorer who can create their own shot next to Young. Deni Avdija has gotten the attention of many scouts around the globe as his athletic frame, impressive shooting stroke, and fluent playmaking ability could translate real well to the NBA. He's similar to Luka Dončić in a sense, except for the fact that Avdija's three-point range is quite limited. But, Avdija has a style of play that could allow Young to play off the ball a bit more and confuse defenses. Avdija can be a player that can give you solid minutes and average anywhere between fifteen and eighteen points per game, which could really elevate the Hawks to the next level. Anthony Edwards would be another great fit for this team, but unless the Hawks are willing to trade up for him, Avdija is their best bet.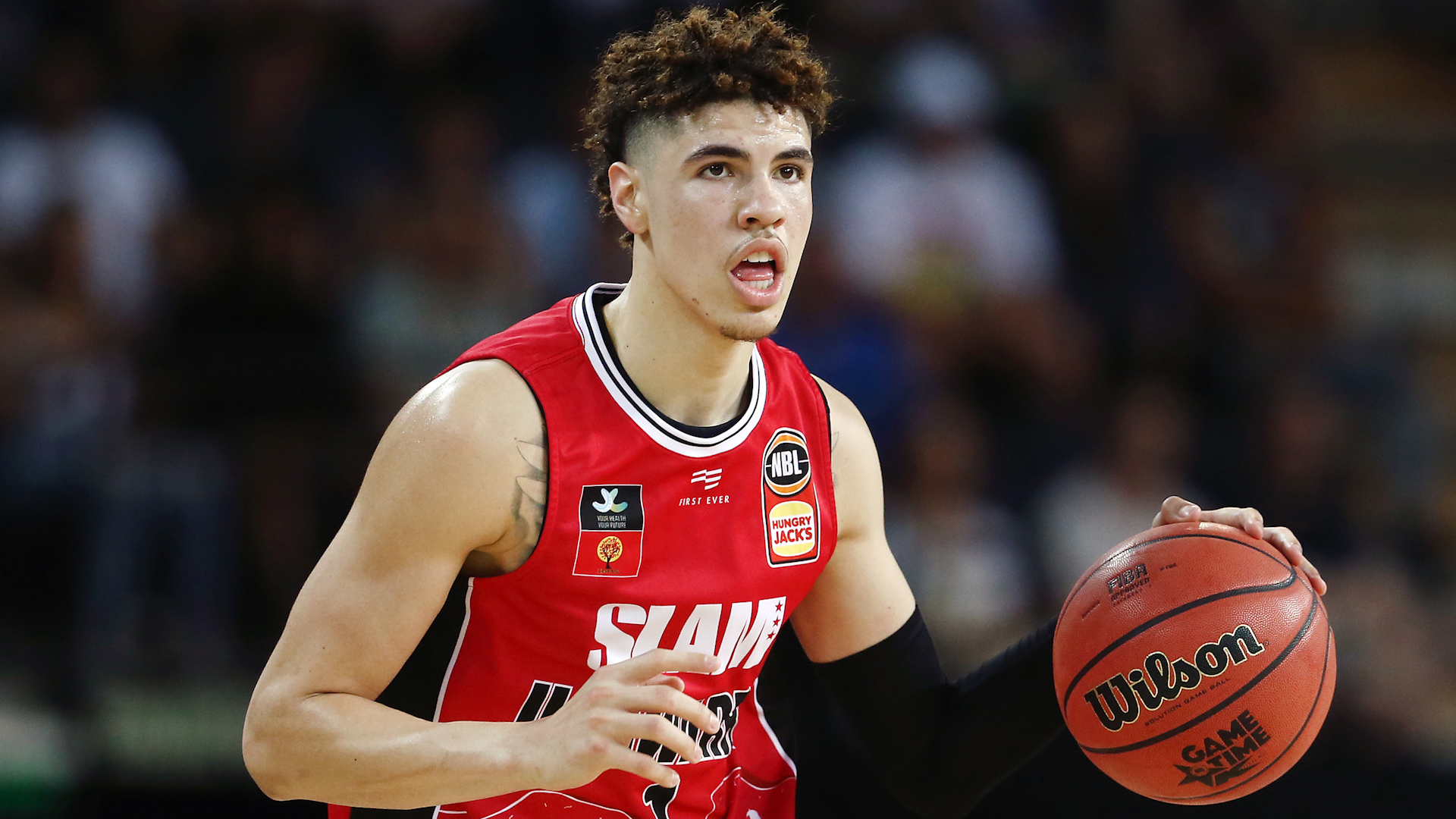 7. Detroit Pistons: LaMelo Ball, PG, Illawarra Hawks, Australia 

This shouldn't even be a hard choice for the Pistons front office to make. If LaMelo Ball is still available at the seventh spot, you best believe he is going to become a Detroit Piston. The Pistons haven't had a true point guard since Chauncey Billups was around which seems like a lifetime ago. Ball would bring a new feel to Detroit basketball because his flashy style of play would be very refreshing. He can control a whole offense with his ability to create his own shot, be the primary ball-handler and playmaker, while also being able to play off-ball to some extent. Head coach Dwane Casey is the perfect coach for Ball, as not only will he let him be himself in the Pistons' offensive system, but Casey will also hold Ball accountable for his mistakes and will develop him on the defensive end. It may take a few years to do so, but in Detroit, Ball can surely emerge as a superstar in this league.


8. New York Knicks: Tyrese Haliburton, G, Iowa State

The Knicks can use all the help they can get when it comes to figuring out what they really need. However, if we're talking about the draft, they should look to find their next franchise point guard. This is something they haven't had since the great Walt "Clyde" Frazier ruled the court at Madison Square Garden in the 1970s. Finding the right lead guard is also very important for R.J. Barrett's development because he needs a solid player who can play off him well in the backcourt. Having a player who can feed Barrett the ball in tight spots or even setting up others for good looks while also being able to score the ball would really get the Knicks to the next step. I feel that Tyrese Haliburton can be this guy for the Knicks. Haliburton is a great two-way player who plays with a high level of intensity, a perfect mentality to have when playing for a no-nonsense coach like Tom Thibodeau. He can do just about anything on the court and his ability to be the primary playmaker while also being able to shoot the ball is something the Knicks would greatly benefit from having. Obviously LaMelo Ball would be a great fit for the Knicks as well, but trading up to get him may require them to give up too much and the chances of him falling to the eighth spot are slim to none. Regardless, Haliburton is a player the Knicks should seriously consider selecting on draft night.


9. Washington Wizards: Isaac Okoro, SF, Auburn

The Wizards are another team that's kind of in an awkward position come draft day. They could either select longtime franchise point guard John Wall's successor, indicating a possible rebuild is approaching, or they could draft a player that can impact them right away and could help Wall and Bradley Beal make a playoff push this upcoming season. I think the Wizards would be better off drafting a player who could provide a winning impact for them now rather than planning too far ahead and drafting Wall's replacement. Obviously Wall is getting older and is coming off an ACL injury, but they should wait till after next season to see what he still has left before deciding to blow it up. He very well may be the same player he was prior to injury. If that's the case, Washington finds themselves back in the playoffs. The team needs a legitimate two-way player that can provide a boost for the team on both ends of the floor and Isaac Okoro is that guy. Okoro's style reminds many of young Kawhi Leonard in San Antonio. Okoro is still working on his offense and there's no doubt that if his game is developed properly, he can become a real threat. On the defensive end, he's proven to be an effective player thanks to his length and athletic frame.


10. Phoenix Suns: Aaron Nesmith, SF, Vanderbilt

Phoenix Suns fans should be thrilled with what they saw from their team in the Orlando bubble back in August; the team looked like they clicked and trusted each other, allowing them to go undefeated (8-0) against all odds. With the core of Devin Booker, Deandre Ayton, Kelly Oubre Jr., Mikal Bridges and Ricky Rubio looking to continue this hot streak next season, the Suns should try and add another player who can provide an instant impact for them. Many executives around the league think Phoenix is looking to trade their pick to see if they can get a solid stretch four like Aaron Gordon, Blake Griffin, or Kevin Love. Adding one of those players would be a great addition for them, but I think the best way to go is to use this pick and keep building on the young core by drafting Aaron Nesmith. Nesmith has proven to be a true scoring threat, especially from long range. Adding another shooter to this Suns team would certainly take some pressure off of Booker in late game stretches and as a fifty-two percent shooter from deep in college, Nesmith can really light it up. Nesmith can move well off the ball too, meaning that the spacing in the Suns offense would allow them to have more scoring opportunities, especially against bigger teams who have a strong defensive presence down-low.


11. San Antonio Spurs: Precious Achiuwa, PF/C, Memphis

After an impressive 22 year stretch of dominance, the Spurs have sadly become a rebuilding team once again. Many didn't think this moment would come until after Gregg Poppovich retired, but here it is. The Spurs clearly have their guards for the future set with the four guard rotation of Dejounte Murray, Derrick White, Bryn Forbes, and Lonnie Walker IV. However, the Spurs lack youth elsewhere, with their other three spots being occupied by seasoned vets such as DeMar DeRozan, Rudy Gay, and LaMarcus Aldridge. If the Spurs want to return to the postseason soon, they're going to need to draft a strong defensive anchor who can be a force on the block on both sides of the ball. Precious Achiuwa can be that player for them. Achiuwa is a mentally and physically tough player that Poppovich would definitely love to get his hands on. Who knows, maybe with the coaching of Poppovich, Achiuwa can become as dominant of a force down low as future Hall-of-Famer Tim Duncan once was for San Antonio?


12. Sacramento Kings: Patrick Williams, SF, Florida State

The Sacramento Kings have the longest active playoff drought streak in the entire NBA at 13 seasons. They have come close in years past, but never made it in. Can this year be different? With new management in charge, maybe they will draft the right player to elevate the franchise. The team is set at the guard spots with De'Aaron Fox and Buddy Hield, but there are question marks with the rest of the team. 2018 second overall pick Marvin Bagley III and 2017 first round pick Harry Giles haven't been able to showcase themselves properly due to constant injuries, leaving many to wonder if they'll ever stay healthy. However, even with small concerns about their front court, I think the biggest hole the Kings should fill is the small forward spot because Harrison Barnes isn't the solution for the future. Barnes is getting older and isn't the player he was in Golden State. Drafting forward Patrick Williams would make so much sense for this team. The Kings would love to add another scorer that can take the constant pressure off of the guards. His frame allows him to be a lengthy defender which would cause a lot of problems for players if he continues to develop his skills. Williams' game could really put the Kings on the right track.


13. New Orleans Pelicans: Devin Vassell, SG/SF, Florida State

New Orleans is a really promising young team led by their trio of Zion Williamson, Brandon Ingram, and Lonzo Ball. If all three can stay healthy, this team will be a scary sight for many years to come. However, if the Pelicans want to really make that big leap forward, they need to draft another guard or forward type player that could be a solid two-way player for them. They have one in Jrue Holiday, but he can only be this guy for them consistently for another two or three years. Drafting Devin Vassell would go a long way for this team. Not only can he learn from Jrue Holiday, as his style of play and role is similar, but he'd also give an extra energy boost for the Pelicans on both ends of the floor. His offense still needs some work, but if developed the right way he can become a truly special two-way force.


14. Boston Celtics: Tyrese Maxey, SG, Kentucky

The Celtics are this close to truly competing for an NBA title once again, but getting there is puzzling. The center position has been a glaring hole for this team ever since Al Horford left town for the Philadelphia 76ers last offseason. Many executives believe Boston will try hard to acquire a big man to add to their young core. Onyeka Okongwu is a name they Celtics have been linked too, but there's no way he will fall out of the top ten, so Boston would have to trade up for him without giving up too much. I personally think Boston should look to add another young being player that can have an impact for them off the bench. In this case, Tyrese Maxey is that guy. Maxey is a player that can be a solid role player off the bench for this team. Although he still needs some work, his offensive game could be an extra boost for this team if he continues to work on his craft. Under the development of head coach Brad Stevens, he would surely become a more well-rounded player in Boston. Trading up for a center would be a risk at this point and the Celtics can make a move later this offseason in free agency, as this year's class is loaded with great big men such as Montrezl Harrell, Andre Drummond (if he opts-out), Serge Ibaka, or Tristan Thompson. Many believe Maxey can be what Tyler Herro was for the Miami Heat this past season and if the Celtics have a chance to grab a player like that then they should make it happen. It would definitely get them closer to an NBA championship.