Check out our other NBA Divisional Previews below.
2020-21 NBA Season Preview: Atlantic Division
2020-21 NBA Season Preview: Central Division
2020-21 NBA Season Preview: Northwest Division
2020-21 NBA Season Preview: Southeast Division
2020-21 NBA Season Preview: Southwest Division
NOTABLE NEWCOMERS
The rookie who will be the most exciting to watch is James Wiseman of the Golden State Warriors. With Wiseman, Golden State finally fills a hole at center they've been trying to fill for the length of their dynasty. Wiseman provides great size, speed, and athleticism for his position, making him a great fit for the Warriors' fast paced offense. His versatility is unlike any other we've seen and his ability to stretch the floor will be vital for the Warriors this season. Wiseman's potential is sky-high and with a defensive specialist like Draymond Green as his mentor, Wiseman can do some real damage in his rookie year. Plus, having Stephen Curry to throw lobs to Wiseman on a fast-break or even in a half-court offense will be a beautiful sight to behold.
The Sacramento Kings got arguably the steal of the draft when Tyrese Haliburton, who was projected to be in the top five, fell to the Kings at the twelfth spot. Haliburton has an impressive size and frame for a guard and his ability to create his own shot and be a spot-up shooter, especially from the corners, is incredible. He can handle his own on the other side of the ball as well. Haliburton alongside De'Aaron Fox in the Kings backcourt will be magic because of how well his game compliments that of the downhill-focused Fox. Having two guards who are excellent players on both ends is what executives dream of, and the Kings have just that. 
The Phoenix Suns got their own impact rookie. They clearly are in win-now mode after acquiring future Hall-of-Famer Chris Paul in a trade, so there was no doubt they were looking to draft a player who could provide an instant impact. Jalen Smith can be that type of player for this team because of how easily his rebounding, shot-blocking, and impressive finishing around the rim will translate to the NBA. Smith is also an efficient three-point shooter which will allow head coach Monty Williams to put Smith in a plethora of lineups this season.
Although they aren't rookies, both Dennis Schröder and Montrezl Harrell's on the Los Angeles Lakers, as well as Chris Paul's arrival on the Phoenix Suns make them players to watch closely this year. Both former Oklahoma City Thunder guards are looking to help their new teams take big leaps this year. Schröder is trying to show critics that he can be one of the best guards in the league, and Paul trying to prove once again that he can come in and help a team rebound. Harrell will play alongside Anthony Davis down low for the Lakers, forming a dangerous duo.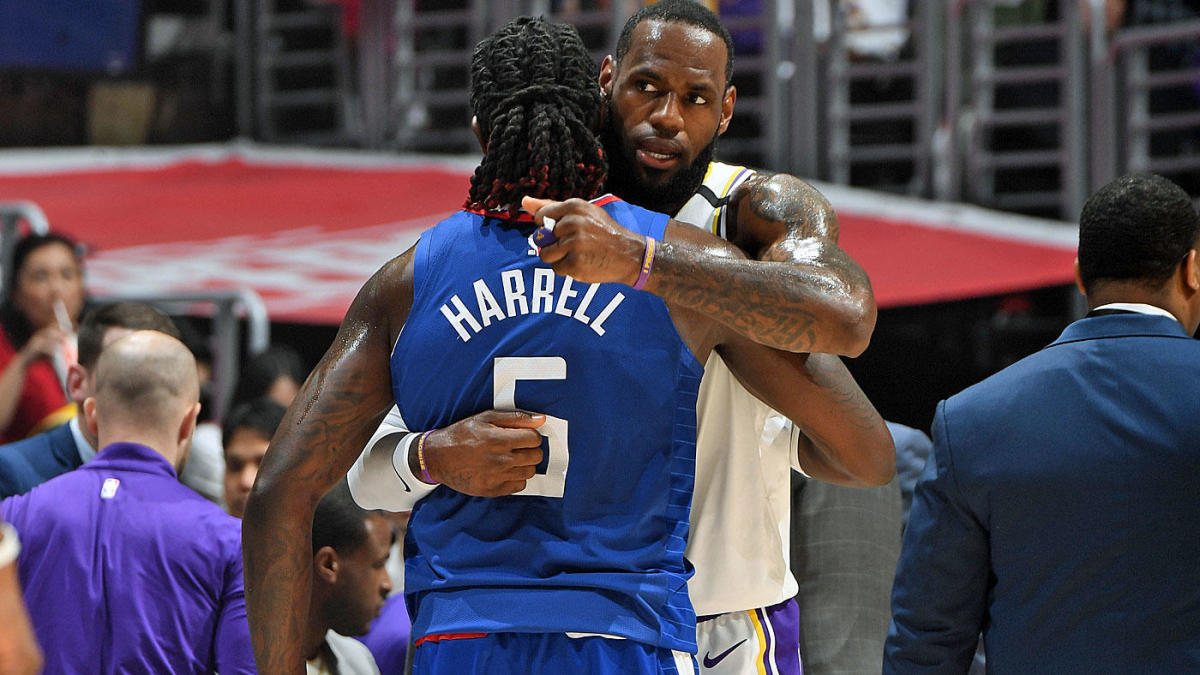 X-FACTORS
Golden State Warriors
Like the Clippers, health will be the biggest X-factor for the Warriors this season. The season hasn't even started and the team already lost Klay Thompson for the year due to a torn ACL. The Warriors can still easily be a playoff team without Thompson, but their chances of being serious contenders again may have to wait another year. Although never say never if you have a full year of Stephen Curry, Draymond Green, Andrew Wiggins, and new additions Kelly Oubre Jr. and the aforementioned James Wiseman. The depth is there for them to be a top team out west, so if they can stay healthy, there's a chance that Golden State can build chemistry that can carry over.
Los Angeles Clippers
Health will be the biggest X-Factor for the Clippers this season because it's what held them back from winning it all last season. Injuries to Paul George early-on last season prevented the Clippers from having great chemistry from the get-go. When the team finally developed some sense of chemistry, the pandemic hit, leaving the Clippers and the rest of the league dead in their tracks. It would be fair to say that if the Clippers had played together more, there would've been less chemistry issues in the NBA's Orlando restart.
Los Angeles Lakers
Dennis Schröder and Montrezl Harrell are both going to be the biggest X-Factors for the Lakers. Schröder can be a truly third scorer next to LeBron James and Anthony Davis, as well as another ball-handler that takes pressure off an almost 36 year old James. Harrell brings grit down low and provides a strong presence on the glass to help the Lakers, who ranked 11th in rebounds last season, try and be a stronger rebounding team.
Phoenix Suns
Can Deandre Ayton prove to the world this season that Phoenix made the right call by selecting him number one overall in the 2018 NBA Draft? Ayton was having a breakout year last year and many believe if it wasn't for his twenty-five game drug-violation suspension, the Suns would've won enough games to make the playoffs as a seventh seed. We all know the backcourt of Chris Paul and Devin Booker will make this team competitive, but a full year of Ayton playing at his best may possibly help this team reach new heights.
Sacramento Kings
The Kings' biggest X-Factor will be how well De'Aaron Fox and Tyrese Haliburton can mesh. There's not many high expectations for Sacramento heading into this season because of how deep the Western Conference is making them an unlikely playoff team. However, this team can make some noise if they can successfully run this team through Fox and Haliburton. If those two guys get comfortable with each other, the rest of the team can fall into place.
BOLD PREDICTIONS
Golden State Warriors
Stephen Curry will be the 2020-21 MVP, putting up monster numbers as he leads the Warriors to the Western Conference Finals without Klay Thompson.
Los Angeles Clippers
Kawhi Leonard and the Clippers will dominate in the regular season, earning the first seed out West, but will fail to reach the NBA Finals once again. 
Los Angeles Lakers
The Lakers will struggle early-on, but LeBron James helps this team rebound half-way through the season, making a late push for the MVP award while guiding them to back-to-back NBA championships. 
Phoenix Suns
The big three of Chris Paul, Devin Booker, and Deandre Ayton will surprise us in the regular season, earning a playoff spot in the 3-5 range.
Sacramento Kings
The Kings sneak into the playoffs. 
ALL-DIVISION TEAM
PG: Stephen Curry, Golden State Warriors
SG: Devin Booker, Phoenix Suns
SF: Kawhi Leonard, Los Angeles Clippers
PF: LeBron James, Los Angeles Lakers
C: Anthony Davis, Los Angeles Lakers
PROJECTED STANDINGS
*The 2020-21 NBA season will consist of only 72 regular season games instead of the normal 82 games as a result of scheduling conflicts 
1. Los Angeles Clippers (59-13)
2. Los Angeles Lakers (50-22)
3. Golden State Warriors (48-24)
4. Phoenix Suns (47-25)
5. Sacramento Kings (38-34)