For the past few seasons, the Utah Jazz have been a very competitive basketball club, posing tough matchups for almost every team they encounter. Led by All-Stars Donovan Mitchell and Rudy Gobert, the Jazz have been viewed as a legitimate threat for Western Conference teams, but they haven't been able to make that leap to championship contention. Many executives and analysts can make the case that the Jazz are deep enough to be a title contender and aren't missing any pieces, but it never seems to be enough for them come playoff time. Can they change that narrative this year? Is this season that the Utah Jazz can finally capture the franchise's first NBA championship? 
The Jazz clearly have a competitive team from top to bottom as they have been a top five seed in a jam-packed Western Conference for the past three seasons. And this year, the Jazz are as deep as ever, with a great group of excellent all-around players in Donovan Mitchell, Rudy Gobert, Mike Conley, Jordan Clarkson, Bojan Bogdanović, Royce O'Neale, Derrick Favors, and Joe Ingles. This group of players compliment one another perfectly, with many people having the belief that this team poses a big threat to teams out West. There's no doubt about head coach Quin Snyder's abilities as a coach either, as many players and officials around the league have nothing but praise for his coaching style. In six games played thus far, the Jazz have a top ten defensive rating, are the best rebounding team, and are one of the more efficient teams from the field. This team is already proving to everyone that they're built to be one of the best, if not the best, all-around team in basketball. But is that enough to propel the Utah Jazz to an NBA Championship?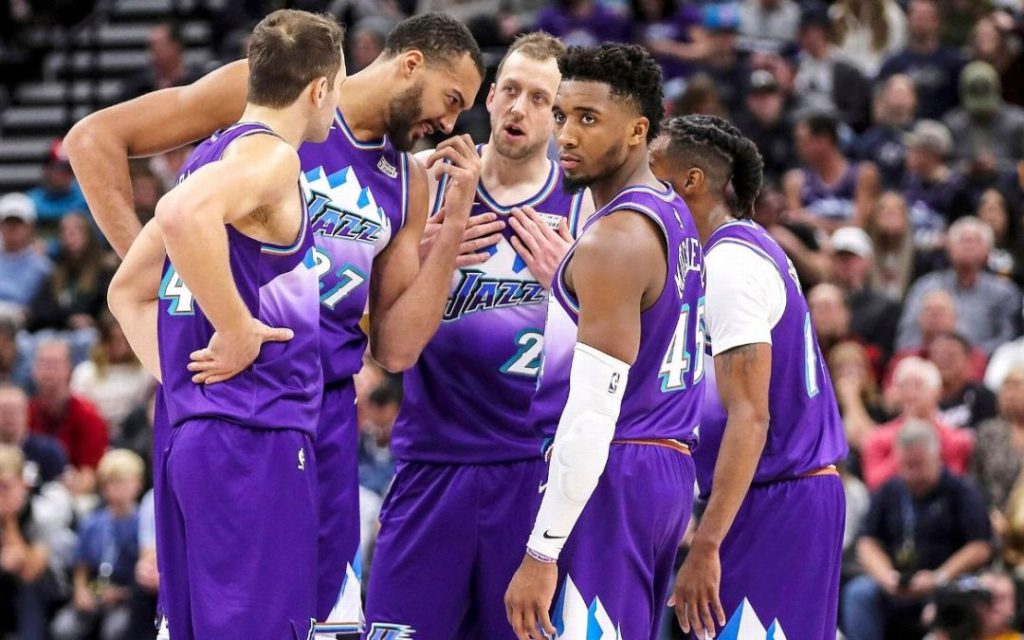 But, can they match up evenly against the likes of Western Conference foes such as the Los Angeles Clippers, Denver Nuggets, (who the Jazz blew a 3-1 series lead to in the playoffs last season) Dallas Mavericks, Phoenix Suns, or Los Angeles Lakers, who are the defending NBA champions? I don't believe so, as all these teams have better star-power than the Jazz. If you compare Utah's tandem of Donovan Mitchell and Rudy Gobert to the other duos of Kawhi Leonard and Paul George, Jamal Murray and Nikola Jokić, Luka Dončić and Kristaps Porziņģis, Chris Paul and Devin Booker, or LeBron James and Anthony Davis, they're clearly not as good. You can make a case that the Mitchell and Gobert pairing is better than that of Paul and Booker, but even then, it's very close. It's great to have depth in the NBA, especially during the regular season and a long playoff series, but it all comes down to star power when trying to win a championship. Mitchell is still developing into a true superstar, but Gobert may have already hit his peak as a player, which makes it hard for this team to build upon. It's not lack of star power, rather insufficient star power that's preventing this loaded Jazz team from being true title contenders.
The duo of Mitchell (19.8 points per game) and Gobert (16 points per game) has only averaged about 36 points per game combined this year, which is pretty low compared to the duos I mentioned above. Houston Rockets star James Harden has been averaging 37 points per game himself, making the Jazz duo's points per game disappointing compared to that. So, should we just kick the Jazz completely out of the title picture this season? Maybe not entirely, as there is still a small chance they can go all the way. Especially with the unusual season these teams are playing in at the moment, there's a lot of unpredictability that can turn things around for many squads. But, I wouldn't count on them to do so, as a lot would have to happen for them to get themselves into that position. The Jazz are surely a great playoff team, but in this season, there's no real shot for them to win their first NBA title in franchise history.