As a die-hard Brooklyn Nets fan, this season has already been a roller coaster of emotions for me. However, one thing has remained persistent. My deep disappointment in DeAndre Jordan. I've tried to hold out hope, but it's perfectly clear what the truth is. DeAndre Jordan is completely washed and a waste of $10,375,678. It's a complete travesty that the Brooklyn Nets have to pay their backup center $10 million. To put that in perspective, let me give you some more numbers. His aforementioned salary cap hit of $10,375,678 is the 16th highest of all the centers in the league. 14 out of 15 of the players paid higher than him are starters. That means he makes more money than 15 starting centers in the NBA. To be fair, if he produces off the bench who cares, right? True, but let me tell you, he does not produce.
Through 10 games he's averaged 4.1 points, 7.0 rebounds, 1.3 blocks, and 1.9 turnovers per game while shooting 74 percent from the field and 47 percent from the free-throw line. Seventy four percent from the field? That's amazing, right? Sure, yeah, it is. But of his 32 attempted field goals, only four of them weren't layups or dunks. He's given extremely easy looks at the rim because of the attention Kevin Durant, Kyrie Irving, Caris LeVert, and the other perimeter threats demand. Put in any other 6'10"+ center and they'd be having around the same success as Jordan at the rim. The 1.9 turnovers he averages? Fourth most on the team behind the aforementioned three players; these players also possess the top three spots on usage rating for the team. Jordan? 13th. Two of the players below him have played a combined 44 minutes thus far in 480 possible minutes. Essentially, Jordan has been a turnover machine despite rarely having the ball in his hands. Hell, he has the sixth lowest offensive box plus/minus at -4.0, with three of the five below him not having any real role on the team at all. Bruce Brown and and Landry Shamet are the exceptions. The first is more of a defensive-minded player and the second has been disappointing, just like Jordan.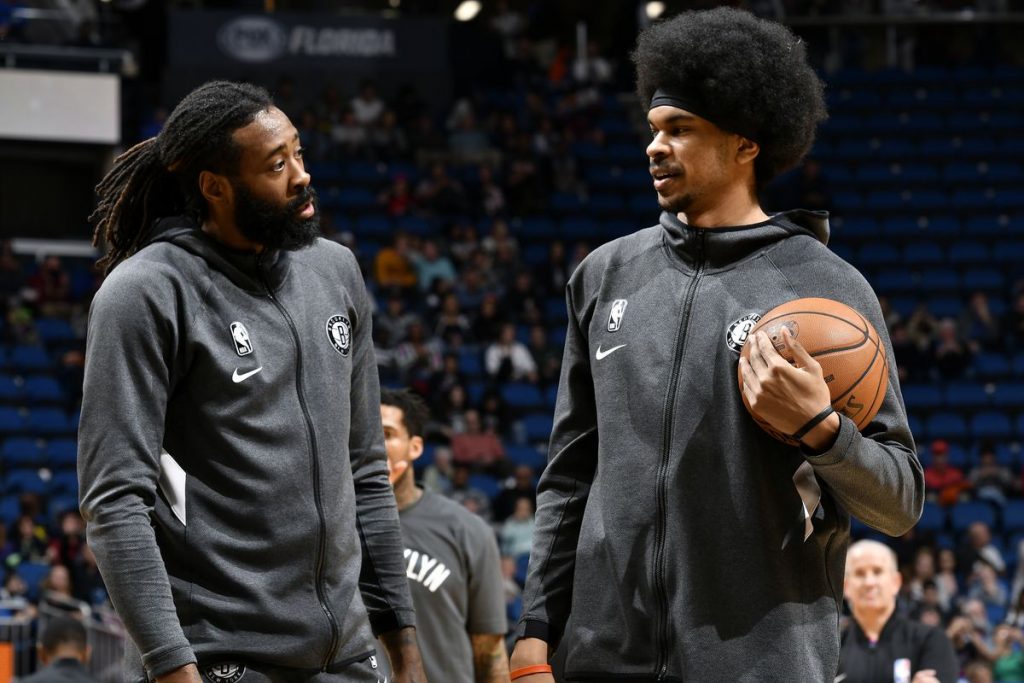 To be fair, Jordan does still possess his ability to catch lobs at a more ferocious rate. Because of this, he's made some pretty dope highlight dunks. Can't complain about that. Everybody loves their electrifying slam dunks every now and then. However, besides that and a strength advantage, he's worse than the other notable center on Brooklyn's roster, Jarrett Allen. Frankly, it's not even remotely close. Allen is more agile, can work down in the post, actually has the ability to hit a free throw (75 percent thus far), and is a better ball hawk. Despite this, Jordan started the first seven games of the season. In those seven games, he had totals of 30 points, 50 rebounds, and 10 blocks. Allen had 67 points, 50 rebounds, and 12 blocks. There's no legitimate argument as to why Jordan should start over Allen and there's the rub. DeAndre Jordan is extremely close friends with Durant and Irving, and that sitting him could reflect poorly upon the stars. Basketball-wise, it's not even a debate as to who should be starting. Nets head coach Steve Nash finally made that adjustment, and through three games Allen is averaging 15.3 points, 11.6 rebounds, 4.5 assists, 1.3 steals, and 1.3 blocks per game. The centers he matched-up against? All-NBA big Joel Embiid, two-time Defensive Player of the Year Rudy Gobert, and the fantastic Jonas Valančiūnas.
It's truly upsetting to say, but DeAndre Jordan is a waste of money and is hurting the Nets more than he's helping them. Sure, his rebounding numbers are fair, but on a team that only has maybe three legitimate big men on the roster, they should be. The only thing that separates him from some random center in free agency is his still potent ability to rise above the rim and his hard-earned veteran knowledge. Besides that, there's nothing definitive that makes him stand out. At that point you'd just have a 6'11" center who's strong. It's not just his lack of mobility and underwhelming skill set, he just makes boneheaded mistakes. He'll hook a player blatantly, have the ball slip out of his hands, and react painfully slow to the opposing offense. He's become an eyesore at this point. Besides the tremendous dunks, of course. Though, I definitely won't complain about the antics between him and Allen.