The Portland Trail Blazers have had a decent start to the 2020-21 season, currently sitting at the sixth seed in the Western Conference with a record of 8-6. The Western Conference is arguably the toughest conference in the league, so teams must always be playing their best basketball just to stay afloat. Although the Blazers have been solid thus far, it's hard to see them keeping up their pace of play without CJ McCollum and Jusuf Nurkić; both of whom have recently gotten injured. McCollum recently suffered a fractured foot against the Atlanta Hawks, while Nurkić suffered a fractured wrist playing the Indiana Pacers. Losing both players is a big hit for this Blazers team. How will the Trailblazers perform without McCollum and Nurkić?
CJ McCollum has been quietly having a huge season for the Blazers, averaging 26.7 points (which leads the team), 5.3 assists, and just under four rebounds per game. Not to mention he's shooting close to 50 percent from the field and around 45 percent from three. McCollum was taking a tremendous amount of pressure off of his co-star Damian Lillard, but with the injury, Lillard will be expected to do more. Lillard is capable of putting up big numbers for this Blazers team, but how long can he do it for? McCollum will be re-evaluated in four weeks by team doctors, where he still may not be able to return for a few more weeks after that. It also raises concerns for the supporting cast behind Lillard, as we aren't sure how their squad can replace McCollum's offensive output. Carmelo Anthony is certainly a historic scorer, but at this stage in his career he won't be able to replicate McCollum's numbers. Gary Trent Jr. has been hit or miss, but he may rise to the occasion as the third scorer this team desperately needs. Rodney Hood shined in his first outing without McCollum, as he scored 21 points while shooting 64 percent from the three, in the only game he's played true minutes. If he continues this play, he'll be the clear replacement for McCollum.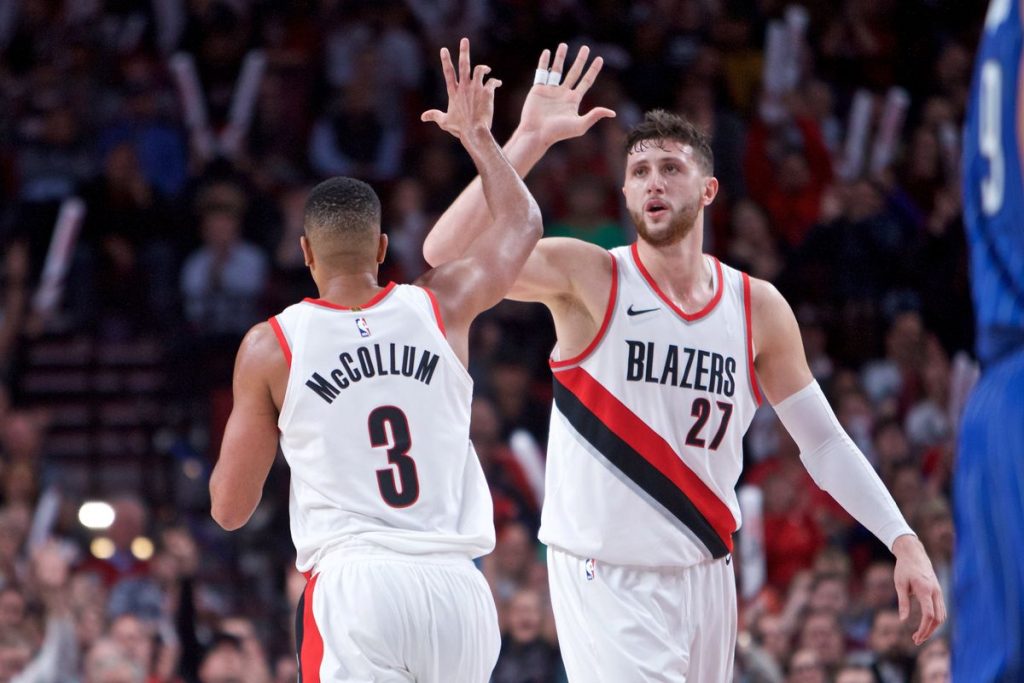 As for Jusuf Nurkić, he was still finding his groove when it came to scoring the ball, but defensively he was a huge asset for this team. Nurkić had been averaging just under eight rebounds, one steal, and one block per game. He proved to be an intimidating force down-low on defense for opposing teams, which was a big plus for the Blazers. With Nurkić out, Portland's depth at center is not strong. Zach Collins was poised for a big season, but suffered an ankle injury in late-December. They still have Enes Kanter though, who can provide a strong presence in the paint on offense, but not so much on defense. With both Nurkić and Collins out, the Blazers become a defensive liability and will certainly suffer a huge loss on the boards. Head coach Terry Stotts may have to look to forwards Robert Covington, Derrick Jones Jr., and Harry Giles to play minutes at center as they shift towards small ball in the second unit.
Even with the injuries to CJ McCollum and Jusuf Nurkić, I still believe that this Blazers team can keep themselves afloat in the loaded Western Conference simply because of their offensive fire-power. But, there are still definitely big concerns for this team. How long can they rely solely on scoring to get them through tough stretches? Will Damian Lillard be able to get Portland through the next couple of weeks, at least until McCollum returns? Which role player will step up their game to provide a boost for this squad? It's going to be an interesting few weeks for this team, so let's see how well they do with the odds stacked against them.