The New Orleans Pelicans were one of the NBA's most intriguing teams entering the season. With Zion Williamson and Brandon Ingram, two extremely exciting young players, and the reason why the team received so much attention. In October, the Pelicans hired their new head coach in Stan Van Gundy, who previously took the Orlando Magic to the NBA Finals in 2010. With a young talented roster and a new bull at the helm of the team, the expectations for the Pelicans was through the roof. However, despite all the positive energy that surrounded the Pelicans, the team is currently sitting at just 5-9 — 13th in the Western Conference. What happened?
Duo of Zion Williamson and Brandon Ingram
The Pelicans have one of the most talented young duos in all of basketball. Many envision Zion Williamson as a future superstar, while Brandon Ingram was named the NBA's Most Improved Player last season and made his first career All-Star game. Both are incredibly young, as Ingram and Williamson are just 23 and 20 years old respectively. With those two former Duke Blue Devils in the frontcourt, the Pelicans could become contenders in the Western Conference for the next decade.
In his second season, Williamson is averaging around 24 points and eight rebounds per game while shooting 59 percent from the field. No one can question Williamson's athleticism or ability to finish around the rim, but we haven't seen him be a consistent outside shooter. Albeit a very small sample size, Williamson shot well from three as a rookie, hitting six of his 14 three-point attempts, which translated into 42 percent from deep. However, so far this season, Williamson has made only one three-pointer on four attempts. Zion doesn't need to be a great three-point shooter to dominate due to his innate ability to finish around the rim, but Williamson would become near unstoppable if he ever develops a consistent outside shot.
Brandon Ingram signed a five-year, $158 million contract with the Pelicans in the offseason, and in every way has lived up to his new deal. On the season Ingram is averaging 23 points, six rebounds, and five assists per game while shooting 46 percent from the field and 38 percent from deep. That's a high statistical ceiling for anyone, let alone a 23-year-old early into his NBA career. The question is, can Ingram remain on this upward trajectory, or has he already hit his peak?
Pelicans lack of three-point shooting
Despite their excellent young duo, the Pelicans have not been a winning team this seas. A reason for that is their lack of three-point shooting. It's no secret that Williamson is at his best when playing around the rim. Being surrounded by shooters makes life easier for Williamson, as having shooters gives him space to work inside. However, the Pelicans currently rank 29th in the entire league in three-pointers made per game. It's much easier to win in today's NBA if your team can consistently make three-point shots. The three teams at the top of the Western Conference standings are the Los Angeles Lakers, Utah Jazz, and Los Angeles Clippers. Those three teams are also the top three teams in the entire league in three-point percentage. Coincidence? I think not. If the Pelicans want to turn their season around, they will have to make more three-pointers. Namely the players around Williamson and Ingram. Speaking of…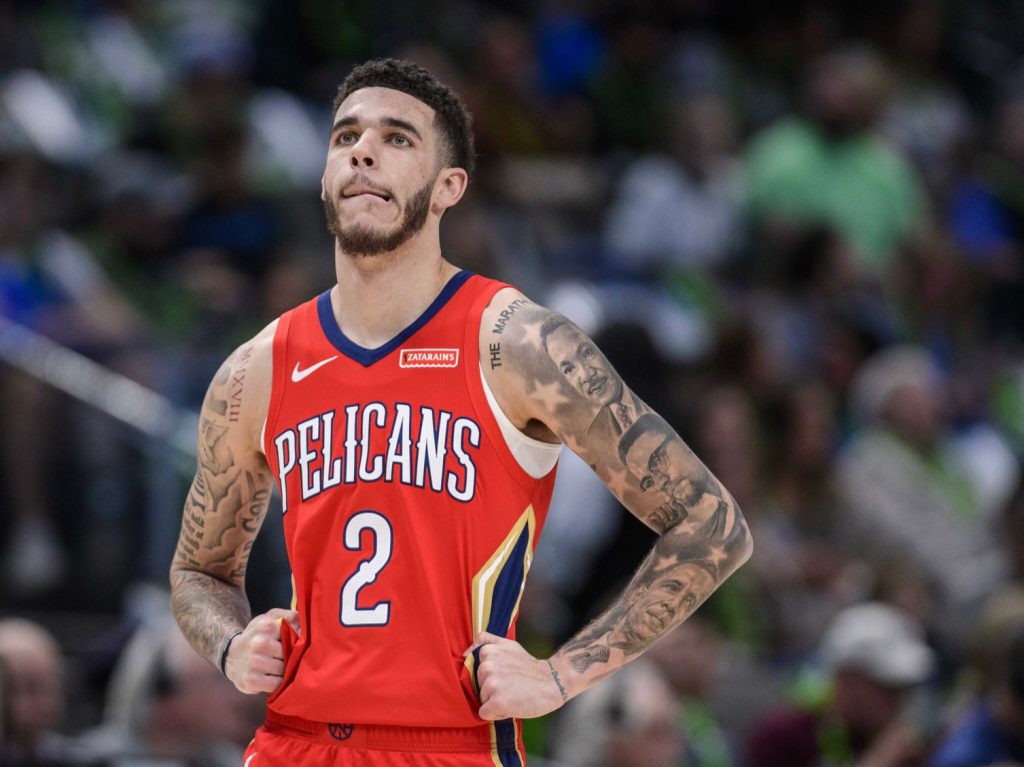 Play of Lonzo Ball
Lonzo Ball is one of the Pelicans' most important players. Because of his excellent passing ability, you'd think that Ball would be the perfect point guard to play alongside Zion Williamson. Fast breaks led by Ball and Williamson are extremely hard for opposing defenses to defend. Despite his playmaking, Ball's value to the Pelicans decreases when he's not shooting well from three. Last season, he shot a respectable 37 percent from three. However, Ball is only shooting 28 percent from three so far this season. A percentage difference of around 10 percent is a massive difference, and since Ball is supposed to be the guard of the future alongside the aforementioned duo, it's not pretty. The Pelicans will be more likely to turn their season around if Ball can become a more consistent three-point shooter instead of purely a drive and dish threat.
Pelicans first-year head coach Stan Van Gundy
The Pelicans hired Stan Van Gundy this offseason as their new head coach. Gundy made the NBA Finals with the Orlando Magic, but that was over a decade ago. We have to remember that his previous head coaching gig was with the Detroit Pistons and that was a disappointing stint for Gundy, as they went 39-43 despite having a talented roster. Even with fantastic talent in Zion Williamson, Brandon Ingram, Lonzo Ball, Steven Adams, Eric Bledsoe, and more, the Pelicans have only won five games to date. Will the Pelicans regret hiring Gundy?
Conclusion
The Pelicans have had a disappointing start to the season. Yes, the Western Conference is very tough. Yes, Williamson and Ingram are both still very young. However, those things do not excuse the way the team has played. The Pelicans are too talented to be a 5-9 team. It's still early, but the Pelicans have not looked good so far this season.