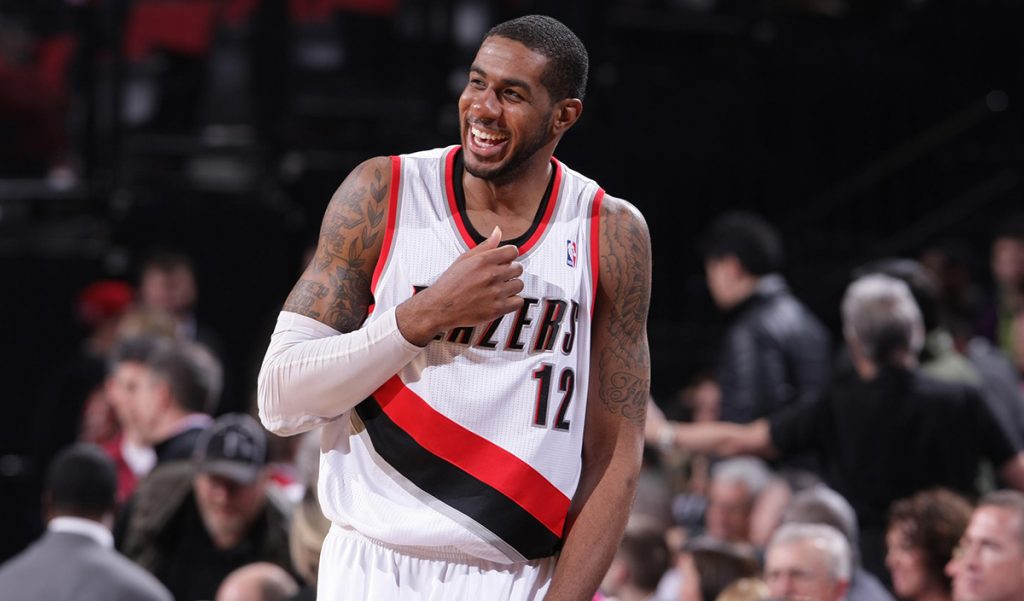 On April 15th, LaMarcus Aldridge released shocking news that due to issues with his heart, he would need to immediately retire from the game of basketball. He was a great player that was underrated throughout his whole career because he could never reach the final stage of success and attention he always craved. 
I grew up a Blazer fan right around the time LaMarcus Aldridge was hitting his prime. As someone who played in the post on my teams, I loved watching Aldridge play. He was the cool post player, with his shimmies and deep fades in the post, and his ability to seemingly knock down every single elbow jumper. My attempts to imitate Aldridge's post game in practice were shot down by coaches as fadeaway jumpers were considered not a great shot. I envied Aldridge as all I wanted to be was the center of the offense and to dominate players on the post. I wanted to be the center of attention, but instead, the kids with flashier moves and deeper shots were the stars. Looking back now, Aldridge and I had more in common than I realized.
As the game evolved, Aldridge was still good, but he played an older style. On the Blazers team of the mid-2010s, a much more attractive style of basketball started to develop, and who better for it than Damian Lillard, a young kid out of Weber State who could drain threes from anywhere. It was Aldridge that had the highest usage percentage in the offense, it was Aldridge that had the most points, but Lillard was still the star of the team. Lillard's incredible game-winning shot in the 2014 NBA Playoffs over the Houston Rockets does not happen if Aldridge does not score 89 points in the first two games and 29.8 points over the series, rendering Dwight Howard defenseless on numerous occasions. 
When the series was over, the media was blushing over Lillard's shot while Aldridge was watching in the backseat. This did not sit well with Aldridge and after the 2015-16 season, he entered free agency. For once in his career, he was the center of attention, and he relished it. If he could have stayed in that moment for the rest of his life, I'm sure he would have considered it. In the end, Aldridge decided to go to the San Antonio Spurs in his chase for attention and a championship. 
Blazer fans were hurt because earlier he had promised a return and a new five-year contract to stay with the Blazers. As a kid I was a bit hurt, I could not understand why he'd want to leave. Now, however, I understand. The hunt for the fame he desired ate at him and he would do anything to satisfy those desires. I do not blame him for leaving because that Blazers team stagnated. Wesley Matthews would not be the same after his Achilles injury and Nicholas Batum would require a large sum of money to stay. Aldridge saw his championship opportunity and took it. 
His career in San Antonio was more of the same, overshadowed by Kawhi Leonard and injuries once again ruining his championship aspirations. Finally, ready to give up the spotlight, he joined the Brooklyn Nets team primed to win a championship, before his heart let him down.
Aldridge retires with 19,951 points, 8,478 rebounds, 2,034 assists, and 1,140 blocks in 1,029 career regular-season games, one of twelve people to hit that mark. Yet one of the most underrated stars of his time where many injury cases never allowed him to reach the spotlight.
The first case came from the injuries to Brandon Roy and Greg Oden that, if healthy, would have made that Portland Trail Blazer team a championship contender for many years. A Wesley Matthew's Achilles tear ruined the second place Blazers' chances in the 2014-15 season and that would break up the Blazer team that had looked like a budding team. 
LaMarcus Aldridge would leave the Blazers that summer to add another strong piece to an already strong San Antonio Spurs team. The team looked like contenders in the 2016-17 season until Zaza Pachulia slid his foot under Kawhi and injured him, dooming the Spurs to be swept by the Warriors super team. The Spurs were up 20 at the point of Kawhi's injury, so it's fair to say that the series looks a whole lot different with him healthy. 
That brings us to the present day. Finally, after a buyout with the Spurs, Aldridge would have his shot at a championship with the Brooklyn Nets. Then the injury bug that had followed him around his entire career hit him at the worst point. Aldridge can still get a ring if the Nets win, if the organization decides to give him one. However, for Aldridge it will never feel great, it will boost his Hall of Fame case, which right now is 50-50, but just a ring is never just what Aldridge wanted. He has always just wanted to be the center of attention; and for the wrong reason, on April 15th he was.