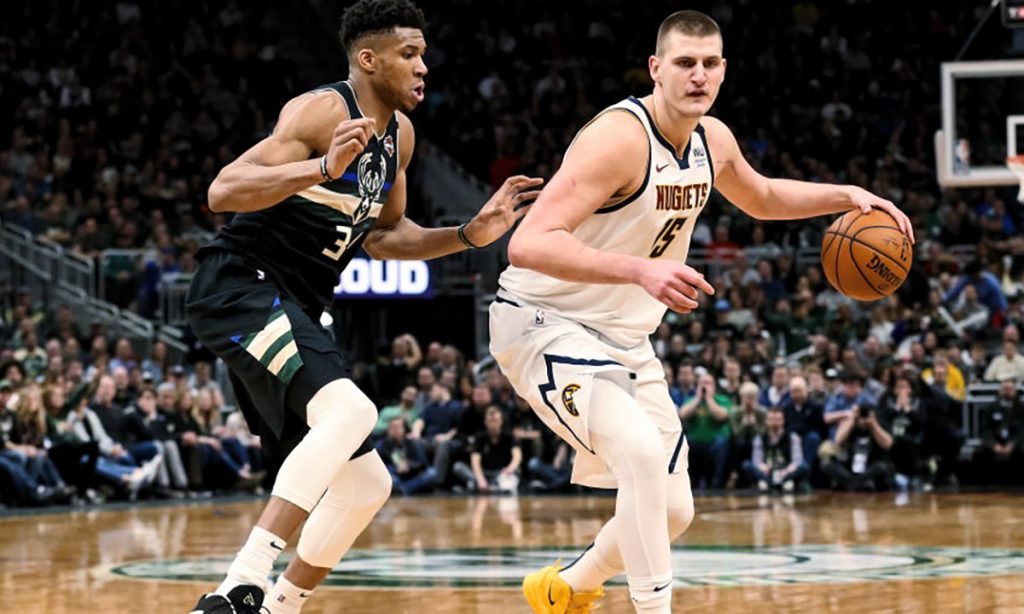 For most of the current NBA season, the favorite for the NBA MVP award has been interchangeable between three players: LeBron James, Joel Embiid, and Nikola Jokić. And with how things were shaping up, publications would be arguing their reason why one of these three should be the MVP for the rest of the season.
However, the injury bug has caught two of the three superstars. LeBron has been sidelined for a few weeks, and will continue to be out for more with an ankle injury. Embiid has been out for a few weeks as well, with a bone bruise in his left knee, but unlike the former, should be making his way back onto the court sooner rather than later.
So through the process of elimination, Jokić is the guy, right? Not necessarily. Jokić leads the pack, but plenty of players have stepped up to make sure it's not such an easy road for the center.
Let's get into the MVP candidates:
1. Nikola Jokić, Center, Denver Nuggets
Jokić has been on a tear this season, at one point averaging a triple-double for a few weeks. He has shown out night after night, leading the league with 40 double-doubles. Jokić is a big man that can score from anywhere on the court, rebound, pass with the best of them, and play great defense.
It's his award to lose, but with the Nuggets sending for the cavalry at the trade deadline, Jokić has some more complementary pieces to help take him and Denver to the next level, but it might be at the cost of some personal production and perhaps MVP votes?
2. Giannis Antetokounmpo, Power Forward, Milwaukee Bucks
For someone who has won the award the past two years, Giannis hasn't been getting the recognition he deserves. His numbers are very similar to what they were the two years he took home the award.
Giannis and the Bucks started off the season quietly, but both have been a force to be reckoned with as of late. Averaging close to a triple-double in the month of March (25.3 points, 10.6 rebounds, 8.2 assists), a couple of injuries to other players might have just opened a clear path for Giannis to three-peat.
3. James Harden, Shooting Guard, Brooklyn Nets
No player that was traded during the season has won the MVP in the same year. But, if the last year has told us something, it's that anything can happen. Harden has been unstoppable for the most electrifying offense in the league.
Leading the NBA in assists (11.2 per game), Harden is carving through defenses with ease, as per usual. His scoring might be down, but his shooting percentages are up and he seems to be having no issues when everyone was concerned with how many hands would be in the cookie jar. Make no mistake, Harden is the reason the Nets are competing for the top spot in the Eastern Conference.
4. Damian Lillard, Point Guard, Portland Trail Blazers
Year after year, Lillard is always a part of the MVP conversation. And year after year, he is counted out and looked past for other names. But look no further than the league's second-leading scorer.
Clutch is in Lillard's DNA and that's what he's been doing all season long. Fighting through injuries, his own and to his teammates, Lillard has the Blazers making a strong run for the playoffs. He has led the team in assists in all but eight games and has the Blazers winners of six of their last eight. If Portland is able to make a stronger playoff push, Lillard should be in strong consideration.
5. Luka Dončić, Point Guard, Dallas Mavericks
Without Luka, who knows where the Mavericks would be. Certainly not a playoff team, that's for sure. At 22 years old, Luka has defenses baffled. His ball handling is incredible, he's averaging nearly a triple-double (28.6 points, 8.3 rebounds, 9.1 assists), and he looks like he's going to dominate the league for the next ten years.
The only issue on why Luka isn't a favorite to win MVP yet: the Mavericks aren't as good as some other teams mentioned on this list. Obviously how good a player is is what matters when it comes to the MVP award, but how good their team is also matters… and the Mavs are a few losses away from being a bottom three or four team in the Western Conference. Once Luka is able to lead Dallas to more success, he shouldn't have an issue taking home the award.
Others to Consider:
– Steph Curry, PG, Golden State Warriors: Curry's numbers look very similar to when he won the MVP the second time around. Now if only he could lift the Warriors to the playoffs.
– Jimmy Butler, SF, Miami Heat: It's clear as day Jimmy Butler makes the Heat a much better team with him being on the court. Butler's leadership on and off the court has brought much success to Miami.
– Kawhi Leonard, SF, Los Angeles Clippers: Kawhi is on pace to join the illustrious 50/40/90 club by season's end. No one's ever questioned that Kawhi should be MVP, but it's been more about who's in front of him as the issue.
– Bradley Beal, SG, Washington Wizards: Beal has the numbers, that's never been a question. Let's just see if he can will the Wizards back into the playoffs for the first time in two years.
–Trae Young, PG, Atlanta Hawks: Young has the Hawks in playoff contention for the first time in three years off of how well he's been playing this year. It might not be this year, but an MVP season is to come.