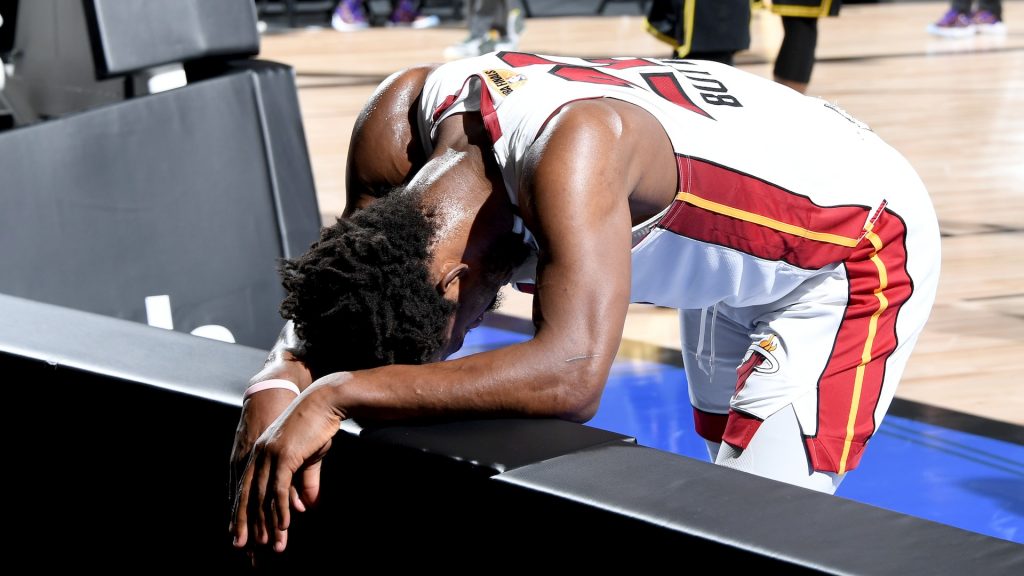 Last year's NBA Finals between the Los Angeles Lakers and Miami Heat was a noteworthy contest for multiple reasons, such as the Lakers winning their 17th title, tying them with the Boston Celtics, LeBron James getting title number four, and the championship being played in the NBA Bubble for the very first (and, hopefully, last) time. Check out FanDuel's odds for this season to see if the Lakers or Heat have a chance to get back to the big show!
In any case, how are the top players from last year's Finals doing thus far this postseason? Let's take a look at the main four players, two each from the Lakers and Heat.
LeBron James, Los Angeles Lakers
We have to start with the NBA Finals MVP for the champion Lakers, who had an excellent postseason, including his Finals averages of 29.8 points, 11.8 rebounds, 8.5 assists, 2.5 three-pointers made, and a 59.1%/41.7%/66.7% shooting line in six games. At age 36, James is nothing short of a wonder for being able to continue playing at such a high level. Coming into this 2020-21 season, his Los Angeles Lakers team were favored to repeat as champions, and as it is, they are favorites to make it out of the West at the very least.
During the regular season, LeBron missed 27 of 72 games, mostly due to a high ankle sprain toward the end of the season. But, he's back during the first round of the Lakers series versus the Phoenix Suns, still a bit banged up, but playing. James is averaging a less-than-LeBron standard 20.5 points, 5.5 boards, and 9.5 dimes. He's averaging 37.5 minutes in the two games of the tied (1-1) series and is shooting well from the field (51.7%) and triple territory (43.8%), but is horrendous at the line (57.1%). James can't be Superman forever, so this postseason may show him to be more Clark Kent.
Anthony Davis, Los Angeles Lakers
Davis is the perfect complement to James – another do-it-all type of player with an emphasis on rebounding and rim-protection. Unfortunately, just like LeBron, Davis was also out for a significant amount of time during the regular season, missing half the season, playing 36 of 72 games, mostly due to an Achilles strain. However, unlike LeBron, AD has a history of missing time, never having played a full season in his nine-year career, averaging 62.7 games per year. But, it doesn't seem to matter to the Los Angeles Lakers, especially since he helped the team win a title last season where he averaged 25.0 points, 10.7 rebounds, 3.2 assists, 1.3 steals, and 2.0 blocks along with a 57.1%/42.1%/93.8% shooting line in the NBA Finals.
Injuries and time missed aside, there's no denying Davis' ability when he's actually on the court. This season, like LeBron, averaged a less than normal 21.8 points and 7.9 rebounds, as well as only 1.6 blocks per game, the lowest of his career, and a season where he didn't average at least 2.0 blocks since his rookie year (1.8). Will AD come through and peak at the right time as he did last postseason? Thus far against the Suns, he's average 23.5 points, 8.5 boards, 4.5 dimes, and three blocks. However, after an awful Game 1, he's only shooting 38.7% from the floor. Perhaps his leg injuries this season will slow him down a bit? Time will tell, but we'll know sooner rather than later.
Jimmy Butler, Miami Heat
Butler was the uncontested darling of the NBA Bubble postseason, hands down. He showed his normal grit and relentless desire to do what it takes to win. He put the Heat on his back and carried them to an improbably NBA Finals appearance where he averaged a staggering 43.0 minutes per game, 26.2 points, 8.3 rebounds, 9.8 assists, 2.2 steals, 0.8 blocks to go along with a 55.2%/30.8%/88.7 shooting line. The image above is just about iconic of how Butler left it all on the floor. The Heat lost in six games despite his effort, but no one will ever question Butler's heart.
During this regular season, Butler had one of his best seasons, but only playing 52 of 72 games due to various injuries and ailments. He averaged 21.5 points, career-highs in boards (6.9) and dimes (7.1), as well as leading the NBA in steals (2.1), while shooting a career-best 49.7% from the floor and 86.3% from the charity stripe. At the time of this writing, Butler's Heat are down 2-0 to the Milwaukee Bucks, and a lot of it has to do with Butler's ineffectiveness – an almost reversal of last postseason. He's only averaging 13.5 points, six boards and dimes, respectively, and shooting a horrendous 25.0% from the field, 22.2% beyond the three-point line, and 64.3% from the line. Can Butler turn it around? Individually, I will never bet against him. However, as a team, the Heat may be overmatched against a very talented Bucks team led by Giannis Antetokounmpo.
Tyler Herro, Miami Heat
It's easy to get down on Herro, who was the breakout player of last year's NBA postseason. His ability to hit threes and play clutch had him as all the rage for most basketball fans, especially since he was a rookie kicking butt in the playoffs. He was at his best in the Eastern Conference Finals versus the Boston Celtics when he averaged 19.2 points, 2.5 triples, 6.3 rebounds, and 4.8 assists. In the NBA Finals versus the Lakers, he averaged 14.7 points, 4.2 boards, and three dimes in 34.6 minutes.
This regular season was a slight improvement over his rookie season's numbers, but a further breakout or significant jump didn't quite happen. Unfortunately, there has been a regression this postseason where Herro is only averaging 7.0 points, 2.5 boards, and a couple of dimes while shooting 20 percent from the field. The Heat need a hero right now, and Tyler isn't answering the call.
There is still a lot of playoffs to be had, and looking at last NBA Finals' main players, it isn't always easy to repeat.