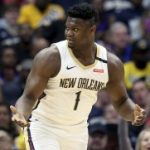 With whispers of dysfunction among the New Orleans Pelicans coaching and front office staff, and now frustrations from Zion Williamson's inner-circle coming to light, are Zion's days as a Pelican numbered?
Parting ways with Stan Van Gundy after just one season is not the biggest problem facing the New Orleans Pelicans. They have been unable to put together the right elements to make rising star Zion Williamson and his family happy, and multiple sources have told The Athletic that certain family members want Williamson on another

For months, sources from all NBA corners have pointed to the Pelicans as a heap of dysfunction. There was a growing unease between Van Gundy and his players, and Van Gundy and the New Orleans front office, which came to a head Wednesday with the veteran coach and organization agreeing to part ways with three years left on his contract. Most of the attention, however, from numerous sources across the league, has centered on Williamson's family members' thinly veiled unhappiness with the Pelicans, and whether those feelings seeped into the player's own views.

The Pels made changes to their support staff to fit Williamson's wishes over the offseason, and he returned in much better physical condition. But for most of this season, certain Williamson family members voiced displeasure with the organization. Among the targets of their criticism was Van Gundy, who they felt was too rigid and demanding as head coach, but also with the organization, which they claim did not live up to what they felt should be the standard for a star like Williamson. Numerous opposing league executives had heard the complaints, and they were confirmed by Pelicans officials.

When the Pels traded J.J. Redick to Dallas in March, it not only upset Redick but also is said to have irritated Williamson. Redick had asked to either be traded before the season or to stay in New Orleans all season for family reasons and proceeded to blast the organization and executive vice president of basketball operations David Griffin on his podcast after the trade. Redick was a veteran with whom Williamson had grown comfortable in their two seasons together, and the dysfunction Redick accused the Pelicans of harboring is said to have stoked some of Williamson's own feelings with regards to the direction of the franchise.