For A Grey Day: Nike KD7 Calm Before The Storm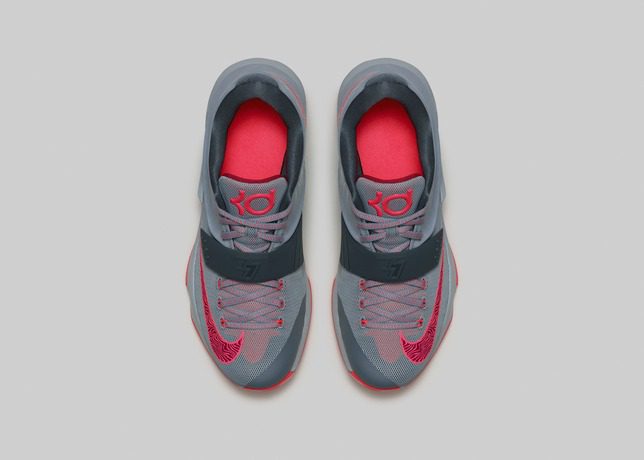 Courtesy of Nike | featuring the Nike KD7 Calm Before The Storm
Like the deceptive calm before a storm, Kevin Durant can strike unpredictably and from anywhere on the court. At one moment he may appear cool and poised, but within a second he can instantly strike for 20 points in a quarter with lightning-quick decision making.

Nike designers have woven this weather narrative into Durant's seventh signature shoe, as the Nike KD7 Calm Before the Storm finds inspiration in KD's game of steadily intensifying danger on the court. The shoe's grey and pink color suggests a tranquil horizon before an impending storm.

Personal cues that are featured on each KD7 include a silhouette of Durant's home state of Maryland embedded on the outsole and the names of his mother Wanda, his grandmother Barbara, his father Wayne and his brother Tony are featured on the forefoot strap.
>>>
The following two tabs change content below.
Sandy Dover serves as Managing Partner of Hardwood & Hollywood. With background as Senior Editor, Leadership Board Member, and Equity Partner of H&H as well, Sandy has his hands in everything creative, editorial, social, and strategic for the outlet. Sandy precedes his time with the Complex Media partner as a feature writer, multimedia producer-photographer, and event correspondent for a number of major media publications and outlets, including Yahoo!, SLAM, and both ESPN and espnW. Sandy is an industry insider concerning the NBA, footwear and sportswear, product, technology, lifestyle & fashion, and fitness & training.
Latest posts by Sandy Dover (see all)