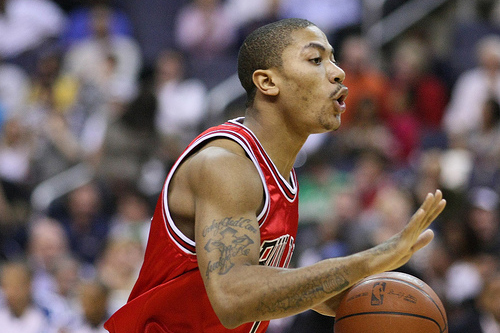 By Erik Ong (@FantasyHoopla)
This NBA preview for the Central Division was written before the season, but unfortunately, Hurricane Sandy affected its timely publication. Regardless, the NBA season is still young enough to delve into some previews outlining the important questions for each NBA team. Besides, we all love the NBA, consuming as much information as possible comes naturally!
Chicago Bulls: Can the Bulls do enough to make the playoffs while waiting on Derrick Rose?
The Bulls have enough firepower in the form of Luol Deng and Carlos Boozer to do the job on the offensive end, and the hustle and tenacity of Joakim Noah on the defensive end. Things, however, will have to change. Boozer needs to step-up his game and bring the Utah Jazz version of himself to the table to ease defensive pressure off Deng who is still dealing with a healing, but wonky, injured wrist. The Bulls brought back Kirk Hinrich and signed Nate Robinson, who combined, should help alleviate the loss of the Bulls All-Star point guard. If the Bulls can come together and step up as a team, they should be able to weather the storm and be within playoff striking range when Rose returns. It won't be pretty, nor will they finish with the best record in the NBA, but they just might be able to get it done.
Cleveland Cavaliers: How good will Kyrie Irving be in his second season?
In the blink of an eye, well at least as far as NBA careers go, Kyrie Irving is poised to become the new franchise star the Cleveland Cavaliers have been looking for in the post-LeBron James Era. He can score, get to the basket almost at will, and run the floor very well. Now that he's going to be paired with rookie Dion Waiters, it seems that Irving is ready to elevate his game to yet another level. Irving's rookie season was just the tip of the iceberg. It should come as no surprise if he participates in both the rookie-sophomore game AND the All-Star game in February. Irving is that good and his talent and game are undeniable. He's a star, primed to be an All-Star, and on his way to becoming a near-future NBA superstar.
Detroit Pistons: How quickly should the Pistons develop Andre Drummond?
Rookie Andre Drummond was criticized as not being NBA-ready during and after draft night, but his recent performances in training camp and in preseason games have shown that those expectations have to be recalibrated. Drummond is a big-bodied, 6'11" forward who has the hops and explosiveness to do some serious damage in the paint when given the opportunity. An NBA-acclimated Drummond would be a definite upgrade to starter Jason Maxiell. Coach Lawrence Frank should take every opportunity to turn the combination of Drummond and Greg Monroe into the team's frontcourt of the future by beginning the transition soon. Drummond has the size and bulk to play center, while Monroe has a high enough basketball I.Q. to transition to playing at the power forward spot. This is one rookie big man with a lot of upside and it's up to the Pistons to capitalize on it sooner rather than later.
Indiana Pacers: Should the Pacers trade Danny Granger and fully commit to a youth movement?
Danny Granger is slated to make roughly $13 million this season and another $14 million in the 2013-14 season before becoming an unrestricted free agent. The six-foot-nine, oft-injured scoring forward, who is turning 30 next year might just be one of the Pacers' better trade assets next season, if not this one. Young swingman Paul George is developing quite well and is poised to be able to fill Granger's role further down the road. Clearly, letting go of Granger at the end of the season, might just be what the budget-conscious Pacers need to acquire some young blood. Granger, while still on the younger side of 30, might find that it would be in his and the team's mutual interest to part ways. With a core of George, Roy Hibbert and George Hill; Indiana can build a foundation anchored by its young and developing players.
Milwaukee Bucks: Can Brandon Jennings fully transition into a full-fledged elite point guard?
Brandon Jennings had the best season of his career in 2011-12. The addition of Monta Ellis in the backcourt, whom the Bucks acquired in a trade for center Andrew Bogut, has been a boon to Jennings' game. The pressure for Jennings to score, create his own (at times, force) shot, is now all but gone. This frees up Jennings to do other things like shoot the open trey, be more active on defense, and still involve other teammates in the action with his passing. Ellis, who is a combo guard who also happens to be a capable passer has often muddled the role of his backcourt partners in the past. While both guards are excellent complements to each other, Ellis' presence looks like it will transform Jennings into more of a capable combo guard as well and less of an elite true point guard.
Follow @FantasyHoopla

Follow @BallerMindFrame