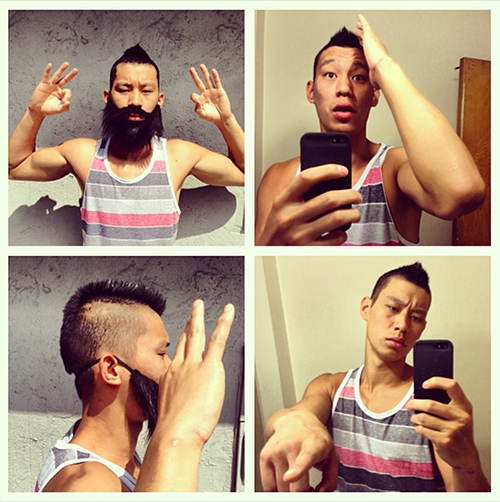 Jeremy Lin, you are quite the funny person, aren't you? Actually, he is, as Lin did pretend to be some other person's "new son." Accessible? Check out Lin and Golden State Warriors All-Star David Lee moving the crowd at a pick-up game in Taipei. Jeremy Lin is just so likable, isn't he? If it were possible, I'd tussle his hair and play-punch his chin and call him a "little fella."
That all said, Lin mixes elements of humor and accessibility to fans once again. In the above image, he impersonates his Houston Rockets teammates, James Harden and Chandler Parsons. As Jeremy Lin posts on his Instagram:
Fan Appreciation Week Day 3: Rockets Impersonation Contest! Post (and tag @jlin7) a picture on instagram of you impersonating a Rockets player(s). Heres my sample of @jharden13 on the left and @chandler_parsons on the right. Be creative and winners announced tonight!
Of course, it's pretty easy to mimic Harden as all you need is a fake beard. Parsons? Spike your hair up and try to act super cooler than anyone else in the room. Great job, Jeremy Lin. If only your off-the-court enjoyable antics translated to an enjoyable on-the-court experience. Linsanity seems so far away.