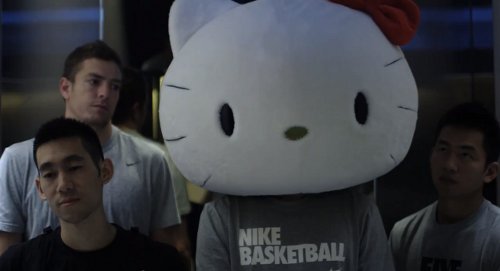 I'm turning into a full-fledged Jeremy Lin fan after not buying into Linsanity earlier this year, even though I live in the New York City area. Well, maybe I didn't get caught up because I do live here and had to deal with the saturation of Linsanity. Oh, and maybe being a Brooklyn Nets fan also played into my former indifference that bordered on hatred. I'll be honest about it. However, after seeing the below video, I'm converting hard into a Jeremy Lin fan. Check the video:
Seeing Lin showing up out of nowhere with David Lee of the Golden State Warriors on The Xinsheng Courts in Taipei and hooping it up with regular, normal everyday people brings a tear to my eye. Well, figuratively, anyway. It reminded me of when Deron Williams balled on a Brooklyn park court on the fly. I just love the accessibility by Lin and D-Will to the fans that love them – love giving love back. You have to respect it, especially during a time when athletes act entitled and above the very fans that support them.
Other than Lin and Lee playing basketball with these kids in the park, the self-deprecation from Lin is a highlight of the video. Hello Kitty costume head? Dude got jokes! In any case, I'll be watching Jeremy Lin and cheering for him to flourish with the Houston Rockets. Props to David Lee too. Big show of love and respect back at both.