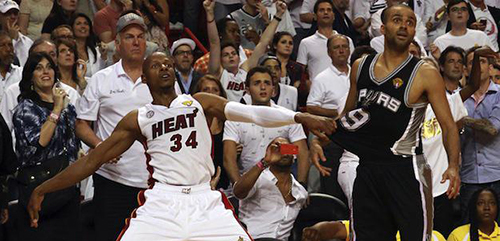 Pastors and preachers often talk about "mountaintop experiences," times when one sits in awe of life and is re-affirmed in your faith. I had one such basketball mountaintop experience on February 10th, 2011, when my behind was glued to a recliner and my eyes were glued to TNT's showing of the Los Angeles Lakers-Boston Celtics game. In the midst of a loss, Ray Allen hit his 2,561st three-point shot, putting him above Reggie Miller as the greatest three-point shooter to ever play the great game of basketball. Along with the fans in TD Garden, my brother and I gave Ray a standing ovation.
The next game was on February 13th. My friend Murph and I took our girlfriends as a Valentine's Day present (to ourselves, mostly) to go see the C's take down the Heat. Watching Boston's Big Three play live was a pleasure. It was like a fine four-course meal. We'd start with a hearty warming soup that was the dependable loyalty of Paul Pierce, enjoy a zesty appetizer of a rapidly developing Rondo, and chow down on the meat and potatoes Kevin Garnett grind. But, the dessert was always Ray Allen. Each of his threes is a beautiful reproduction of the last: even when off-balance or closely guarded, the shot angle, jump height and release are perfectly replicated. His eyes on the basket are those of a carefully trained falcon scoping out a lone rabbit. He always seems to hover in the air a little bit too long to obey the laws of physics. When that ball is going in, you can tell the moment it leaves Ray's fingertips.
As we left the stadium that day, Dunkin Donuts was handing out free Ray Allen posters. They had a picture of a beautiful Ray Allen three on the front with the number "2561" in the background. I have no idea if the picture was taken on the day that Ray actually hit that record-breaking shot—it could have been one of 2,560 identical to it. But even today, that poster is up on my wall. I see it every morning when I wake up and every night when I go to bed.
And I saw it in a Miami heat uniform with five seconds remaining in Game 6 of this year's NBA Finals.
How did it feel as a Celtics fan to see that? Well, I personally confess that if I could sacrifice the Boston Bruins winning the Stanley Cup to watch the Heat lose the NBA Finals, I would take it. In a heartbeat. And to watch that be ripped away by a man who left us in free agency for our archenemy? The only team that could ever force me to root for the Lakers? How the hell do you think it felt?
To be fair, I don't blame Ray Allen for leaving the Celtics. Hell no. Danny Ainge has a horrible track record of treating his players with zero respect when it comes to the possibility of trades, and Ray Allen had it the worst. With all the trade rumors, you can bet Allen had a few bags packed more often than not the entire 2011-12 season. Allen's name came up in rumors involving Memphis, Indiana, and L.A. (Clips and Lakers). After stabbing Kendrick Perkins in the back in a deal in which the Celtics lost heavily, the whole Big Three and Rondo knew that the Celtics front office shows no loyalty. It's all about the next ring. But he had to go to the Heat? Really? Really, Ray? Going to a team where you can ride the bench for another ring instead of going out in a last stand of aged glory with your comrades was a cowardly move, in Boston's opinion.
That's what killed me, when it came down to that "do or die" shot of Game 6. The championship-chasing traitor pulled himself into contention for another ring by doing what he does best: shooting beautiful, beautiful threes. And from the moment that the infernal game-winning ball was released from those backstabbing hands, every single Celtics fan didn't need to look to know it was going in.