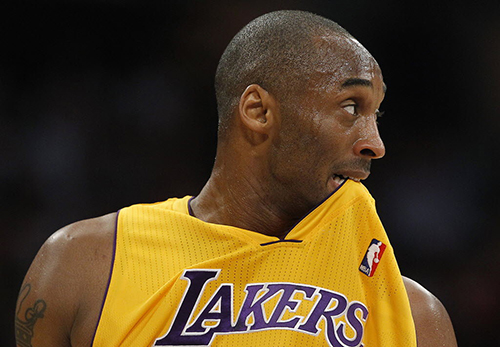 Kobe Bryant announced to his massive following that his road to recovery would be officially deemed, "The Last Chapter." The title seems fitting in relation to the legend's final push for a championship, but does it have anything to do with the Los Angeles Lakers? Could this naming mean more than simply entitling Kobe's anticipated track to retirement? It feels as though the phrase simultaneously underlines the eventual culmination of the glory days for the purple and gold.
If one chooses to view this announcement as such, Bryant is deciding to take on quite a task, shouldering the franchise's last chance at success on his 34-year-old shoulders and essentially fusing together his future accomplishments with the team's. But hey, what's new, right? Currently, the Lakers have a flustered center, a confused coach, a lost Gasol, a befuddled team and an Achilles injury that would end almost any other player's career that parallels to the current state of Bryant's. How is the organization going to fare? Is risking the team's winning reputation worth employing in the efforts of one man? If we were speaking of any other player there may be cause for extensive worry, but this is Kobe Bryant we're talking about here.
Yes, he's aging. Yes, he's suffered one of the most difficult injuries to come back from as a veteran basketball player. And yes, his pay requirements tie up most of the team's financial flexibility in regard to acquiring new pieces. Taking all of this into consideration, why wouldn't one consider the amnesty on Kobe? Well, let's not forget that in his 17th season he managed to achieve an average stat line that was superior to all those he produced previously by averaging almost 28 points a game, and manifesting his team's entry into the playoffs. He supplied his fans with vintage Mamba dunks almost every night he graced the court; nasty rim rockers for a guy getting to the basketball age where he needs a rocker himself.
The name Vino may have all to do with the fine quality with which he has aged, but as far as the number goes, 34 is seemingly nothing but a measurement to be used on tax documents and census surveys. Kobe has proven himself time and time again, and to amnesty the life blood of this organization is a risk that no one should take without deep reflection, particularly a perplexed owner like Jim Buss. The curtains may be closing on the decorated team we've always known, but if there is one man to provide the fans with a fiery finale, it's Kobe.
In regard to the injury, don't be surprised to see Bryant heal freakishly well and incredibly fast. It's not like we haven't already witnessed his sustained level of greatness amidst a plethora of serious injuries. Ever since the inception of his NBA career he has powered through a broken wrist, several ankle sprains, multiple surgeries on his knee and shoulder, damaged fingers, a broken nose and now the Achilles. We've seen him throw on a mask, tape up a finger and walk off the court with a completely severed Achilles after making two clutch free throws that arguably sealed the team's entry into the postseason: if that's not a proven warrior, then none truly exist. I believe fans will see a metamorphosis of sorts in the coming months, one that results in the rebirth of a born-again champion. A champion that will not only solidify his legacy as the best to ever suit up in a Lakers uniform, but the greatest basketball player of all time.
Throughout his career, Kobe has continuously disproved doubters and re-inspired Lakers fans worldwide, and I have no doubt that "The Last Chapter" will be the most thrilling conclusion to Bryant's legacy. If his epic announcement commences the final battle for the Los Angeles Lakers to fight for that 17th title, I'll have my weapons ready and my fanatic persona on deck come training camp. Why? Because I'd rather lose the war under the command of the Black Mamba than rebuild an army without him.